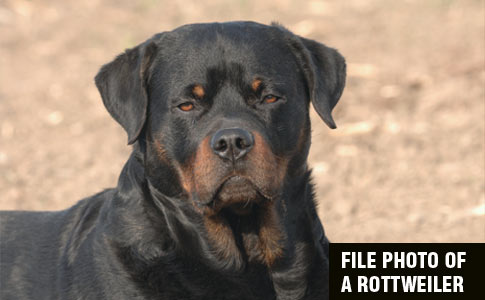 An archive of U.S. children and adults mauled to death by rottweilers since 1978.
DogsBite.org - Combining DogsBite.org dog bite fatality statistics with research provided by a volunteer produced a significant archival collection of fatal rottweiler attacks dating back to 1978. Of the 125 victims recorded from 1978 through 2021, 76% (95) were children ages 11-years and younger. Of these children, the large majority, 73% (69), were ages 4-years and younger. California incurred the most fatal rottweiler attacks (16) during this period, followed by Texas (11).
View the DogsBite.org Google Map:
U.S. Fatal Rottweiler Attacks By State
1
Of the 104 rottweiler fatalities we have on record (from 1978 through 2015), not a single one besides this dog inflicted a fatal attack on an able-bodied middle-aged man. The others involved "pairs" or more of rottweilers. This male rottweiler was adopted by the victim just hours earlier from Jackson-Madison County Rabies Control.
2
Killed by his step-father's IPO 2 (Level 2 Schutzhund title) protection trained rottweiler.
3
Sheriff's investigator Jason Oliver, angry over the child's grisly death, said that rottweilers and children don't mix and that people living with vicious dogs and children "need to use that lump 3 feet above their ass."
4
The dogs' owner, Sabine Davidson was convicted of reckless second-degree murder and endangering a child. At the time of the attack, Davidson was training her rottweilers in Schutzhund protection work (bite work).
5
In revenge of Robert Thorpe's mauling death, the boy's father and two cousins set the dog owner's mobile home on fire. After igniting gasoline soaked cloths inside the home, exploding ammunition "sounded like a war zone." The two cousins barely escaped the burning building with their lives. All three were later charged with arson.
6
The self-published Fatal Dog Attacks book describes the dog that killed Lindsay Shanaman, 2-years old of Canon City, Colorado in April of 1995, as a "GSD/Rott X." The single media report that we could locate from the Colorado Springs Gazette, describes the dog as a 120-pound "mastiff-German shepherd mix." The 20-year CDC study reflects 11 rottweiler or rottweiler-mix deaths between 1995 and 1996, as does our rottweiler archival list.
Related articles:
Fatal Wolf-Dog Hybrid Attacks - The Archival Record - DogsBite.org
Fatal Pit Bull Attacks - The Archival Record by DogsBite.org
Fatal Pit Bull Attacks - Child Fatalities - The Archival Record by DogsBite.org