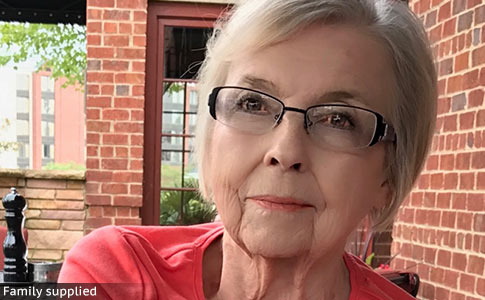 Sally Rogers, 91, was killed by a pet rottweiler in Bloomfield Township, Michigan.
Case Background
UPDATE 11/08/21: On September 2, a pet rottweiler savaged a 91-year old woman to death. The dog ripped off her entire scalp and tore gaping wounds in her upper arms. The destructive bites fractured her shoulder bones and damaged her face. The victim, Sally Rogers, lived with her daughter Susan, who was also her caregiver. Susan had acquired the rottweiler in March of 2021. Her other daughter, Ann Marie Rogers, has been featured on this website as a safety advocate.
On the day that a rottweiler named "Ben" detonated like a bomb inside a Bloomfield Township home, Susan had left her mother alone for a short period with Ben and "Wren," a female rottweiler that was also Ben's litter mate. Susan had acquired Wren at the age of 10-weeks old. She did not acquire Ben until he was 14-months old. Ben had initially been sold to a family, who started the dog in Schutzhund training. The family later determined they wanted a Belgian malinois instead.
The dog flunked Schutzhund training, according to the original owner. Ben was "too soft" after having had three lessons in the protection sport.
When Susan learned that a litter mate of Wren was available, she obtained Ben from the family. She remarked to Ann Marie then, "that he had a wonderful temperament, as the owner's children were crawling all over him, and he appeared to enjoy it." In April, a month after Susan acquired Ben, he snapped at Ann Marie when she tried to hold his collar. The dog stopped the behavior after being corrected. Ann Marie warned her sister this would happen again and it could be worse.
In May, Ann Marie was informed that her mother's small dog, a shih tzu named "Monkey," had been attacked. Though the attack was not witnessed, the puncture wounds were from large teeth. Ann Marie determined the attacker was Ben based on the size of the puncture wounds. Ben had also shown dominant behaviors towards the other male dog in the family's household, "Mattie," a miniature poodle, also belonging to her mother. Monkey had to be put down due to his injuries.
On September 2, when Susan returned home after picking up a friend from the hospital, she found her mother on the back deck still conscious after the vicious attack. She quickly called 911. "Even I am shocked that the dog detonated to the level he did," Ann Marie told us. Sally was transported to St. Joseph-Mercy Hospital in Pontiac, where she later died of her injuries. Both Ben and Wren were seized and euthanized. Because the attack was unwitnessed, Wren could not be excluded.
Ben was neutered and vaccinated shortly after Susan acquired him. Neutering did not prevent the ensuing animal or human aggression.
A Legacy of Rottweilers
Ben and Wren were the product of a Sire named "Bam Bam" from Kimm McDowell of Der Hagen Rottweilers in Wayland, Michigan and a Dam named "Lilly" from Rachel Wolters of Nightguard Rottweilers in Hudsonville, Michigan. These were not the first rottweilers Susan had owned. In June of 2018, Susan had also acquired a rottweiler named "Gunnar" from Wolters. Gunnar's Sire was "Jax" of Der Hagen Rottweilers, and his Dam was the same Lilly of Nightguard Rottweilers.1
"Gunnar was strange from the beginning, and I urged Susan to put him down or bring him back to the breeder," Ann Marie told us. "He would pull his head back when I went to pet him, he was shy, stand-offish and this indicated to me he could be a fear biter or have behavioral issues in the future." Eight months later, in February of 2019, 10-month old Gunnar attacked Sally, who was then 89-years old, nearly biting off her finger. At Ann Marie's urging, that rottwelier was euthanized.
It is unclear why Susan, who paid $2,000 for Gunnar, would return to these same breeders to obtain Wren two months later. Interestingly, all three dogs -- Gunnar, Wren and Ben -- shared the same Dam, belonging to Wolters. Three rottweilers from the same breeders, the same Dam, all euthanized for aggression, two euthanized for human killing aggression. That Dam, Lilly, should be sterilized -- stricken from ever reproducing again -- as should her entire collection of offspring.
From 1996 to 2006, Ann Marie was involved in rottweiler rescue. During that time, her sister Susan developed a love for rottweilers. Ann Marie gave Susan a male named "Sully" who had an ideal disposition and lived to be 11-years old. Their mother Sally, who suffered from dementia at the time of her mauling death, also loved the rottweiler breed. In 2017, Susan lost a 13-year old male rottweiler, also a rescue, due to age. That rottweiler did not have aggression issues either.
When Susan and Sally had rottweilers with good temperaments, they often remarked how "safe" they felt with a rottweiler in the house, Ann Marie told us. "My sister felt safer while walking with a rottweiler and my mother felt safer being alone in the home," she said. "Maybe when owners have a rottweiler with a good disposition, they mistakenly think all of them are that way," she said. "This is certainly a case that proves it is genetics, not abuse that makes a dog turn," Ann Marie said.
---
---
Serbian Rottweilers
Lilly was bred from a Serbian line. Her Sire, Lucky of Kinders Royal Rott, has the Serbian snout. Her Dam, Froggy Dark Night, appears to be a German line. The breeders were Brian Beard of Black Onyx Rottweilers and Stephanie Lubbers of Quarterwoods Rottweilers. Serbian lines lack the strict breeding standards of the Allgemeiner Deutscher Rottweiler-Klub (ADRK) that govern the German bred lines and are known to have poor temperaments due to indiscriminate breeding.
Lilly's show name was "Black Onyx Cowboy Take Me Away" of QuarterWoods. She was born on September 6, 2015. We found this fall 2015 breeding of the two dogs on the QuarterWoods Facebook page. QuarterWoods was "Excited about our Lucky and froggy puppies!! [sic]" That were "due in September." Notably, the German breeders have little tolerance for the myriad of American and Eastern Bloc rottweiler "mutt" breeders that fail to conform to ADRK standards.
---
---
Top Killing Dog Breeds
Since the 1990s, rottweilers have maintained the position of the second top killing dog breed in the U.S. In 2000, the CDC made the following statement: "The data indicate that rottweilers and pit bull-type dogs accounted for 67% of human DBRF in the United States between 1997 and 1998. It is extremely unlikely that they accounted for anywhere near 60% of dogs in the United States during that same period and, thus, there appears to be a breed-specific problem with fatalities."
In modern times -- 2005 through 2020 -- pit bulls accounted for 67% of dog bite fatalities. Rottweilers accounted for 9%. Combined, the two breeds accounted for 76% of human deaths inflicted by dogs. Statistically, pit bulls comprised about 5.5% of the total U.S. dog population over this 16-year period and rottweilers comprised about 1.6%. Thus, two dog breeds, which only make up about 7% of the total U.S. dog population, are carrying out the vast majority of killings.
In terms of dangerousness, these two dog breeds have been the topmost consistent killers for over 30 years. While pit bulls kill in every single age group, and kill more adults (>18 years) than children (59% vs. 41%), most rottweiler victims, 76%, are children 11-years and younger. Of those children, the majority, 72%, are ages 4-years and younger. Only 5% of rottweiler victims are ages 82-years and older in our data set of 121 rottweiler-inflicted deaths from 1978 through 2019.
Extreme Damaging Bite
Rottweilers have long been known to deliver gravely damaging bites. Some of the most predatory attacks our nonprofit has researched have been inflicted by rottweilers, like the death of Marcos Raya, Jr. and the mauling of a child by an alleged "service" rottweiler owned by a "dog whisperer." Multiple rottweiler-inflicted fatalities have also come from "championship" bloodlines, like the deaths of Dixie Jennings (Deep Creek Kennel) and Vanessa Husmann (Husmann Rottweilers).
Several rottweilers that have killed a person have also been trained in Schutzhund, bite and apprehension work. These dogs are regularly used for protection and for the purposes of guarding. At least 143 jurisdictions in the U.S. regulate rottweilers, as well. In countries around the world, rottweilers routinely appear on dangerous breed lists, right alongside pit bulls and other fighting breeds. This is true even in parts of Germany, where the rottweiler breed originated.
Guilt and Impossible Odds
Ann Marie said that her sister and mother adored each other. The two had a close relationship. Susan was her fulltime caretaker as well. That day, when Susan left her elderly mother briefly in her home with two adult rottweilers, she returned to find her mother dying with life-threatening injuries on the back deck. She called 911 then Ann Marie. The guilt Susan will now live with for owning this high-risk breed will be devastating and lifelong. No dog breed is worth this risk.
With 45 fatal dog maulings per year in the U.S., about 1 in 7.3 million Americans are killed by canines each year. The odds of any person knowing one of these victims is very small. Ann Marie isn't just any person either. She has dedicated most of her life to animal welfare, animal control and public safety advocacy. "We do victim advocacy work to educate and raise awareness in an effort to save lives," Ann Marie said, "but I couldn't save my own mother. I am devastated."
---
---
09/03/21: Woman Killed by Rottweiler
Bloomfield Township, MI - An elderly woman is dead after being attacked by a rottweiler. The attack occurred on September 2 at about 6:30 pm. Police and fire were dispatched to a home in the 2000 block of Berry Drive due to a dog attack. When they arrived, they found a 91-year old woman unresponsive and suffering from "significant injuries" by a rottweiler living in the home. She was transported to St. Joseph-Mercy Hospital in Pontiac, where she later died of her injuries.
Bloomfield Township Police Captain James Gallagher said the victim lived with her daughter's family. No other injuries were reported. The dog was confiscated and taken to the Bloomfield Township Animal Shelter. The investigation remains open. "We don't know the circumstances around" the attack yet, Gallagher said. "But the dog -- I don't know, male or female -- will be in our custody until this investigation is over. If it's determined and court ordered it will be put down."
Fatal Rottweiler Attacks
This elderly victim marks the fourth fatal dog attack inflicted by a rottweiler this year. All of the other victims have been children, ages 4-years old and younger, including: Elliot Sherwin, Malia Winberry, and Ryan Foster. There were no reported deaths inflicted by rottweilers in 2020. Of the 121 fatal rottweiler attacks recorded from 1978 through 2019, 76% (92) of victims were children ages 11-years old and younger. Of these children, 72% (66), were ages 4-years old and younger.
View the DogsBite.org Google Map:
U.S. Fatal Rottweiler Attacks By State
1
Jax's show name was Derhagen-N-Ivoss Can't Break Me. The dog was bred by McDowell and owned by Wolters.
Related articles:
08/11/21: Fatal Rottweiler Attacks - The Archival Record - DogsBite.org
08/11/21: 2021 Dog Bite Fatality: Baby Boy Killed by Family Rottweiler with a Bite History
05/28/21: 2021 Dog Bite Fatality: Boy, 4, Killed by His Grandparents Two Rottweilers in Montana
05/26/21: 2021 Dog Bite Fatality: Pair of Family Rottweilers Kill Baby in North Carolina
12/16/20: Ann Marie Rogers: Animal Welfare Advocate, Animal Control Officer, Public Safety...
---
Baseline reporting requirements:
Law enforcement departments across the United States should release consistent "baseline" information to the media and the public after each fatal dog mauling,
including these items
.