Dog Bite Fatalities Surged in 2020; Nonprofit's Capture Rate Declined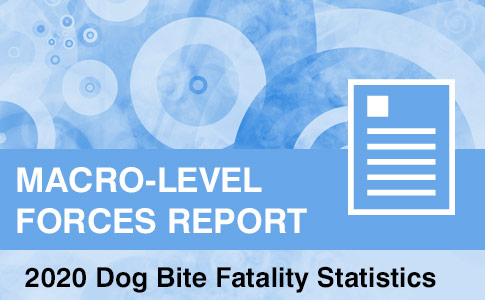 DogsBite.org - In June of 2021, we published the discussion notes for 2020 U.S. Dog Bite Fatality Statistics. We cautioned then that media reports during the 2020 Covid year fell by 47%. In response, we sent out 30 FOIAs and uncovered 6 unreported deaths. This, however, did not overcome the macro-level forces caused by Covid. CDC Wonder underlying cause of death (UCD) data shows there were 62 fatal dog attacks in 2020. Our nonprofit only recorded 47 deaths.
62 fatal dog attacks in a single year are the most ever recorded in CDC data. This is a 29% increase from 2019 and a 77% increase from 2018.
Previous to 2020, during the 15-year period of 2005 to 2019, the largest deficit of unreported deaths was 4 each for the years of 2005 and 2010. During the 2020 year of Covid conditions, there was a deficit of 15 unreported deaths. A regional break down of dog bite fatality victims in 2020 shows that the West and Midwest regions had the most unreported cases (13). The South had the lowest number of unreported cases (2) with 93% captured by the media and our nonprofit.
Possible factors causing the disparity of 15 unreported deaths include: stay-at-home orders, one-third of employed began working at home,1 a sharp reduction in media reports and a reduction of media releases from police. The increase in the number of deaths in 2020, may also be linked to Covid conditions. Some cities reported a 2-fold increase in dog bites during 2020. Pediatric hospitals in the US and UK reported a 3-fold increase in rates of ED visits due to dog bites.
The government directed stay-at-home orders and school closures increased child exposure to dogs, as well as adults. According to CDC data, 66% (41 of 62) of the victims in 2020 were ages 45-years and older. Our nonprofit captured 24 of these deaths, 58%. Yet, we already knew the 50 and older age group was underreported by the media. We discussed this disparity in the 2020 discussion notes (Comparing 15 Year Data Sets - DogsBite.org Data and CDC Wonder Data)
---
Characteristics of Unreported Fatal Dog Attacks (2005 to 2020)
We also discussed the characteristics of unreported fatal dog attacks, based upon 18 unreported deaths that we have uncovered through FOIAs over the last decade. The most likely unreported fatal dog attack from 2005 to 2020 is an adult ≥ 40 years old killed by a single or pair of family pit bulls in an urban area within a state that prohibits or limits breed-specific laws. 83% (15) of cases involved pit bulls, and of that 73% (11 of 15) involved a single or pair of family pit bulls attacking.
78% (14) of the total unreported fatal attacks involved family dogs killing a household member, and 78% of all victims were ≥ 40 years old.
Breaking down the CDC data set by state over the 16-year period also shows that several western states contribute to the most unreported deaths: Arizona, Colorado and Washington (26 deaths total). Arizona had the highest number of unreported deaths (11), which, in part, might be attributed to undetected fatal dog attacks on Indian reservations. Regionally, the West showed the highest number of unreported deaths, 30, followed by the Northeast with 12 unreported deaths.
Related materials:
Macro-Level Forces Report: 2020 Covid Dog Bite Fatalities Compared to CDC Data
Dog Bite Fatalities by State, Region and Age Compared to CDC Data (2005-2020)
---
Discussion
Macro-level forces simply mean macro social and economic forces beyond our control. Capturing small data numbers (40-50 dog bite fatalities per year) was difficult before Covid struck American soil. This hurdle became much higher during the 2020 Covid year, when the media was extremely focused on the pandemic crisis, followed by the general election. Furthermore, newsrooms cut over 16,000 jobs in 2020, the highest amount on record, and is described as the "2020 bloodbath."
It remains unclear why our nonprofit consistently records more dog bite fatalities in the 0-24 age group than CDC UCD data (275 v. 186 deaths) respectively. This was also true during the 2020 Covid year (18 v. 11 deaths) respectively. Due to miscoding errors and misreporting on death certificates, multiple studies say it is likely that CDC Wonder underreports the total number of deaths from dog attacks.2 But an 89 count difference in this age group appears significant.
It is also significant that three states (populations 5.7  to 7.7 million) comprised 87% (26 of 30) of unreported dog bite fatalities in the West.3
Finally, during the 15-year period of 2005 to 2019, the discrepancy between UCD data (519) and our nonprofit's data (522) was insignificant, even though a portion of our cases involve vicious attacks as a contributing cause of death. In a single year, 2020, the pandemic transformed that by creating a deficit of 15 victims dominated by the ≥ 45 age group. The UCD data over the same 15-year period shows that the majority of unreported fatal attacks also fall into this age group.
---
Summary
During the 2020 pandemic year, there was a 47% reduction in dog bite fatality media reports, according to our citations. There was a surge in unreported fatal dog attacks, 15 deaths (21 deaths if no FOIAs had been pursued), and a surge in the total number of deaths, from the 5-year average (2015-2019) of 37 deaths to 62, a 68% rise. Victims ≥ 45 years old accounted for the majority of unreported fatal attacks and most of those attacks occurred in the Midwest and West.
Theoretically, there will be another significant deficit in 2021, the second Covid year. Those numbers have not yet been released by CDC.
By examining the characteristics of unreported fatal dog attacks, based upon 18 deaths we uncovered from 2005 to 2020, the most likely unreported fatal attack in our data is an adult ≥ 40 years old killed by a single or pair of family pit bulls. CDC data during this period shows that a large number of adults ≥ 45 years old killed by dogs are unreported in the media (104). Though breed data is unknown, one can assume that a fair number involve pit bulls and family dogs.
1
Remote Work Before, During, and After the Pandemic, by Patrick Coate, Quarterly Economics Briefing–Q4 2020, January 25, 2021.
2
Haskell MG, Langley RL, Animal-Encounter Fatalities, United States, 1999-2016: Cause of Death and Misreporting, Public Health Reports, 2020, Vol. 135(6) 831-841.
3
U.S. Census Bureau, Population Division
Related articles:
06/01/21: 2020 U.S. Dog Bite Fatality Statistics - Discussion Notes
01/12/21: 2020 Fatal Dog Attack Breed Identification Photographs