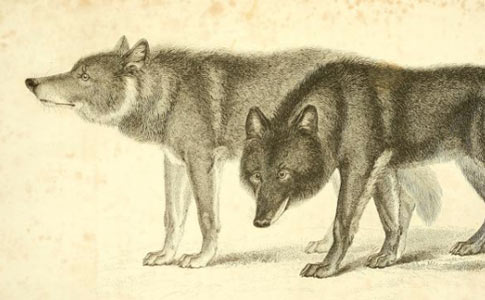 Illustration of wolves from the Biodiversity Heritage Library, The Animal Kingdom, 1829.
An introduction to wolf-dog hybrids by animal behaviorist and author Alexandra Semyonova.
---
Introduction by Alexandra Semyonova
---
The wolf-dog hybrid, also called 'wolfdog', is an emotional trap people walk into all too often. Sometimes it's about the latest macho fashion -- a rottweiler or a pit bull isn't good enough, you're not a real man until you have a half-wolf playing with your children. Sometimes it's about television dog trainers or romantic novels and movies, who tell us the dog is basically a dulled-down wolf, thus that a (half-)wolf becomes a dog if only you get it when it's young. Other times, it's simply the selfish wish to have the most exclusive pet in the neighborhood. All kinds of animals pay the price for these vanities, but as our archive shows, it is most of all our children who are suffering the consequences. Due to the misery and death the wolfdog phenomenon causes, both animal and human, we need some cold, hard biological facts here -- a reality check. Fact: The breeding and keeping of 'wolfdogs' is bad for dogs, bad for wolves, and above all bad for our human children.
As more and more research shows, the dog did not 'descend from' the wolf any more than you 'descended' from your sixth cousin. A wolf is not just some wild kind of dog, and the domestic dog is not merely some inferior or tame form of wolf. All of a wolf's physiology, its senses, inherent motor patterns, reflexes and emotions are adapted to a rich but hard life in the wild. It took tens of thousands of years of evolution to make the domestic dog equally superbly honed for life with us. When you mix the two, you create creatures that are inferior to both wolf and dog, and that are destined to be miserably unhappy -- they fit neither in a wild world nor in our human one.
Hybrid character is generally unpredictable because it's impossible to know which dog vs. wolf traits a particular animal has inherited. There are, however, some common behaviors almost all hybrids share. They are escape artists and roamers. They are extremely shy and may be aggressive with humans they haven't known intimately all their lives. A hybrid often won't let a human touch it and can respond with severe biting if someone tries -- even their owner. They don't hesitate to kill small animals and other canids (including your neighbors' dogs). Most tragic of all, a human infant or child can trigger the same reflexive hunting chain that a lamb does in a hungry wolf. These are genetically determined traits. You cannot socialize a hybrid into being a dog that just looks a lot or a little like a wolf.
None of this is the animal's fault, but all that does is put the responsibility onto us to abandon our Game of Thrones fantasies (ditto Call of the Wild, White Fang, etc) and stay in the real, adult world. Keeping hybrids is dangerous for us, our children, our livestock and our pets. Keeping hybrids is cruel to the animals themselves. The hybrid is never really happy, no matter how much work you put in. In addition, most people dump the animal when reality overtakes the fantasy they held. The vast majority of hybrids end up abandoned before their third birthday. A few live on in a specialized refuge. Many go to shelters where in the end they are euthanized, too unpredictable and dangerous to place. Many more are abandoned in the countryside, where they starve, are shot by a rancher, or die hit by a car. Keeping hybrids is cruel to real wolves. Contamination of the wolf gene pool by these hybrids is a hindrance to attempts at wolf conservation. These are all reasons why hybrids are banned in a dozen states and strictly regulated in fifteen more.
Perhaps the worst of the lot are the breeders of hybrids. Some are extremely dishonest and uninformed, no matter their pretense of expertise. Others know what misery they're causing, but don't care about the animals -- wolf, dog and hybrid -- they exploit. None apparently care about the risk their product poses for the public, especially for our children. Hybrid breeding is a ruthless enterprise, based on ignorance, arrogance and love of cash -- and all other things be damned, from the wolf to the dog to the dead bodies of too many of our children.
---
The Long Document: Animal behaviorist and author Alexandra Semyonova provides analysis and a special report: What You Need to Know About Wolf-Dog Hybrids
---
---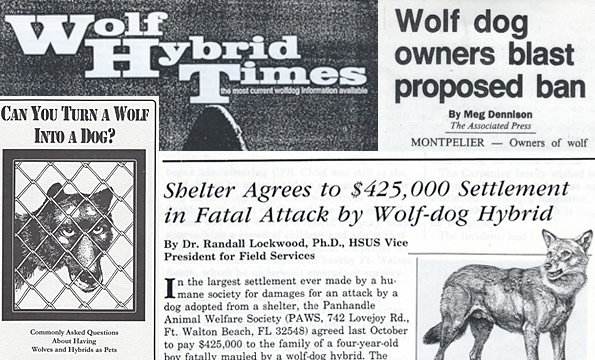 ---
The Archival Record
---
---
"Fact: The breeding and keeping of 'wolfdogs' is bad for dogs, bad for wolves, and above all bad for our human children." - Animal behaviorist and author Alexandra Semyonova.
---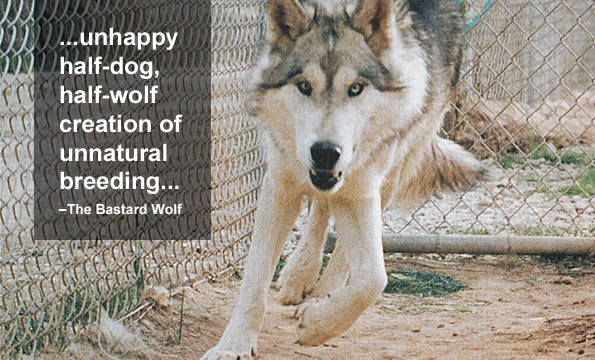 ---
The Long Document: Animal behaviorist and author Alexandra Semyonova provides analysis and a special report: What You Need to Know About Wolf-Dog Hybrids
---
Reading List & End Notes
---
Hollywood Influence
End Notes
---
Related articles:
Fatal Pit Bull Attacks - The Archival Record by DogsBite.org
Fatal Pit Bull Attacks - Child Fatalities - The Archival Record by DogsBite.org
Fatal Rottweiler Attacks - The Archival Record by DogsBite.org