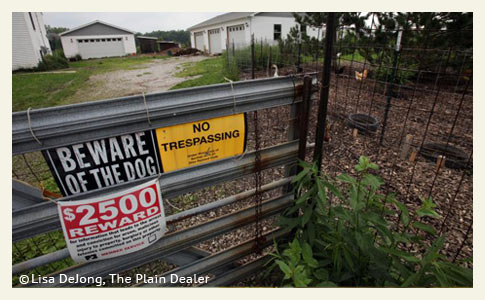 The property where Michael Winters lived with his father.
Breed Info Released
UPDATE 06/16/10: A report issued later in the day presented even more disturbing information. The nine dogs involved in the attack included: 5 bullmastiffs,1 1 rottweiler and 3 pit bull-mixes. It is important to point out that Kywa (who said "my dogs" in the 911 call) was not "rescuing stray dogs." He was only rescuing dog breeds known to be dangerous. As was put to us in a recent email, "The victim could have had a machine-gun and still have been in desperate trouble."
When deputies arrived, they shot and killed one bullmastiff and the rottweiler. Kywa had managed to coral the remaining seven dogs into the garage. The dog warden then tranquilized the dogs through a window and a vet later euthanized them at the scene.2 The tenth dog was not put down. This dog was a yellow Labrador that was inside the family's home during the horrific attack. This dog appears to be the only true family dog and likewise was kept inside the residence.
A subsequent news article by The Morning Journal posted parts of the 911 call:


Warning: Disturbing content.
06/16/10: Photos of Scene Released
In a disturbing update, the Chronicle-Telegram has published quotations from the 911 call that Kywa made upon finding the victim's body. The group also published photos of the crime scene and deputies posed to shoot aggressive dogs. County Dog Warden Jack Szlempa Sr. said his office was called out to the home about a year and a half ago after several dogs attacked another dog. No report was taken on the incident because it occurred on private property.
06/16/10: Family Rescued Stray Dogs archived
The Plain Dealer reports that Michael Winters and his father Michael Kywa rescued stray dogs and cared for them at their home on Ohio State Route 511. The two tried to find homes for the dogs in their care. They had about a dozen dogs of various sizes and breeds including a 200-pound mastiff. Kywa found his son lying in the driveway heavily bleeding with hundreds of bite wounds covering his body. His clothes had been ripped off by the attacking dogs as well.
Authorities believe multiple dogs were involved in the attack, but have declined to provide "breed information" thus far. Though clearly a fatal pack attack scenario, it is important to point out that such scenarios usually involve a pack of roaming dogs that attack strangers, not on-property dogs who attack and kill their keeper. Authorities eventually caught all of the dogs. Police shot and killed two of the dogs because they were aggressive toward officers.
06/15/10: Victim Dies Violent Death
Henrietta Township, OH - In a developing story, 30-year old Michael Winters was killed earlier today by a group of dogs his family kept in a fenced-in yard. Investigators said around 11:30 am, the father left the house and then returned at about 12:15 pm. At some point during that period, his son came home and was attacked by the 8-10 dogs in the driveway. His father Michael Kywa called 911. Winters was pronounced dead at the scene by emergency personnel.
1
Five bullmastiffs easily equates to 500 lbs of dogs and likely more.
2
Only in the most horrific fatal attacks are the dogs "euthanized at the scene" by animal control or veterinarians.
Related articles:
01/18/10: 2010 Fatality: 56-Year Old Man Killed by Daughter's Six Pit Bulls
08/18/09: 2009 Fatality: Senior Couple Killed by Pack of Dogs in Oglethorpe County
Photo: Cleveland.com