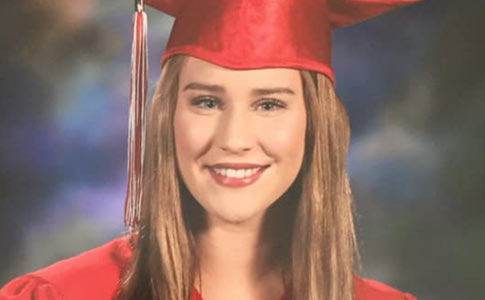 Adrieanna O'Shea, 19-years old, died after five dogs attacked her in Knox County.
Victim Did Not Survive
Knox County, TN - Multiple family members confirm on social media that 19-year old Adrieanna O'Shea did not survive her injuries. On Friday, August 23, Adrieanna was viciously attacked by five dogs while visiting a property on Crescent Drive. The pack contained multiple mastiff-mixes, a rottweiler-mix and a pit bull. Adrieanna had been returning to the home after leaving her purse there the night before. A witness said "the dogs were dragging her and tossing her in the air."
Case Background
On August 23, multiple media outlets in Knox County, Tennessee reported a vicious dog attack in the 6000 block of Crescent Drive. A controversial GoFundMe campaign was created afterward, dividing family members in multiple states. Adrieanna resided in Maryville, but was attacked in Knox County. Her relatives appear to reside in Mississippi, North Carolina and Nevada. On Tuesday, we began following a man on Facebook who calls Adrieanna his daughter.
On August 28, the Knox County Sheriff's Office confirmed investigators were sent to 6517 Crescent Drive on Friday at about 2:00 pm for reports of a 19-year old girl viciously attacked by a pack of dogs (read parts of police report). A witness at the scene told investigators Adrieanna was coming over to pick up her purse because she had left it there the night before. The witness said she heard Adrieanna say, "No Boscoe!" then heard her screaming, "Help me! Help me!"
The witness said, "she heard screaming and ran to the door and she saw 4-5 dogs attacking Adrieanna," states the police report. "The dogs were dragging her and tossing her in the air," the witness said. Two arriving officers were told that Adrieanna "had jumped a small fence to try to get away from the dogs." An officer shot and killed one of the dogs after it charged them. Officers said the victim had "bite wounds to both her arms and all over her body" and had "lost a lot of blood."
"The dogs tore off her clothes during the attack. She was covered in blood and debris and non-responsive." - Knox County Sheriff's Office report
As reported by the owners, the dogs involved were a male mastiff named "Boscoe," a male rottweiler-mix named "Buddy," another mastiff-mix named "Camo," an unaltered female pit bull named "Nila" and a male, neutered mastiff-Labrador mix named "Duke." While officers loaded the dogs into a van, the landlord and dogs' owner, Rodnee Herald, told officers, the dogs were just "Doing their job," states the report. The dogs were taken to Young-Williams Animal Center.
According to news reports, the owner said the dogs were restrained by an electric fence that was not buried. When deputies tried to explain that this type of fence was not allowed, one of the owners became "hostile" and proclaimed, "We killed his dog!" states the report. Also stated in the report, Herald told officers, "the dogs are family dogs, the family being: herself, her husband and her son." As noted in the news reports, there were multiple mobile homes on the property.
Adrieanna was attempting to retrieve her purse from a mobile home on the property that was adjacent to where the owners of the dogs lived.
By Wednesday evening, the remaining four dogs had been euthanized and Herald walked back her cold-blooded statement to officers. However, it only matters what was said at the scene after five dogs brutally attacked Adrieanna, who knew at least one of the dogs by name. The dogs were just "Doing their job," Herald told officers then. Herald stated Wednesday, the gruesome attack was "traumatizing for all parties involved." Except that only Adrieanna suffered traumatic injuries.
As the owner of vicious dogs, the Heralds could not leave it at that either. Referred to as "they" by WBIR, Herald family members told WBIR, "I would not own any kind of animal that would do something like this. We are all traumatized with this freak accident and are praying for Adrieanna and her family." The term "freak accident" has been employed by the owners of vicious dogs -- primarily pit bulls -- to deny responsibility after monolithic maulings and fatal attacks since 1985.
Another Teenager Killed by Dogs
Adrieanna is the third teenager mauled to death by dogs this year. As we stated after the deaths of 14-year old Ryan Hazel and 16-year old Nelson Cabrera earlier this year, victims in the 10 to 18-year old age group make up only 1.5% of dog bite fatalities. Victims in the 19-29 age group make up only 3% of fatality victims. All three fatal attacks involved multiple dogs on the dog owner's property while the teenage victim was visiting -- Cabrera was allegedly trespassing at the time.
According to Adrieanna's Facebook page, she graduated from Heritage High School in Maryville in June 2019. She began studying at Walters State Community College in Sevierville afterward.
---
View the DogsBite.org Google Map:
Tennessee Fatal Pit Bull Maulings
.
Related articles:
07/23/19: 2019 Dog Bite Fatality: Man Mauled to Death by Pack of Dogs in Southwest Memphis
08/13/19: 2019 Dog Bite Fatality: Texas Teen Dies After Brutal Attack by Three Pit Bulls in Irving

---
Baseline reporting requirements:
Law enforcement departments across the United States should release consistent "baseline" information to the media and the public after each fatal dog mauling,
including these items
.