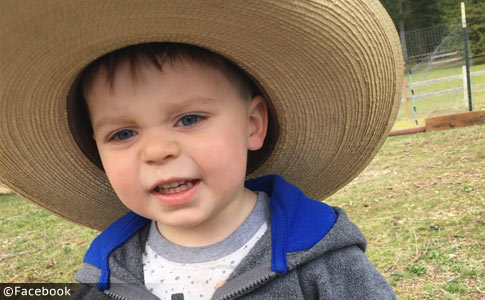 Elliot Sherman, 4-years old, was killed by his grandparent's two rottweilers on May 9.
Cause of Death
UPDATE 05/28/21: More information has been released about a 4-year old boy that was killed by his grandparents' two rottweilers on May 9 near Whitehall. The boy left his grandparents, who were outside the home, to go inside the home, reports KRTV. After 45 minutes, his grandparents went to check on him and found him badly injured by the dogs. The grandparents started CPR on the child. After the sheriff and EMS arrived, Elliot Sherwin was pronounced dead at the scene.
"The cause of death is numerous puncture wounds and lacerations to his arms, legs, torso area." - Jefferson County Sheriff Craig Doolittle
Elliot's grandparents had recently gained custody of the boy, and moved to the area from Washington state, reports KRTV. The boy had grown up with the rottweilers since they were puppies. There were no indications or reports the dogs showed viciousness in the past. Both dogs were euthanized. The cause of death was ruled an accident. The grandfather's Facebook page still shows the pair of rottweilers. No other information has been released by authorities.
---
05/26/21: Rottweilers Kill Boy
Whitehall, MT - In the wake of a pair of family rottweilers killing a baby in North Carolina, the Montana Standard reports that two dogs killed a 4-year old boy in early May. Jefferson County Sheriff Craig Doolittle confirmed the boy's death Wednesday. The case continues to be under investigation and autopsy results haven't been finalized. The attack occurred at the boy's grandparents' home on Cedar Hill Road on May 9. Doolittle identified the boy as Elliott Sherwin.
The boy was pronounced dead at the scene, Doolittle said. "There was an ambulance called there from Jefferson Valley EMS, Life Flight was called and the victim was pronounced deceased at the scene," Doolittle said. The two dogs, believed to be rottweilers, were euthanized after the attack, Doolittle said. Deputy County Attorney Andrew Paul told The Standard his office could not comment on an ongoing investigation and that no legal proceedings had been initiated.
Fatal Rottweiler Attacks
There were no recorded fatal rottweiler attacks in 2020. There were four fatal rottweiler attacks recorded in 2019. In California, 2-year old Jaysiah Chavez was killed by two roaming rottweilers. In Nevada, 15-month old Kyna DeShane was killed by a rottweiler while visiting her grandfather's home. In Tennessee, 19-year old Adrieanna O'Shea was killed by a pack of dogs involving a rottweiler-mix. In Kentucky, 3-year old Steven Thornton was killed by two family rottweilers.
The delay in reporting this Montana attack comes during a period where we have seen a sharp decline in media reports of fatal dog maulings. During 2020, we saw a 45% decrease in media reports compared to 2019. Of the 46 persons killed by dogs in 2020, nearly one-quarter, 22%, lacked an official news release as well. This situation has continued in 2021. This year, reported fatalities are down 35% compared to a similar pre-Covid period (January 1 to May 26, 2019).
View the DogsBite.org Google Map:
U.S. Fatal Rottweiler Attacks By State
Related articles:
05/26/21: Fatal Rottweiler Attacks - The Archival Record - DogsBite.org
05/26/21: 2021 Dog Bite Fatality: Pair of Family Rottweilers Kill Baby in North Carolina
06/26/17: 2017 Dog Bite Fatality: Woman Brain Dead After Pit Bull Mauling Near Bozeman
---
Baseline reporting requirements:
Law enforcement departments across the United States should release consistent "baseline" information to the media and the public after each fatal dog mauling,
including these items
.