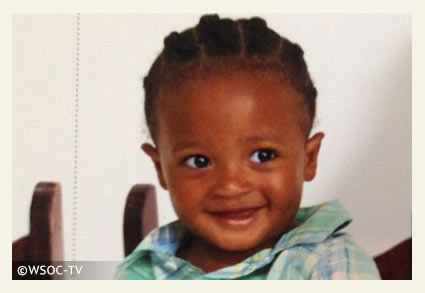 Nyhiem Wilfong, killed by a family member's chained rottweiler.
Social Services Involved
UPDATE 05/06/14: Various news reports state the 5-year old boy was the victim's cousin, not his brother. An updated report by WBTV describes how the boy was found, "bloody and covered in mud with the dog laying on top of him." The boy's grandfather and owner of the dog, Ervin Patterson, told WBTV that he did not believe the dog was aggressive. "He's just big and playful," Patterson said. Sheriff's investigators and the Dept. of Social Services continue to investigate.
05/05/14: New Details Emerge
The 1-year old mauling victim has been identified as Nyhiem Wilfong. WSOC-TV reports that family members said the toddler and his 5-year old brother were playing at his grandfather's house in the backyard when the attack occurred. According to animal control officers, the older brother had suggested playing with the chained dog. Family members said they have only had the 100-pound rottweiler, named Kobe, for three weeks (sufficient time to inflict a deadly attack).
The vicious attack occurred in front of the victim's 5-year old brother.
The WSOC-TV video is brief, but poignant. The boy's grieving family, however unintentional, receives an F grade in caring for this child. 1.) It was a "new" dog, and a rottweiler at that, the second leading killer. 2.) The dog was chained in an accessible area to the children (the chain appears quite long as well), and 3.) The grandfather was asleep when the attack occurred. That is a recipe for a fatal dog mauling for any child living on or visiting that property or living nearby.
05/05/14: Rottweiler Kills Toddler
Caldwell County, NC - In developing story, a 1-year old child in the Kings Creek area of eastern Caldwell County was killed by a chained rottweiler Sunday evening. The attack occurred at approximately 7 pm Sunday, May 4. Authorities have not yet released the child's name. The dog was reportedly seized and is being held at the Caldwell County animal shelter. The Caldwell County Sheriff's Office is investigating the child's death. More information is expected Monday.
View the DogsBite.org Google Map:
U.S. Fatal Rottweiler Attacks By State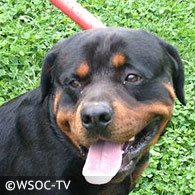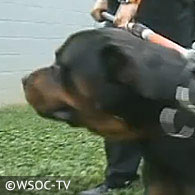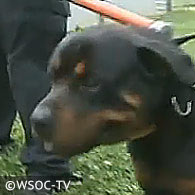 Related articles:
12/31/13: Fatal Rottweiler Attacks - The Archival Record
12/05/12: 2012 Dog Bite Fatality: Yadkin County Infant Mauled to Death by Family Dog 
Photos: wsoctv.com