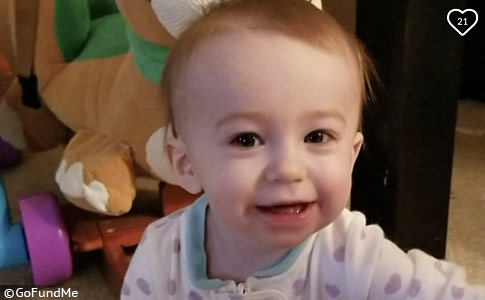 Kyna Marie Pamela Deshane, 1-year old, died after being mauled by a rottweiler.
Rottweiler Kills Baby
Henderson, NV - A baby girl is dead after being attacked by a rottweiler, Henderson police confirmed. The deadly dog mauling occurred in the 100 block of Appian Way just before 8:00 am Saturday. The Henderson Police Department, animal control, and Fire Department responded to the home near Horizon Drive and Pacific Avenue. Officers arrived to find a 15-month old girl bitten and injured by a rottweiler. She was transported to Henderson Hospital, where she later died.
On Monday the coroner identified the victim as Kyna Marie Pamela Deshane from Ely. She died due to "multiple injuries from a mauling."
The rottweiler was 4-years old, according to police. Details of the child's injuries were not released. The dog was owned by a friend of the family and was euthanized at the owner's request, police said. The Clark County Coroner's Office will identify the child and the cause and manner of death. The baby's mauling death comes after an unreported fatal pit bull attack in Henderson last May. The dogs had been adopted from the Henderson animal shelter eight months earlier.
Top Counties in Fatal Dog Attacks
Clark County now joins three other counties in the U.S. for the highest rate of fatal dog attacks. As of April 27, 2019, Maricopa County, AZ, Harris County, TX, Riverside County, CA and Clark County, NV all share the distinction of having 8 fatal dog maulings since 2005, the highest ranking counties on record. The problem with Clark County is that they have reached this distinction due to the added number of deaths since 2016. Public shelters adopted out two of these killer dogs too.
In January, Henderson claimed the "no-kill" status. The absence of media scrutiny after two dogs they adopted out killed a man might have helped.
Both of the shelter dog inflicted human fatalities occurred in 2018. The grisly unreported fatal mauling of Bradley Cline, 62, occurred in late May. The attackers, a pair of male pit bulls (about 1-year old), had been adopted from the Henderson Animal Shelter in September 2017. The police report stated the attack lasted up to 20 minutes. In October, Susan Sweeney, 58, was killed by a 3-year old mastiff-mix her family adopted from The Animal Foundation just several days earlier.
View the DogsBite.org Google Map:
U.S. Fatal Rottweiler Attacks By State
Related articles:
03/22/19: Fatal Rottweiler Attacks - The Archival Record - DogsBite.org
04/11/19: 2018 Dog Bite Fatality: Pair of Adopted Male Pit Bulls Killed Man in Henderson...
10/09/18: 2018 Dog Bite Fatality: Recently Adopted Mastiff Kills Owner in Las Vegas, Nevada
05/09/17: 2017 Dog Bite Fatality: Family Pit Bull Kills Baby in Northwest Las Vegas
08/19/16: 2016 Dog Bite Fatality: Family Pit Bull Kills 'Visiting' Child in Las Vegas
---
Baseline reporting requirements:
Law enforcement departments across the United States should release consistent "baseline" information to the media and the public after each fatal dog mauling,
including these items
.