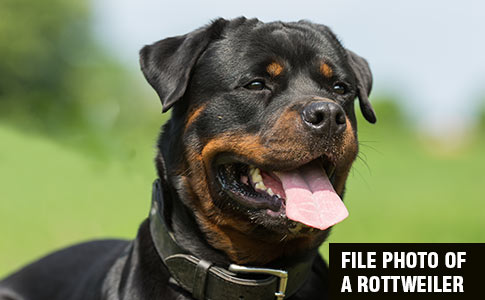 Jessica Wauters, 59, was killed by a pet rottweiler in the backyard of her home.
Woman Killed by Rottweiler
Tomball, TX - A 59-year old woman is dead after being attacked by one of her own dogs in her backyard, according to Harris County Precinct 4 deputies. Deputies responded to a residence in the 8200 block of Calico Canyon Drive after receiving a call from the victim's 30-year old son, who found his mother unresponsive. Upon arrival, deputies found the woman surrounded by blood. Multiple dogs were in the backyard, deputies said. One of the dogs, a rottweiler, had blood around its mouth.
The victim was transported to a hospital, where she was pronounced dead. The rottweiler was euthanized (apparently at the scene), and two other dogs were transported to animal control. The sizes and breeds of those dogs were not released. Investigators are now waiting on autopsy results to see if the other two dogs were involved in the fatal attack. This is the sixth fatal dog mauling in Harris County since November 2021. Most of the attacks occurred in jurisdictions outside of Houston.
"The entire incident is under investigation. We're still working on a few things but it appears to be consistent with an attack by the rottweiler dog," Harris County Precinct 4 Constable Mark Herman said. KPRC interviewed Bob Holmes, a dog trainer who operates K-9 Obey LLC. Holmes said that rottweilers are an aggressive breed, due to being bred historically for guarding purposes. He also made the interesting comment of how rottweilers can start treating their owner "like an employee."
"They've been bred to be working dogs and they possess a little bit of aggression because they were also trained and bred historically to be guard dogs," said Holmes.

"Sometimes they will assume the role and guard the house from strangers. Because if they start becoming a little bit aggressive, they will start treating their owner like an employee," said Holmes. - K9 trainer, Bob Holmes, KPRC interview
KHOU reports the victim has been identified as Jessica Flores Wauters. She was found Sunday at an undisclosed time covered in blood, as was her pet rottweiler. "The victim was still alive," Constable Herman said. She was transported to a trauma center in The Woodlands, where she died of her injuries. KHOU also reports that all three dogs have since been euthanized, indicating the other two dogs in the backyard participated in the fatal mauling or cannot be excluded from participating.
Harris County Fatal Dog Maulings
In November 2021, Tiffany Frangione, 48, was killed by her own two dogs in the backyard of her Houston home. In February 2022, Drué Parker, 4, was killed by four pit bulls while visiting his aunt's home in Baytown. In June 2022, Nicolas Vasquez, 51, died after being brutally attacked by three pit bulls in Huffman. In August 2022, a 43-year old man was killed by dogs in Channelview. In February 2023, a 69-year old man was killed by two pit bulls that got into the backyard of his Houston home.
Just yesterday in Katy, which is part of western Harris County, two pit bulls attacked three people, including a Harris County Sheriff's Office deputy, leaving an 83-year old man with critical injuries. The attack was captured on a neighbor's Ring doorbell camera. The man's step-daughter grabbed an umbrella and started beating the pit bulls. A bystander jumped out of a car to help and was bitten too. A Harris County deputy, who was bitten multiple times, open fired on the dogs, killing them both.
---
Join Texas Dog Bite Victims' Advocacy - Join our Texas email list to stay informed
View the DogsBite.org Google Map:
U.S. Fatal Rottweiler Attacks By State
Related articles:
02/01/23: 2023 Dog Bite Fatality: Man Killed by Pit Bull-Mixes While Trying to Save Own Dog
01/21/23: Fatal Rottweiler Attacks - The Archival Record - DogsBite.org
03/22/22: 2022 Dog Bite Fatality: 4-Year Old Boy Killed, Relative Injured in Dog Attack in Baytown
06/28/22: 2022 Dog Bite Fatality: Man Dies After Amputations Due to Dog Attack in Harris County
---
Baseline reporting requirements:
Law enforcement departments across the United States should release consistent "baseline" information to the media and the public after each fatal dog mauling,
including these items
.