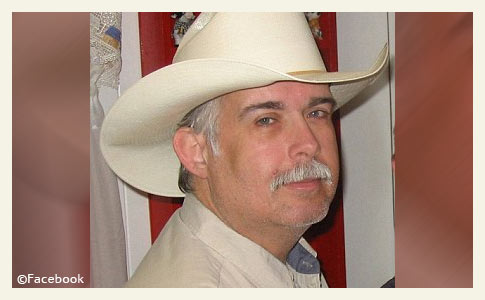 Anthony Riggs, 57, was killed within hours after adopting a rottweiler from a county shelter.
No Evaluation Policy archived
UPDATE 11/18/15: Earlier this week, The Jackson Sun reported that the rottweiler that killed Anthony Riggs was a stray picked up by a city employee 5-days before its adoption, according to Kim Tedford, the director of the Jackson-Madison County Regional Health Department. At about 10:30 am on November 12, Riggs brought his new dog to show to his son Thomas Riggs. That was the last time Thomas saw his father alive, the animal brutally killed him about 3-hours later.
Tedford said the dog showed no signs of aggression during its short stay at Rabies Control. She also denied any rumors of the dog biting any Rabies Control Officers, which had gained steam on social media after the attack. Tedford said that officers handle the dogs while they are at Rabies Control and look for basic signs of aggression, such as growling, showing teeth and lunging. "We by no means would adopt an animal out that showed any signs of aggression," Tedford said.
Tedford explained the stray pick-up and owner surrender protocols, which involves a 3-day hold. During this period, the dogs are fed and watered, but not examined or tested, she said. If they remain unclaimed, they are put online for adoption, subject to euthanasia when kennels are full. That is when URGENT no-kill rescue networks like, Save Madison County Animals, kick in to "save" the unevaluated dog at all costs through their social media and "transport" networks.
Outdated Shelter Policy
Rabies Control does no evaluation or assessment testing at all. Rabies Control releases animals unaltered and unvaccinated too.1 "Vaccinations and spaying or neutering are arranged by the owner after adoption," according to Tedford. This is untrue in other states, mandated either by state law or county policies. The current Tennessee law is many years out of date. Tedford even stated that she hoped this deadly attack would not stop people from adopting at the facility!
The director of the county health department is asking the public to accept the risk of death after admitting they have no evaluation policy.
What more could stop people from losing faith in a public pound than adopting out a dangerous breed with an unknown history, with no evaluation or testing, that in 3-hours kills its new owner? State-of-the-art temperament tests are not "science," and they do not measure unpredictable aggression. When administered properly, however, they can provide insights into the dog's behavior. Temperament tests are the very least a county shelter can do to protect public safety.
Family Members Dismayed
Adrienne Riggs, Anthony's ex-wife, and her son Thomas, the victim's son, spoke to Rabies Control after Anthony's mauling death. "I don't believe what they said," Adrienne said. She also expressed dismay and concern about the county's lack of evaluation policy. "They don't assess the dogs, they don't vet them, they don't evaluate them, they just adopt them out," Adrienne said. "You just can't put a dog that may be dangerous out with an unsuspecting family. That's just wrong," she said.
Adrienne hopes that Rabies Control undergoes policy changes, including evaluating animals over a period of time. The Madison County Sheriff's Office continues to investigate Riggs' death. More details will not be released until the investigation is complete. Meanwhile, over at Rabies Control it's business as usual. Currently available for adoption are five stray pit bulls, the top killing dog breed, with unknown histories and no evaluation or temperament testing performed by the county.
11/15/15: Comments Left by Family
The victim's ex-wife, Adrienne Riggs, left several comments on the WBBJ Facebook thread. Anthony Riggs is the father of her son. The county shelter told the family the rottweiler was a stray -- no one knows its history, she said. The dog attacked two people after killing Anthony, her son's stepmother and a neighbor. Anthony was also an experienced dog owner and handler, she wrote. The two had raised many large breeds together over the years, including a rottweiler.
"Dogs loved him and he had a way with them. He only had this dog for about 3 hours before the attack," she wrote. - Adrienne Riggs
Like many family members who go to Facebook after a severe or fatal dog attack to express their grief and share information, Adrienne was shaken by the negativity of many commenters. From the crazy rescuers -- appalled the killer dog "was put down" -- to others who blamed the victim, she had no idea people could be so cruel. Normal people like Adrienne, however, are unaware that these zealots are solely on the thread to defend violent dogs, not to offer condolences.
In Summary
The mauling death of Anthony Riggs is the single most disastrous shelter "adoption" in modern times. Riggs was an able-bodied adult man and an experienced dog handler who had owned large breeds in the past. This rottweiler suddenly attacked and killed him 3 hours after being adopted. Of the 104 rottweiler fatalities we have on record, not a single one besides this dog, inflicted a fatal attack on an able-bodied middle-aged man. The others involved "pairs" or more of rottweilers.
Another person on the WBBJ thread, Shelby Hodges, who came close to adopting this rottweiler stated: "I saw that dog and thought about adopting. So glad I didn't !!!" If Shelby had, she would be dead presently. A dog this powerful and aggressive with an unknown history never should have been available for adoption at a public pound. This is outrageously inappropriate. At this stage, the public must consider the shelter adoption of a dangerous breed to be a "life or death" decision.
11/13/15: Killed Day of Adoption
On Thursday morning, Anthony Riggs adopted a 5-year old male rottweiler from Jackson-Madison County Rabies Control -- the county animal shelter. By 3:30 pm that afternoon, the rottweiler had attacked and killed him. A rottweiler from a public shelter killed its new owner just hours after being rehomed. The dog was not finished after fatally attacking Riggs either; it also tried to attack a woman in the home. Responding Madison County sheriff's deputies had to dispatch the animal.
The Madison County Health Department refused to comment on their pet adoption policy until the sheriff's office investigation is over.
According to Animals 24-7, with the inclusion of this fatal rottweiler attack, 42 dogs rehomed by U.S. shelters and rescues have participated in killing 39 people since 2010. These dog breeds include: 30 pit bulls, 7 bullmastiffs, 3 rottweilers, a lab and a husky. The website adds that only 5 shelter dogs killed a person from 1988 through 2009. The numbers since 2010 are staggering and reflect the "reality" of modern sheltering -- adopt out at all costs to keep euthanasia rates low.
We remind readers that no temperament assessment test, not even a "state-of-the-art" one, can measure unpredictable aggression. This is the risk every person accepts, knowingly or not, when adopting a pit bull, rottweiler or other dangerous breed. Facebook commenter and witness Teresa Sanchez wrote: "He wasn't growling or showing teeth, he just bit us like he did it all the time or something. It was unreal what that dog did and he should have NEVER been adopted out period."
11/13/15: Adopted Rottweiler Kills Owner archived
Madison County, TN - The Madison County Sheriff's Office reports that a pet rottweiler killed a 57-year old man yesterday. The sheriff's office responded to a call about a dog attack about 3:30 pm Thursday in the 2200 block of Highway 70 East. Deputies found Anthony Riggs, 57, on the floor and unresponsive. EMS pronounced him dead at the scene. The investigation showed that Riggs was attacked and killed by his newly adopted rottweiler, according to the sheriff's office.
Arriving deputies shot and killed the animal. A commenter on the Jackson Sun Facebook page, Jennifer Dinkins, added more details: "The dog was shot because he was also attacking two other people who were first to arrive; they were bit also," she wrote. "The dog rushed the officer, so yes it was killed." Dinkins added, "He was family, my husband was there that's how I know." No information was provided about the shelter or rescue that adopted out the fatally attacking dog.2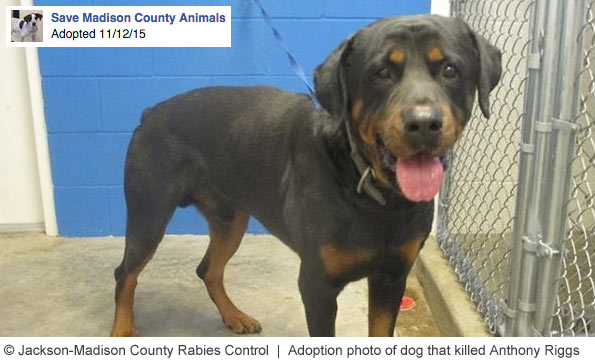 View the DogsBite.org Google Map:
U.S. Fatal Rottweiler Attacks By State
1
This county agency calls itself "Rabies Control" and does not even vaccinate?
2
Facebook commenters are pointing to an entity named JRC, Jackson Rabies Control, and saying the dog was adopted yesterday. This would indicate the rottweiler carried out a lethal attack the very same day it was adopted.
Related articles:
08/06/15: 2015 Dog Bite Fatality: Recently Adopted Out Pit Bull Kills 6-Year Old Boy...
03/13/15: 2015 Dog Bite Fatality: Texas Woman Mauled to Death by Pet Rottweiler
11/19/14: 2014 Dog Bite Fatality: 7-Year Old Boy Killed by Trained Protection Dog...
05/04/14: Fatal Rottweiler Attacks - The Archival Record