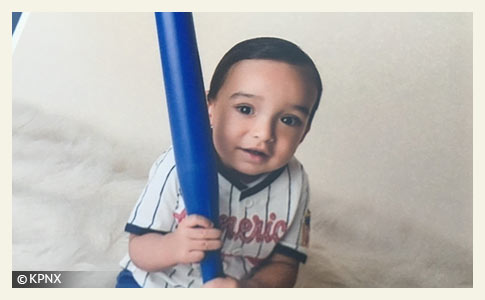 Marcos Raya, Jr., 18-months old, was attacked and killed by a family rottweiler.
Family Dog Kills Baby
Phoenix, AZ - An 18-month old baby boy is dead after being attacked by a dog in south Phoenix. The attack occurred in the 1900 block of East Sunland Avenue around 1:30 pm Friday. Police report the grandmother was doing laundry when she put the baby boy down. She opened a door in the home, which allowed the dog access to the child. The family rottweiler grabbed the baby, dragged it outside and mauled him. The grandmother was unable to pull the dog off the baby.
"The amount of bites this child suffered was the reason this child succumbed to his injury." He "never stood a chance." - Capt. Rob McDade
When Phoenix police officers arrived, they witnessed the rottweiler actively attacking the baby. An officer shot the animal, injuring it. The child was transported to a pediatric trauma hospital in "extremely critical condition," Phoenix fire spokesman Captain Rob McDade said. The baby did not survive his injuries. Fire officials said the animal belongs to the child's father and has been a family pet for three years. Maricopa County Animal Care and Control took the dog into custody.
Late Evening Updates
The deceased child has been identified as Marcos Raya, Jr. His grandmother called 911 after being unable to pull the large dog off the boy. "When officers arrived, they went inside and could see the dog had physical control of the child and was injuring the child," Sgt. Mercedes Fortune said. "At that moment, the sergeant fired one round at the animal and was able to divert attention from the child." He was rushed to a children's trauma center, where he was pronounced dead.
"It wasn't a good scene -- It was a brutal attack by the animal," McDade said. Maricopa County Animal Care and Control (MCACC) impounded the family's rottweiler and it was euthanized Friday, according to Al Aguinaga, Field Enforcement Division Manager with MCACC. The baby boy's father had owned the male rottweiler for three years. "It's a horrible scene, and a horrible, tragic incident out here," McDade said. "It's hard when you see a child in that much trauma."
---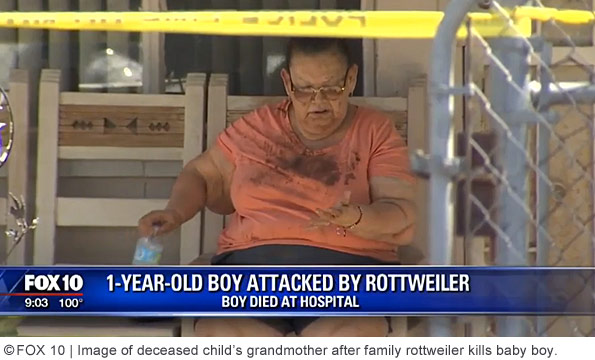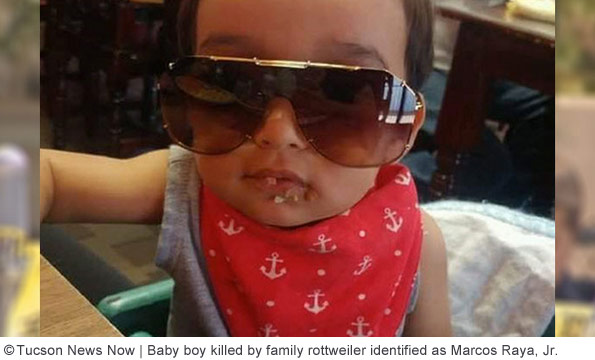 View the DogsBite.org Google Map:
U.S. Fatal Rottweiler Attacks By State
Related articles:
08/23/16: Fatal Rottweiler Attacks - The Archival Record
11/18/15: 2015 Dog Bite Fatality: Newly Adopted Rottweiler Kills Owner in Madison County
---
Baseline reporting requirements:
Law enforcement departments across the United States should release consistent "baseline" information to the media and the public after each fatal dog mauling,
including these items
.