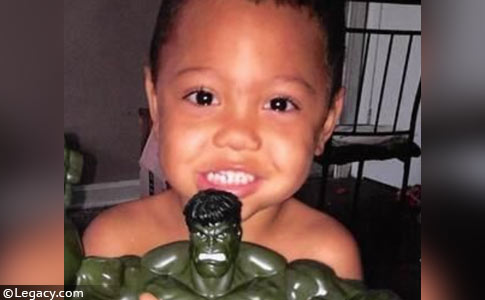 Steven Thornton III, 3, was killed by two family rottweilers in Louisville, Kentucky.
Clarifications & Questions
UPDATE 10/03/19: On Tuesday, a 3-year old boy was declared dead after being mauled by two family rottweilers. The coroner later identified the child as Steven Thornton III. On Wednesday, Lt. Emily McKinley, of the LMPD Homicide Unit, said the investigation showed the boy had gotten out of the house through an open bedroom window sometime during the overnight hours of October 1, while the rest of the family slept. Police have not said when the family discovered Steven.
It is only known that police were dispatched to the boy's home in the 4800 block of Brenda Drive just before 9:00 am Tuesday morning.
Louisville Metro Animal Services spokeswoman Teeya Barnes said the agency will not release a photograph of the dogs or provide comment "out of respect for the victim and the grieving family." However, many readers have been questioning whether the one dog seen taken from Steven's home even is a rottweiler. Thus, we are pointing out the difference between a poorly bred rottweiler and a rottweiler bred according to the strict breeding (International) FCI Standard.
Police have not stated when or where the family acquired the two dogs. Though Sylvia Turner and her sister Sherri, who live next door, told WDBR the rottweilers had not been at the home long. Coincidentally, the child's grieving uncle, Anthony Thornton, breeds rottweilers, AKA "The Rott's Den." Several years earlier, Thornton had been breeding pit bulls too, according to his Facebook page. The questions left unanswered by police and animal services further fuel this speculation.
---
10/01/19: Family Rottweilers Kill Boy
Louisville, KY - For the second time this year, Louisville Metro Police are investigating after a family dog killed a child. In May, 2-year old Isaiah Geiling was mauled to death by a family pit bull in the Chickasaw neighborhood. This morning, two family rottweilers killed a 3-year old boy in the Newburg neighborhood, about 15 miles away. The attack occurred about 9:00 am in the 4800 block of Brenda Drive, located in a subdivision behind Thomas Jefferson Middle School.
"It's a very devastating thing that's happened here, and obviously our prayers go out to the family of this child." - Dwight Mitchell, a spokesman for LMPD
"The dogs have been taken from the premises at this time. They were rottweilers," Dwight Mitchell, a spokesman for LMPD told WDRB. According to the 911 audio, the boy had fallen out of a window into his family's yard, where the two rottweilers attacked him, reports the Courier Journal. This same scenario has occurred in multiple fatal dog maulings in the past -- some of those cases resulted in criminal charges. Louisville Metro Animal Services took both rotttweilers into custody.
Neighbors said the family moved in about a year ago and the 3-year old boy, "Little Steven," was often seen playing in the front yard with his younger sister. The rottweilers, which were new to the home, were kept behind a fence. Neighbor Sylvia Turner said she saw the boy's mother shortly after police arrived at the home. "(She was saying) the dogs, the dogs killed my baby." No charges will be brought against anyone in connection with the boy's death, Mitchelle said later Tuesday.
Rottweiler Victims
Thus far this year, rottweilers have killed three children, including 2-year old Jaysiah Chavez in Fresno, California and 15-month old Kyna DeShane in Henderson, Nevada. A rottweiler-mix was also involved in the violent pack attack that took the life of 19-year old Adrieanna O'Shea in Knox County, Tennessee. Just yesterday in Coslada, Madrid, a "guard dog" rottweiler attacked its owner's face and throat, killing him. The man reportedly suffered "endless bites on his face."
The Jefferson County Coroner's Office later identified the boy as Steven Thornton III. The cause of death was "injuries consistent with dog attack."
The most common victims in fatal rottweiler attacks are young children. Between 1978 and 2018, rottweilers were involved in 117 deaths. 76% (89) where children ages 0-11. The majority of these children, 71% (63), were ages 0-4. There are only three other fatal rottweiler attacks documented in Kentucky, including two 3-year old boys (in 2001 and 1999) and a 53-year old grandmother in 1993 who was brutally killed while trying to save her 3-year old grandson from the rottweiler.
View the DogsBite.org Google Map:
U.S. Fatal Rottweiler Attacks By State
Related articles:
04/27/19: 2019 Dog Bite Fatality: Baby Girl Mauled to Death by Rottweiler in Henderson, Nevada
03/25/19: 2019 Dog Bite Fatality: Two-Year Old Boy Mauled to Death by Two Roaming Rottweilers
---
Baseline reporting requirements:
Law enforcement departments across the United States should release consistent "baseline" information to the media and the public after each fatal dog mauling,
including these items
.