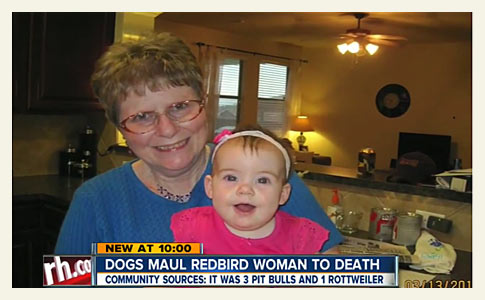 Dogs Kill Woman archived
Redbird, OK - An 67-year old woman is dead after being brutally attacked by a pack of dogs Friday. Witnesses said the attack occurred on South Main Street. Wagoner County Sheriff Bob Colbert identified the victim as Carolyn Sue Lamp of Coweta. Sheriff Colbert said she was walking, collecting cans when she was attacked and killed by three dogs. One witness came to her aid and tried the pull the dogs off her, but by the time deputies arrived she was dead, lying in a ditch.
Sheriff Colbert does not believe anyone will claim ownership of the dogs. "But our investigation will continue, and we will present our findings to the district attorney and see if there will be any charges," Colbert said. KJRH.com identified the dog breeds as three pit bulls and a rottweiler. Residents told them the scene was gruesome and that Lamp was unrecognizable after the attack. Like in many fatal pit bull attacks and pack attacks, the dogs ripped off all of her clothes too.
Fox 23 news reporter Eddie Randle spoke to Sheriff Colbert and several deputies who said that all of the dogs were pit bulls. Colbert also said that last year, Lamb asked the nearby residents if she could feed these same dogs (apparently they were strays). "Its ironic," Colbert said, "this lady offered to help these same dogs that a year later took her life." No one who lived nearby claimed ownership, but told Randle that they do feed them. All of the dogs were seized and quarantined.
Long Time Stray Dog Problem
A variety of news sources and residents are commenting about the long time problem of stray dogs or owned dogs running loose in the area. Sheriff Colbert is aware of the problem, but said that the sheriff's office cannot help with animal control. Oklahoma state law only allows for cities with a population of 250,000 or more to be assigned an animal control officer. Small communities like Redbird (population 137) have no agency to call for help. Now an innocent woman is dead.
Tulsa 8 News interviewed two residents, one of whom tied to help Lamp, but she was already dead when he found her. "Oh yeah, she was dead, she wasn't breathing. You could look at her and tell that she wasn't breathing," he said, who asked to remain anonymous. Annette Panter, who lives just down the street, said as recently as this morning she shot at about 4 or 5 dogs. Panter said she always carries a gun because of the frequency of encountering aggressive stray dogs.
View the DogsBite.org Google Map:
Oklahoma Fatal Pit Bull Maulings
.
Related articles:
08/31/15: Who Can Identify a Pit Bull? A Dog Owner of 'Ordinary Intelligence'...
06/29/15: 2015 Dog Bite Fatality: Pit Bull Kills Child Under Babysitter's Watch...
09/30/12: 2012 Dog Bite Fatality: Oklahoma Woman Killed by Pit Bull in Her Home
08/27/12: 2012 Dog Bite Fatality: Elderly Oklahoma Man Killed by Two Pit Bulls
09/28/11: 2011 Dog Bite Fatality: Ardmore Man Mauled to Death by Chained Pit Bull