The Pack of Rottweilers Belonged to the Grandmother's Brother

Esta Currier, 73-years old, was brutally killed by four rottweilers in Robeson County,
Involuntary Manslaughter
UPDATE 12/31/19: Just over a year after a pack of rottweilers killed a grandmother and severely injured two of her grandchildren, criminal charges have been filed. Brenda and Carey Walters are charged with involuntary manslaughter in connection to the death of 73-year old Esta Currier, according to police. The attack occurred on December 10 at 2258 Olivet Church Road. Currier was at the location to escort her grandchildren when the school bus dropped them off.
When deputies arrived, they found Currier dead near the roadway and the two injured children. Both children, 7 and 9, were airlifted to McLeod Regional Medical Center in stable condition. Deputies shot and killed all four rottweilers after the dogs approached them in "an aggressive manner." A bullet fragment or flying debris injured Brenda Carey when police opened fired on the dogs. Currier was the sister of Brenda's husband, Carey, and lived close to the bus stop.
---
12/18/18: Child Undergoes Amputation
A GoFundMe page created for the Currier family provides updates on the two children who were attacked by four rottweilers earlier this month. On December 10, as their grandmother, 73-year-old Esta Currier, escorted the two children home from the bus stop, four rottweilers belonging to Currier's brother attacked the group. Currier died at the scene due to her severe injuries and both children, ages 7 and 9, were airlifted to a trauma center in Florence, South Carolina for treatment.
"Grandma Currier fought hard to save her grandkids and ultimately lost her life while saving her Grandkids … Grandma Currier died a hero."
"Both children have been in PICU receiving treatment for their injuries," states the fundraising page. Zach, 7, had "lacerations to his head, ears, neck, arms, and legs." Leah, 9, suffered more severe injuries with lacerations all over her body. "She's had 5 surgeries just in a couple of days with one of them to amputate her leg from below her knee," states the page. Their parents have been by their side in the hospital since the dog attack, leaving only to attend Currier's funeral.
12/11/18: Sheriff's Office Press Release
A press release from the Robeson County Sheriff's Office posted on Sheriff Wilkins' Facebook page identified the fatal dog attack victim as 73-year-old Esta Currier of Olivet Church Road. Currier was already dead when deputies arrived. The two children in the mauling, ages 7 and 9-years old, were the grandchildren of Currier. Both children were airlifted to McLeod Regional Medical Center in Florence for treatment and are currently listed in stable condition.
"When the two responding deputies arrived they observed four rottweiler dogs in the roadway. As the deputies exited their vehicles, they were approached by the dogs in an aggressive manner. The officers discharged their weapons to stop the threat of injuries. The dogs died and were taken into custody of the Robeson County Animal Control.

"During the incident Brenda Walters, 56, of the 2200 block of Olivet Church Rd. Fairmont, NC was injured. Walters was treated and released from Southwestern Medical Center. Walters is the owner of the rottweilers involved in the incident and is also related to Currier." - Robeson County Sheriff's Office, December 11, 2018
RCSO Maj. Damien McLean said the school bus that the dropped the children off had already left the area before the deadly attack occurred. McLean said that everyone involved in the attack is related. Last night, Sheriff Wilkins' posted to his Facebook page, "This is a very sad day and it was heart wrenching to watch the family in such sadness. It was also difficult for 1st responders to observe this event." He also asked all of his followers to say a prayer for all who were involved.
As far as Sheriff Wilkins' confusing a pack of rottweilers for pit bulls last night, it's unclear if the dogs are cross-breeds, tri-colored types, or if it was just bad information. No other descriptive factors, such as their age, weight or photographs were provided. The last time there was a similar multi-victim fatal rottweiler attack was in Dillon, South Carolina in 2011. Two family rottweilers attacked and killed a relative then viciously attacked their owner, causing his leg to be amputated.
Finally, WRAL reports that Currier's brother owned the dogs, who is the spouse of Brenda Walters. The couple owned the rottweilers together. Walters was not attacked by the dogs, but was hurt by a "bullet fragment or flying debris" when the deputies opened fired, according to authorities. The multi-victim attack occurred at 2258 Olivet Church Road, a few houses away from where Currier lived. Currier was escorting the children home from school when the dogs attacked the group.
---
12/10/18: Dogs Viciously Attack Three
Marietta, NC - An elderly woman is dead and two children are seriously injured after being attacked by four dogs, according to Robeson County Sheriff Burnis Wilkins. The dogs are being described as pit bulls and rottweilers; they may be cross-breeds of this pairing too. Deputies responded to a home in the 2200 block of Olivet Church Road about 4:30 pm. The woman was already dead. Both children were airlifted to McLeod Regional Medical Center in Florence, SC.
The multi-victim attack occurred just after the children were dropped off at the home by a school bus, reports The Robesonian. Wilkins said some passers-by saw the injured children, but did not witness the dog attack. When deputies arrived, the dogs returned and attacked again. Deputies shot all four dogs, killing three. Animal Control Officer Jason Allison retrieved the bodies of the three dead dogs, the fourth dog apparently "ran off," even after being hit with a "body shot."
Fourth Fatal Dog Attack Since 2012
This is the fourth fatal dog attack in Robeson County since 2012. In October 2012, Mary Jo Hunt, 53-years old, was killed by her seven rescue pit bulls in Pembroke. Hunt worked for Robeson County Claws and Paws Rescue at the time. In November 2014, Alemeaner Dial, 83-years old, was killed by her granddaughter's four pit bulls in Rowland. In 2016, Talan West, 7-years old, was brutally killed by a neighbor's pit bull, while two other dogs attacked his 8-year old brother.
Five months after Talan's death, the city of Lumberton passed a breed-specific ordinance. The ordinance is based upon the pit bull ordinance in Edenton. Talan's mother, Jamie West, was a powerful force behind the passage of the law, which declared pit bulls, rottweilers and chows "potentially vicious." The ordinance bans the tethering of these breeds, requires a secure pen with a concrete floor, mandatory sterilization and for owners to carry $100,000 in liability insurance.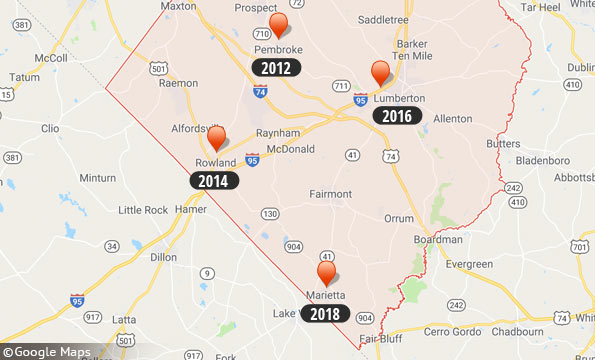 View the DogsBite.org Google Map:
U.S. Fatal Rottweiler Attacks By State
Related articles:
05/05/18: Fatal Rottweiler Attacks - The Archival Record - DogsBite.org
06/15/16: 2016 Dog Bite Fatality: Pit Bull Kills Child, Injures Another in Lumberton, North Carolina
11/03/14: 2014 Dog Bite Fatality: Woman Dies After Violent Pit Bull Attack in Robeson County
10/04/12: 2012 Dog Bite Fatality: Pembroke 'Dog Rescuer' Killed by Rescued Pit Bulls
---
Baseline reporting requirements:
Law enforcement departments across the United States should release consistent "baseline" information to the media and the public after each fatal dog mauling,
including these items
.