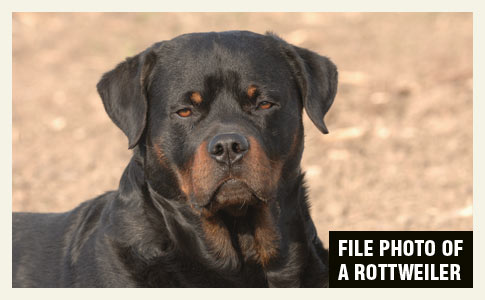 Dylan Andre, 17-months old, was killed by his neighbor's chained rottweiler.
Bitten Repeatedly
Jacksonville, FL - A 17-month old boy died today after being mauled to death by a rottweiler. The attack ending Dylan Andres' life occurred in the 1000 block of Maynard Street just before noon. According to Chief of Detectives Tom Hackney, the boy left his mother when she was unpacking groceries from her car and walked into a neighbor's yard across the street and was attacked by the dog, which was chained to a pole. Hackney said the dog bit the child repeatedly.
Neighbor Jessica Golden said that she had just been to the store with Dylan and his mother, Destiny Kieszler, and was inside her home when she heard Kieszler's screams. She ran outside and saw Dylan's father trying to pull him away from the dog. "The dog had the baby in its mouth," Golden said. Hackney said the owner of the rottweiler was not home at the time of the incident. Family members wept near the horrific scene as they spoke about their nephew to reporters.
"We were unloading groceries and the next thing we know we hear screams running out of the house and the dog had the baby in its mouth," said neighbor Jessica Golden.
Neighbors took Dylan to UF and Shands hospital where he was pronounced dead.
Dylan's grandparents told Action News that this canine has been a concern for parents in the past, they've even reported it to police before. But Chief Tom Hackney, with the Jacksonville Sheriff's Office, says the dogs owner has never been cited by animal control.
"I know they've had some issues with dogs in the streets within the past couple months. This dog does not appear to be involved in any of the previous incidents," said Hackney. - Action News Jax, March 9, 2012
View the DogsBite.org Google Map:
U.S. Fatal Rottweiler Attacks By State
Related articles:
03/19/12: Fatal Rottweiler Attacks - The Archival Record
08/13/11: 2011 Dog Bite Fatality: 4-Year Old Boy Killed by Grandfather's Rottweiler in Ozark
07/06/11: 2011 Fatality: Frankfort Girl Mauled to Death by Pet Rottweiler
03/07/11: 2011 Fatality: Rottweilers Kill 3-Year Old Girl in Delaware County, Iowa