The Baby's Parents Work in Law Enforcement and EMS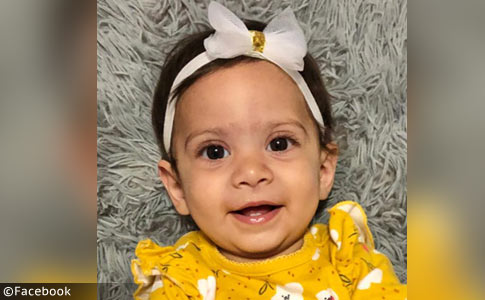 Malia Scott Winberry, 10-months old, was killed by a pair of family rottweilers.
Rottweilers Kill Baby
Angier, NC - A 10-month old baby girl died Tuesday after being attacked by a pair of family rottweilers. Johnston County deputies responded to a home on Riparian Court in Willow Spring about 8:00 pm. When deputies arrived, the baby was unresponsive. Johnston County Sheriff Steve Bizzell said the baby's father stepped outside briefly and was speaking to a neighbor when he heard a commotion inside. He went back inside to find the rottweilers attacking the baby.
"Bizzell said the father is a law enforcement officer in Wake County, and the mother works for Johnston County's EMS." - Multiple news reports
Other details released by police include, "an investigation determined the father, who is a law enforcement officer, had briefly left the baby unattended in the home to go outside and move a sprinkler in the yard. He heard a commotion and when he went back inside, the girl had been attacked by the family's dogs," as reported by WTVD News. These are similar circumstances to the fatal mauling of a baby in Dallas in 2015 by a family pit bull the mother called a "Big Baby."
This region of North Carolina is known as the Triangle (Raleigh, Durham and Chapel Hill). Last month, in the adjacent Wake County, a 7-year old girl was killed by two pit bulls. The location of this attack is about 15 miles from the Town of Garner, where Jayden Henderson was killed and her mother was severely injured by two pit bulls they were caring for while their owners were away. The owners of those pit bulls are still fighting to get these dangerous dogs returned to them.
Baby Identified
On Wednesday, police identified the baby as Malia Scott Winberry. When deputies arrived at the scene, they found her father, Scott Winberry, rendering aid to her. "The Sheriff's Office and EMS responded but were unsuccessful on reviving the child," Johnston County Sheriff's Office Capt. Danny Johnson said. "It's a bad scene," he said during a Tuesday press conference. This is "very hard in us all because we all have children. Our thoughts and prayers go out to the family."
A spokeswoman for Johnston County Emergency Services, where the mother of the child works, Bianca Patel, said they were "deeply saddened by the tragic loss of Malia," and was "offering support services to the family." Both dogs were taken into custody by Johnston County Animal Services. The director, Chad Massengill, confirmed the dogs have been declared dangerous by the county. "It's very solemn around here this morning," he said. "It's very difficult to deal with."
A 2019 Facebook post by Patel shows that the rottweilers had escaped the family's yard in the past. Presumably, Abbi and Joker are the two rottweilers. "Joker," the dog wearing the red collar, "likes to dig," Patel stated. "There is an electric fence but it was not plugged in at the time," Patel wrote. Both rottweilers are "fixed" and "with papers," according to the post. That did not stop the rottweilers from roaming. Sterilization also plays no role in altering breed-specific behaviors.
"Code Blue" Call
Audio dispatch logs from Johnston County Public Safety reveal the call came in as a "code blue." Recall they are responding to the home of a Johnston County Emergency Services employee. Since the 1980s, rottweilers have been the second top killing dog breed in the U.S. This is why we created the fatal rottweiler attack archive. Rottweilers consistently show just how dangerous they are, particularly to young children. There were no recorded fatal rottweiler attacks in 2020.
View the DogsBite.org Google Map:
U.S. Fatal Rottweiler Attacks By State
Related articles:
05/26/21: Fatal Rottweiler Attacks - The Archival Record - DogsBite.org
05/20/21: 2021 Dog Bite Fatality: Child Killed, Mother Hospitalized While Caring for Neighbor's...
---
Baseline reporting requirements:
Law enforcement departments across the United States should release consistent "baseline" information to the media and the public after each fatal dog mauling,
including these items
.