Dog Bite Victims' Advocacy Group Turns 8-Years Old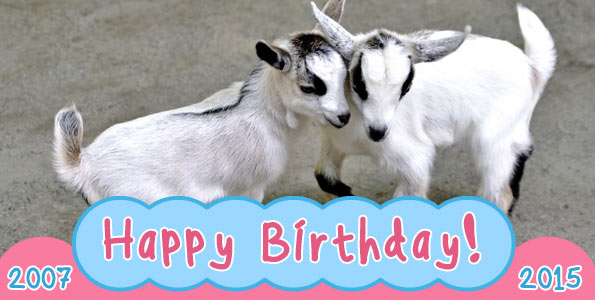 Austin, TX - October 15, 2015 marks the eighth year that DogsBite.org has been operating on the Internet educating the public, dog bite victims, attorneys, doctors, law enforcement, journalists and policymakers about the growing epidemic of serious and fatal dog maulings in this country. The great majority of these attacks are inflicted by a select group of dangerous dog breeds: pit bulls, rottweilers and mastiff-types that were used to create "baiting" bull breeds and fighting breeds.
The end of 2014 marked a significant milestone for DogsBite.org, the collection of 10-years of U.S. dog bite fatality data. When we began recording this data, we tracked 18 unique parameters for each attack. By 2013 those parameters had grown to 30. Over the course of 2015, we have been closely reviewing earlier years and adding these additional parameters to the earlier fatality records. We also closely track the few criminal trials where serious felony charges are pursued.
We track this data because the fundamental U.S. government agency that should be tracking this information, the CDC, stopped in 1998.
Each year our country moves beyond 1998 -- we are now 17-years beyond -- the failure of the CDC to reinvestigate this issue becomes more of a national embarrassment. We know through our correspondence with the CDC exactly where they stand on this matter: They will not reexamine. The very agency that demands "good data" in order to "save lives" refuses to collect it. Meanwhile, more and more medical studies are naming pit bulls as the leading inflictor of severe injuries.
In 2011, we launched Fatal Pit Bull Attacks - The Archival Record, tracking the growing number of Americans killed by pit bulls. As of today, 277 people have been mauled to death by pit bulls since the CDC stopped tracking breed data in 1998, and since 1980, 354 killed. Last year, we launched a separate page: Fatal Pit Bull Attacks - Child Fatalities. As of today, 140 children have been fatally struck down by these dogs since 1998, and since 1980, 191 dead. This is shameful.
More Advocacy Groups Form
Just yesterday a new website was announced, National Pit Bull Victim Awareness Day, which occurs on October 24. A coalition of over 50 pit bull attack victims' groups across North America joined in the effort. This is very significant. Please view the partners and friends of this initiative. When we launched DogsBite.org in October 2007, there were only four other websites online (action groups & blogs) and only two specific to pit bulls. Our Links page back then was very thin.
Facebook, first limited to colleges and high schools, opened to the public in September 2006 and introduced Facebook Pages in late 2007.1
We all have seen what has happened to Facebook since! Facebook Pages catapulted the ability for "non coders" to quickly set up advocacy websites, share content and create friendships with others who share a similar perspective. Developing all websites became simplified during this time too with free blogging platforms like Blogger and WordPress. The ability for many non-technical people to become involved in our advocacy cause was finally realized with these tools.
What we still face, however, is social fear. Many people will not speak out in social media about the "pit bull issue" in fear of backlash from pit bull defenders. Much of the backlash is juvenile, but is still hurtful. We know there is a silent majority who understands that pit bulls are inherently dangerous based on the wide-margin voting victories in Aurora, Colorado and Miami-Dade. We have to motivate more of the silent majority to step forward and openly support our cause.
Key Benchmarks in Past 12-Months
In our Happy Birthday post last year, we published the key benchmarks from the previous 7-years. For our eighth Birthday anniversary, we will just post highlights of the last 12-months. From helping to stop six state preemption bills barring municipalities from adopting pit bull laws,2 to multiple rehomed "allegedly" safe pit bulls killing innocent people, and finally, to a wide-margin victory in Aurora choosing to keep their pit bull ban, the last 12-months have been very impactful.
1
History of Facebook, Wikipedia and Facebook Declares New Era for Advertising, by Rob Hoff, Bloomberg Business, November 6, 2007 (www.businessweek.com)
2
So far in 2015, state preemption bills in six states have failed: Arizona, Georgia (two bills), Kentucky, Montana, North Carolina (two bills) and Washington. Currently, a live state preemption bill is pending in Michigan.
3
The Page County sheriff originally described the dogs as 6-month old mixed-breeds with at least "some bulldog."
Related articles:
09/08/15: DogsBite.org Releases New FAQ about Breed-Specific Legislation (BSL)
07/13/15: Criminal Trial: Babysitter Jena Wright Found Guilty After Her Pit Bull Brutally...
01/07/15: 2014 Fatal Dog Attack Breed Identification Photographs - DogsBite.org
10/15/14: Announcement: Happy 7th Birthday DogsBite.org!
07/24/14: Nonprofits Urge CDC to Resume Tracking Richer Data Set for Children and...