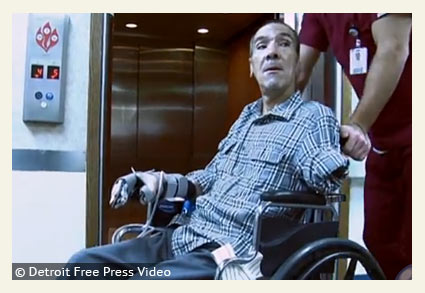 Pit bull attack survivor Steve Constantine after the life-threatening attack in Detroit.
Sentenced to Probation
UPDATE 09/25/15: In what can only be described as a miserable outcome, the owner of a pack of pit bulls that brutalized a man last year was sentenced to 2-years probation. Derick Felton, 62, pleaded guilty to three counts of harboring dangerous animals that caused injuries. On Friday, Wayne County Circuit Judge Michael Callahan sentenced him to the maximum under state law. Though unlikely, Felton might have to serve 6-months in jail at the end of his probation period.
Judge Michael J. Callahan said the Legislature "has seen fit to minimize this type of crime" that plagues urban areas for many years. - Mlive.com
Steve Constantine, 51-years old, suffered catastrophic injuries in the violent attack last October. The pack of 12 pit bulls basically ate through one of his lower legs and his left arm -- both had to be amputated. The dogs also tore off his left ear. Constantine's sister, Cathy Hawley, told the court Friday that he has had at least 35 surgeries since and that he has lost virtually all independence. "He can't turn a doorknob, he can't feed himself, he can't lift a cup of coffee," Hawley said.
Reflections on a Broken System
If readers recall, the only penalty Felton initially received was a few citations and a brochure titled, "Pet Ownership in Detroit Your Rights and Responsibilities" pinned on his door. That was going to be it after Felton's pit bulls destroyed nearly half of Constantine's limbs. Even police were appalled by the lack of criminal penalties for the owners of vicious dogs. After much pressure, the Wayne County Prosecutor's Office charged Felton with three counts of harboring a pack of vicious dogs.
As far as legal recourse goes for Constantine, the criminal courts did not serve him well, nor do they in most states. Constantine faired even worse in civil recourse. Felton does not have assets or wealth and certainly not insurance -- a common scenario for owners of pit bulls and other vicious dogs. Back in May, a jury awarded Constantine a "symbolic" $100 million dollars in a civil lawsuit against Felton and his mother; she owned the home where Felton and his dogs lived.
According to Wayne County assessor records, the mother's dilapidated house on Pennsylvania St. was only valued around $19,000. - Mlive.com
So who is the payee for Constantine's numerous life-saving surgeries just after the attack, followed by the endless number of reconstructive surgeries then possibly the rest of his life in a specialized care center? Not the dogs' owner -- that would be true for just about any dog owner given the extreme nature of his injuries -- but federal and state taxpayers and funds. The public has to clean up Felton's mess of breeding and keeping at least 12 pit bulls in his Detroit home.
Why Cities Adopt Breed-Specific Laws
If you have not read our newly released Breed-Specific Legislation FAQ, we recommend that you do now and skip to the question, "Why not just enforce the laws we already have?" Obviously, the laws we already have are broken, further hindered by existing legal systems that offer insufficient routes to civil and criminal recourse. The solution is to create preventative laws that greatly reduce the risk of well-recognized dangerous dog breeds, chiefly pit bulls, from ever inflicting a first attack.
Most current state and local dog attack laws also fail to sufficiently criminally penalize a dog owner after a severe attack. Cases abound where the owner of a dog is given a minor "infraction" for failure to leash his pet or failure to vaccinate his dog after a victim is airlifted to a Level I or Level II trauma center. The phrase, "just enforce the laws we have" is deceitful given how paltry many existing laws are, not to mention how few states have a meaningful felony dog attack statute.

The solution is not to enforce the inadequate laws we already have, often further hindered by existing legal systems that offer insufficient routes to civil and criminal recourse. The solution is to create preventative laws that greatly reduce the risk of dangerous dog breeds, primarily pit bulls, from ever inflicting a first attack. This radically reduces grave injuries and the need for victims to endure both deficient legal processes. These are the two primary goals of breed-specific laws. - Breed-Specific Legislation FAQ, DogsBite.org
03/16/15: Pit Bull Owner Arrested
Detroit police arrested the owner of a pack of pit bulls that dismembered and nearly killed a man last October. Derick Felton, 61-years old, had been in hiding for months. A fugitive apprehension team that includes members of the Detroit Police Department, Michigan State Police and Wayne County Sheriff's Office deputies picked up the man. Felton was charged with three counts of harboring a vicious animal causing injury, a felony that carries up to 4-years in a Michigan prison.
The victim, Steven Constantine, suffered horrendous life-altering injuries in the attack. Among other atrocities, the pit bulls chewed off his left ear and his left arm. Doctors were forced to amputate most of his left arm. The dogs also chewed off his left foot. Constantine lost everything below the knee on that leg. Police Detective Michael Pacteles told the Detroit News, "They did an autopsy on some of the dogs and they believe they found human body parts inside them."
Hardly pleasant to imagine, but what else were they supposed to find?1
Felton was taken into custody immediately after the attack on October 2 and held on a warrant for back child support. After Felton was released on that charge, "he went into hiding," Pacteles explained. Pacteles learned about Felton's location last week and sent a request to the Detroit Fugitive Apprehension Team. Previously, the Wayne County Prosecutor's Office had not authorized felony charges against Felton, despite the extreme magnitude of the victim's injuries.
Michigan State Law
287.323. Offenses and penalties

(2) If an animal that meets the definition of a dangerous animal in section 1(a) attacks a person and causes serious injury other than death, the owner of the animal is guilty of a felony, punishable by imprisonment for not more than 4 years, a fine of not less than $2,000.00, or community service work for not less than 500 hours, or any combination of these penalties.
12/10/14: Victim Recounts Brutal Attack
On October 2, Steve Constantine suffered catastrophic injuries when he was nearly mauled to death by a pack of 12 pit bulls in a residential Detroit neighborhood. The vicious attack left him hospitalized in critical condition, unconscious and unable to speak. Several months afterward, Constantine shares what happened that day with the Detroit Free Press. The violent attack forced the amputation of his left arm at the shoulder, his left leg below the knee and scores of skin grafts.
Police confiscated and euthanized all of the attacking dogs. The owner of the dogs, 61-year old Derick Felton, received a handful of misdemeanor citations pinned to his door after the brutal mauling, along with a brochure titled, "Pet Ownership in Detroit Your Rights and Responsibilities." Police later asked the Wayne County Prosecutor's Office to consider a felony charge against Felton. The prosecutor's office declined, however the case is still under review for warrants.
"There's moments when I'm barely myself. There's moments when I can barely function. And I'm insecure ... but I do seem to make it back to this place where I am myself." - Steve Constantine
Constantine struggles to understand the attack, uttering in the video, "Things happened for a reason" and blames himself for trying to feed the dogs. The senior rehab manager at Select Specialty Hospital, Vijay Malaichamy, said that he is upbeat and "that positive attitude is going to help him tremendously to overcome the challenges he's going to face during his progress." Constantine hopes to eventually be fitted with prosthetics to gain some degree of independence.
10/27/14: Dog Owner Failed to Help Victim
The victim of catastrophic pit bull injuries has finally been able to speak. When asked by police what the owner, Derick Felton, did as his 12 pit bulls attacked him, Steve Constantine said, "I don't know. I think he ran away." Felton told police he could not help the man, "EMS came, so I left." Earlier reports stated that Felton was not home when the attack occurred. We now know this was untrue. Further, EMS could not immediately help him, they had to wait for police to arrive.
Prior to the attack, Constantine was walking on Pennsylvania Street. He saw Felton outside and asked if he needed help feeding his dogs. The dogs then "started eating me alive," he said. Police have asked prosecutors to pursue a felony charge of harboring a vicious animal causing serious injury against Felton, but the decision is still pending. The Sam Bernstein Law Firm is representing Constantine in a civil lawsuit. They are suing Felton and his mother, who owns his residence.
Attorney Mark Bernstein said the firm is suing Felton's mother because landlords "who allow irresponsible, reckless tenants to engage in these types of behaviors" should assume some responsibility for what happens in the homes they own.

"We're going to ask for a meaningful amount of damages in order to send a message that these people need to be held accountable," Bernstein said. - Detroit Free Press, October 27, 2014
Constantine's sister, Cathy Hawley, is horrified about what happened to her younger brother. "The obstacles that Steve is going to face are beyond imagination," Hawley said. Constantine remains hospitalized at Detroit Receiving Hospital. He lost most of his left arm and a portion of his left leg, which was amputated, due to the vicious pit bull attack. His right arm was "opened to the bone" and the injuries to his right foot will require doctors to "fuse it to the ankle," according to Hawley.
Hawley also provided background about her brother. He graduated with honors from Mott High School in Warren, but mental illness struck when he was in his 20s. He was diagnosed with schizophrenia, she said. He had been missing for a year when he was attacked. "Steve would give you the shirt off of his back. He was taken advantage of a lot," she said. Hawley only learned of the attack after being contacted by a Detroit Free Press reporter a week after the horrific mauling.
Related documents:
Steve Constantine and Derick Felton statements
Detroit dog mauling lawsuit
10/22/14: Weighing Felony Charge
In a surprising development, the Wayne County Prosecutor's office is now weighing whether to charge the owner of a dozen pit bulls that nearly killed a man with a felony. A warrant request was submitted to the prosecutor's office on Tuesday seeking a felony charge against Derick Felton, 61-years old, for harboring a vicious animal causing serious injury, according to Detroit police. The request is currently under review by the prosecutor's office. A decision will not be made this week.
Steve Constantine, 50-years old, remains hospitalized in critical condition at Detroit Receiving Hospital after surviving the brutal attack on October 2. The Detroit Free Press obtained recordings of the 911 calls, as well as a half-dozen police reports that provide gruesome details about the violent attack and the victim's horrific injuries. The pit bulls chewed off most of Constantine's left arm and removed "large chunks of flesh" from his arms and legs, according to police reports.
"Fearing for my safety and own well being, I … engaged the animal a second time, by discharging my firearm twice striking the animal twice, killing it," Sexton wrote, noting that he fired nine shots in all.

The reports list a grim array of injuries, with arms and legs ripped to the bone and dogs "eating the flesh" off a naked man. A friend, who visited Constantine days later at Detroit Receiving Hospital, said he had lost most of his left arm. - Detroit Free Press, October 22, 2014
The police report also details shots fired. Officer Adam Sexton wrote that he fired numerous times at the pack of pit bulls that were actively attacking Constantine, striking four. Most of the pack then fled, but one of the shot dogs dropped to the ground yelping, trying to take cover in a large bush. That pit bull then jumped to its feet and advanced his partner, who shot it twice. Now with at least three bullets in it, the same pit bull again charged Sexton, who shot it two more times killing it.
10/09/14: No Charges; Victim Identified
The owner of a dozen pit bulls that escaped his home and nearly mauled a man to death faces a handful of misdemeanor violations. Sgt. Michael Woody acknowledged that the case is "horrifying," but the citations are likely the extent of the penalties the dog owner faces. On October 2, at least a dozen pit bulls escaped from Derick Felton's home and inflicted catastrophic injuries on an innocent passerby. Steve Constantine remains in critical condition unable to speak.
Police believe at least 12 pit bulls participated in the violent attack. All of the dogs have since been euthanized. Neighbors had complained a number of times about Felton's loose dogs, but there were no reports of the dogs attacking a person. Thus, the life-altering attack of Steve Constantine has no consequences. The best Detroit could do after the attack was to pin the citations and a brochure titled, "Pet Ownership in Detroit Your Rights and Responsibilities," to Felton's door.
Ron Gulledge, Constantine's roommate, rushed to the hospital after learning of the attack. "I talked to him and told him to be strong … and he nodded," Gulledge said. He described Constantine's injuries as different than initial reports. He said only a small portion of his upper left arm remains, his left leg now has rods in it and his right leg, arm and head are heavily bandaged. He said it looked like Constantine still has feet and one hand, but he could not see all of his fingers or toes.
"It's terrible," Gulledge said. "You don't wish nobody to get eaten alive."
We will add to his statement, "get eaten alive on a residential street by dogs," and afterward, "there are no repercussions for the dogs' owner." Annually, there are over 600 media reported disfiguring and maiming attacks by pit bulls alone across the country. There is no longer any excuse for cities and police authorities to lack criminal procedures after a horrific maiming attack, particularly when involving "loose" dogs. The previous history of the dogs does not matter.
People like Steve Constantine and Klonda Richey are paying with their lives for the indefensible lagging by local and state lawmakers to write and implement post 1985 criminal penalties for the owners of dogs that chew off the limbs of people like a bear or tiger would or leave their faces so disfigured that even 21st Century medicine does not know how to fix. As a man who lost his wife in a brutal dog attack last year voiced, "What kind of country is this? What protection do we have?"
10/04/14: Pit Bulls Inflict Catastrophic Injuries
Detroit, MI - A man suffered catastrophic injuries after being attacked by a pack of pit bulls Thursday night. The dogs "chewed off" the victim's hands and feet in the attack, according to Police Detective Michael Pacteles. The dogs were so vicious paramedics were forced to wait in their vehicles for police to arrive before they could help the man. Police shot and killed at least one pit bull; 12 other pit bulls were seized from Derick Felton's home, the owner of the dogs.
"Because of the viciousness of the attack, the remaining pit bulls will be euthanized." - Detroit Police spokesman Sgt. Michael Woody
Andrew Sims lives a few houses away and witnessed part of the horrific attack. He told the Detroit Free Press the attack was more gruesome than anything he had seen during a tour in Vietnam. "They was aggressive. They didn't stop. I could just see them tugging, you know, pulling at him," Sims said. The mauling victim continues to remain unidentified -- he was not carrying identification when the dogs escaped through a side door of the owner's home and viciously attacked him.
As of Saturday afternoon, the victim remains in critical condition and unconcious at Detroit Receiving Hospital, according to Detroit Police Officer Adam Madera. Police have been unable to ask him any questions about his identity or the circumstances of the attack. Different reports have emerged about why the victim had been in the area at the time of the 10 pm attack, ranging from "unclear" reasons to he had been walking along the sidewalk near the dog owner's home.
Two videos by 7 Action News show police and animal control seizing the pit bulls and arresting the dogs' owner, Derick Felton. They also interviewed neighbors who said the pit bulls were often seen running loose. A female neighbor, who was not identified, said, "Those dogs are vicious, I am not surprised," after learning about the violent attack. When asked if the dogs often got out she said, "Yes, a lot of times." Though the investigation is ongoing, dogfighting is not suspected.
In July, Craig Sytsma, 46-years old, was brutally killed by two cane corsos while jogging in Metamora Township, about 50 miles away from Detroit. The two owners of the cane corsos are currently standing trial for murder in the second-degree in connection to Sytsma's death.

1
Pitbull Mauling Deaths in Detroit, by Cheryl L. Loewe MD, Francisco J. Diaz MD, and John Bechinski DO, The American Journal of Forensic Medicine and Pathology, Vol 28, December 2007.
Related articles:
09/13/14: Criminal Trial: Couple Charged with Second-Degree Murder After Cane Corsos...
09/11/14: 2014 Dog Bite Fatality: Pit Bull Type Dogs Attack, Strip Naked and Kill Dayton Woman
08/02/14: 2014 Dog Bite Fatality: Two Cane Corsos Brutally Attack and Kill Jogger in Metamora...
05/31/13: Westwego Woman Loses Eye, Ear and Both Arms After Pet Pit Bulls Attack
07/25/12: Bay County Animal Hospital Worker Suffers Catastrophic Injury in Pit Bull Attack
02/16/12: Orlando Woman Suffers Catastrophic Pit Bull Injury; Amputations Expected
Photos: Detroit Free Press (Steve Constantine video) and WXYZ.com (dog photos)