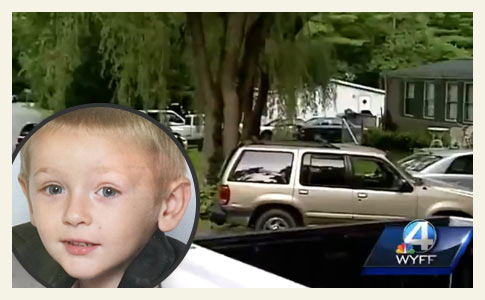 Joshua Phillip Strother, 6-years old, mauled to death by a recently adopted pit bull.
County Lifts Moratorium
UPDATE 08/06/15: Buncombe County officials completed its review of the screening and transferring procedures by the Asheville Humane Society (AHS). The group contracts to operate the county's open admission shelter. On July 7, a 6-year old boy was savagely killed by a pit bull that was adopted out by AHS 3-weeks earlier. The dog came in as a stray. It was then screened for aggression, which it passed, then transferred to the Asheville Humane Adoption Center.
On July 16, county officials placed a moratorium on all pit bull transfers to an adoption agency while it reviewed procedures by AHS. Today the county lifted this moratorium, citing that AHS was doing the "industry standard, best practice model for an open admission shelter," said Jim Holland, who oversees the animal related contracts for the county. And THAT our dear readers is exactly the problem. Currently, there is no way to reliably test for unpredictable pit bull aggression.
The "state-of-the-art" temperament assessment test, SAFER, cannot measure unpredictable aggression nor can any current test. This is the risk every person accepts, knowingly or not, when adopting a pit bull.
The rest of the article by the Citizen-Times reads like a "circle the wagons" strategy to cover both parties against liability claims. Both parties also manage to passively blame the community, the dog's owners and the victim himself, 6-year old Joshua Strother, as the cause of this lethal attack. The newly rehomed pit bull executed the killing bite, attacking the boy's face and throat, right out of the blue. The pit bull was still so aggressive afterward that deputies had to shoot it to death.
Given the limitations of even the most "state-of-the-art" temperament assessment tests, only one conclusion can be drawn: More innocent children will be brutally attacked and even killed by shelter dogs who passed these tests. In the wake of this boy's tragic death, Buncombe County officials had a chance to reevaluate their pit bull adoption policy, hopefully by restricting it, but they did not. It's all systems go again with their fingers crossed. How is that for scientifically sound?
The Reliability of Temperament Tests
Aggressive Behavior in Adopted Dogs that Passed a Temperament Test by E'Lise Christensen, Janet Scarletta, Michael Campagnaa and Katherine Albro Houpt, Applied Animal Behaviour Science, Volume 106, Issues 1-3, August 2007.
Reliability, validity and feasibility of existing tests of canine behaviour, by Mornement et al., Anthrozoology Research Group, Animal Welfare Science Centre and Monash University, AIAM Annual Conference on urban animal management, 2009.
Lastly, what also needs to be addressed in the Citizen-Times article is the "pot calling the kettle black" statement by Tracy Elliott, the executive director of AHS starting in May. Elliott states that animals are not people and "attempts to compare them to people or anthropomorphize them are a mistake." On June 20, Asheville Humane launched an anthropomorphic adoption campaign for a pit bull named Pearl, bling included. "Classy girls wear pearls!" AHS gushes this very behavior.
"Animals are animals. They are not people and attempts to compare them to people or anthropomorphize them are a mistake. Any animal is capable of behavior we can't predict." - Tracy Elliott, Executive Director, Asheville Humane Society
---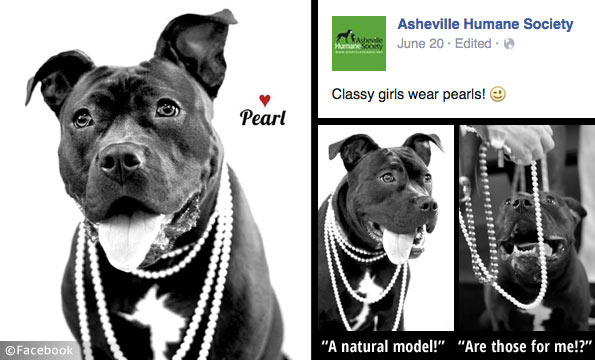 Anthropomorphic pit bull adoption campaign screenshot 1  |  screenshot 2  |  screenshot 3
---
July 30 Deadline Arrives
UPDATE 07/30/15: The deadline Buncombe County set for the Asheville Humane Society to deliver information requested in their July 16 letter has arrived. Today is July 30, two weeks after the letter was sent. On July 7, Joshua Strother, 6-years old, was brutally attacked and killed by a pit bull adopted out by Asheville Humane. Just after his death, Asheville Humane scrubbed their "Project Pit Bull" campaign from their website and refused "repeated calls" from the media.
The male neutered pit bull, about a year old, was adopted to Joshua's neighbor 3-weeks earlier. The dog came into the shelter as a stray.
The Asheville Humane Society (AHS) is under contract with Buncombe County to operate its open admission shelter. The July 16 letter placed an "immediate moratorium" on the transfer of all pit bulls from the county's open admission shelter to an adoption agency. The letter also requested detailed documentation about the temperament testing procedure conducted by AHS and the animal "transfer" process, including the specific individuals who perform and approve both.
Since the July 16 letter, mainly a wall of silence has fallen over Joshua's mauling death and the actions of Asheville Humane. Though an outstanding Letter to the Editor by Julie Wall was published in her own community on July 22, "Difficulty in assessing level of aggression in pit bulls can lead to tragedy." Wall states the obvious conclusion: Either AHS failed in their assessment of this pit bull, or they have to admit there currently is no accurate way to assess pit bull-type dogs.
Either the Asheville Humane Society absolutely failed at assessing the dogs in their shelter, or it has to admit there is currently no accurate way to assess pit-bull-type dogs. At any rate, shelters and rescues need to stop pushing pit bulls onto the naive public.

For those who say not all pit bulls will attack or kill, it's true. Not all will. But predicting which ones will is impossible. They pass shelter behavior tests, then go on to kill or maim people. They "never show any sign of aggression" then one day kill their owner, out of the blue. This is why they are so dangerous. - Julie Wall
The editor of Animals24-7.org, Merritt Clifton, has been tracking serious and fatal attacks by shelter dogs for several decades. Joshua was the 38th fatality involving U.S. shelter dogs from 2010 to present -- a 5-year period. 30 of these deadly attacks involved rehomed pit bulls. Also, the Safety Before Pit Bulldogs blog is tracking extreme and fatal attacks by pit bulls that were either up for adoption or recently adopted out by a shelter. The 2015 severe attacks cited are numerous.
The following list shows the results of these misguided priorities and lack of mandated responsibility or accountability by these animal care "experts." Most of these articles are about recently adopted pit bulls that launched a serious attack, sometimes killing a person. Many of these pit bulls came with assurances that the pit bull was non-aggressive and/or had been temperament tested ... The list is not complete or comprehensive, but merely highlights the growing and seriously dangerous problem. - Safety Before Pit Bulldogs
Notably, while reading Facebook comments on news articles after the county's July 16 letter, one local mother, who bears no ill will toward pit bulls, had a similar experience with Asheville Humane. Less than 24 hours after adopting a pit bull from AHS, the dog savagely attacked her 5-year old son, latching onto his head. His injuries required staples. This attack occurred in March, 4-months before Joshua was killed. The mother comments at least twice on the WLOS Facebook thread.
They should have started all of this when a pit we adopted this March that had passed all of their test attacked my son resulting in a ems ride and staples in his head. The dog wanted my son dead. Pit bulls are my favorite breed. Yes different breeds kill/bite. Yes it depends on how they are raised. But this is TWICE a dog from AHS has attacked a child within months of each other that we know of. Such a sad situation. - Tera Brown, July 16, 2015

...Not even 24 hours after the adoption my son ask him to sit for a treat. The dog sit and my son handed out a treat and the dog snapped and turned vicious latching on to my sons head. The dog tried to drag my son back out of my arms without trying to bite me at all even with me kicking him in the face trying to get his focus on me instead of my son. He had locked in tunnel vision on my little boy. Thats all he wanted... - Tera Brown, July 16, 2015
After the attack she writes, "while I was in the ems with my son the police picked up the dog from outside of my house. The dog came wagging tail and jumped right in the cop car for a treat like nothing had ever happened." Performing the ever so frequent unpredictable explosive aggression by pit bulls, followed by the, "like nothing ever happened" or "wagging their tail" scenario. This too is often displayed by pit bulls after a violent attack. They often wag their tails while attacking too.
All eyes are on the county now as they examine the materials delivered by Asheville Humane.
---
07/16/15: County Stops Pit Bull Transfers
After a pit bull adopted out by the Asheville Humane Society (AHS) killed a 6-year old boy, Buncombe County officials are reviewing the organization's adoption process for pit bulls. Recall that AHS is under contract with the county to operate its open admission shelter, where the stray pit bull originally came in and where (we presume) it was temperament tested. Then the pit bull was "transferred" to the Asheville Humane Adoption Center, a separate, but adjacent building.
In a July 16 letter to Asheville Humane, Buncombe County officials ordered AHS to place an "immediate moratorium" on the transfer of all pit bulls from the county's open admission shelter to an adoption agency. The letter also asks for specific details about temperament test procedures followed by AHS, including the "credentials" of their testing individuals, as well as a "detailed process used in the specific pit bull transfer" that resulted in the mauling death of a young child.
The five items requested by Buncombe County | Read letter in full
An immediate moratorium on the transfer of any pit bull or pit bull-mix from the Shelter to an Adoption Agency.
A thorough documentation delivered to the County of the temperament testing procedures in place. This includes the specific steps involved, citation of the best-practice model used, the "individual(s)" employed by Asheville Humane conducting the testing, the credentials of the testing individual(s), and the individual(s) charged with approving the transfer of these specific animals.
A detailed process used in the specific pit bull transfer that resulted in the death of a child in Henderson County.
The definition that Asheville Humane uses for determining the health of an animal suitable for transfer to an adoption agency.
A summary of any related internal reviews Asheville Humane has conducted and the resulting process changes/system improvement.
It is noteworthy that county officials also requested the specific names of the individuals employed by Asheville Humane who perform these procedures along with their "credentials." Buncombe County officials requested that AHS provide the information to them no later than two weeks from the date of this letter, which is July 30. After examining these materials, the county then "will decide next steps as to the moratorium on transfer of pit bulls and pit bull-mixes," states the letter.
---
Humane Group Republishes Web Page
UPDATE 07/11/14: In the aftermath of the sheriff's office naming the Asheville Humane Society (AHS) as the entity that adopted out a pit bull that attacked and killed a 6-year old boy, several developments have occurred. AHS released a "prepared" statement to the media, but still refuses to answer "repeated calls" from reporters and refuses any type of TV interview, according to WLOS. Also, at some point late Friday, AHS restored their Project Pit Bull page with revisions.
Part of the prepared statement by AHS includes a telling admission. The statement reads in part: "The dog involved was adopted out from Asheville Humane Society last month and did not exhibit any aggressive behavior while in our care. This dog came in as a stray so we did not know his history, only his behavior while he was with us, which gave no indication that he would have any issue of this type." AHS had the pit bull for 30-days before adopting it out to Joshua's neighbor.
The Asheville Humane Society, by their own admission, had no way of knowing they were sending someone home with a killer.
A person takes an extreme risk when adopting a pit bull with a known history, much less an unknown one, as was the case in Joshua's death. A powerful comment left by Jeff Borchardt just after we published our last update sums up the issue even more clearly. In March 2013, Jeff's 14-month old son was brutally killed by his babysitter's two pit bulls. Her pit bulls were 3-years old, well trained, sterilized, brought up in a loving home and had never shown aggression before.
"1-year-old pit bull had never shown signs of aggression. Up to date on all shots, neutered, had played with the dog before. No indication that anything was wrong.".....And THAT my friends is the problem with pit bulls. - Jeff Borchardt, father of Daxton Borchardt
In a recent article by Merritt Clifton, editor of Animals24-7.org, Clifton states that Joshua Strother marks the 38th fatality involving U.S. shelter dogs from 2010 to present -- a 5-year period. Dog breeds involved in these 38 deaths include 30 pit bulls, seven bullmastiffs, two rottweilers, a lab that may have been part pit bull and a husky, according to his data. Clifton's article also dives into the history of AHS, an agency that has seen four executive directors in the last three years.
Lies, Lies and More Lies
At some point late July 10 or in the early hours of July 11, AHS republished their Project Pit Bull page with revisions, apparently to cover their tracks. The new page has a reworded title, a new pit bull initiative ("while supplies last" type bargain), and they renamed Pit Crew, their breed-specific volunteer program for pit bulls, to "Pup Crew." The public should in no way think that "Pup" implies puppies or unspecified dog breeds. Pup Crew only involves breed-specific pit bull advocacy.1
Also notably, Pup Crew is a trademarked clothing brand, apparently, mainly for smaller cute dogs, like the ones pit bulls frequently eviscerate. Why do we think the makers of Pup Crew do not want any association to a humane society that just adopted out a pit bull that fatally attacked a 6-year old boy? Moreover, why would Pup Crew want their clothing brand associated to breed-specific pit bull advocacy whose primary function is carrying out aggressive pit bull adoption campaigns?
New Pit Bull Initiative
In AHS's new breed-specific pit bull program, they offer to pay pit bull owners $20 dollars cash, if only they would bring their pit bull in for FREE spay or neuter services. It is not enough that the surgical procedure is FREE, a charity only for pit bulls, they have to add $20 cash on top of it and a "free collar, ID tag and microchip." Other changes on the web page include eliminating the first sentence of the main description: "Pit bulls are often misunderstood and discriminated against."
The revised Project Pit Bull page does keep, "These dogs are grossly misunderstood." Like the pit bull handed out to Joshua's neighbor.
Lastly, the WLOS video makes it clear that the Asheville Humane Society would not agree to an interview. "Today the humane society declined a request for an interview." And added, "This week, the organization removed a web page linking you to their pit bull campaign, which is meant to raise awareness about the breed. Staff say it is a temporary move out of respect for the family." "Staff" is a non-specific sell out and AHS's alleged "respect" for the family vanished when they republished.
The only other message we have for readers is a reply to a Tweet we sent out earlier regarding the aggressive and misleading 4th of July pit bull adoption promotion by AHS. HomeLifeSanctuary responded: "@dogsbite I just can't believe this. I can't bear to look at the face of that poor little boy. Animal rescue has lost its soul." In the case of the AHS, we do not believe they had one to begin with. After adopting out a killer, they bounced right back with a cheery message about pit bulls.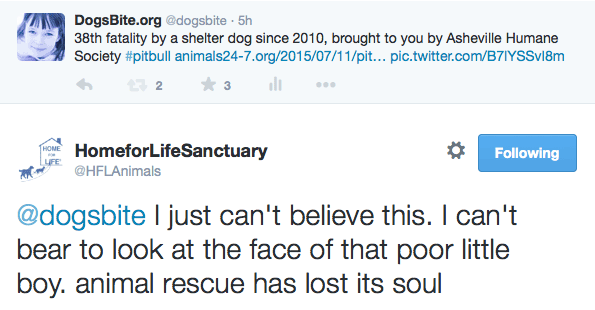 ---
07/09/15: Humane Society Named
Just after posting the below update, we received word that the Henderson County Sheriff's Office issued an update to their Facebook page naming the Asheville Humane Society as the entity who adopted out the killer pit bull. Now that readers know this, please see our whole July 9 update through these eyes. AHS adopted out the killer pit bull AND before being publicly named by the sheriff's office, they scrubbed their pit bull promotion programs from their corporate website!
Humane Society Removes Parts of Website
UPDATE 07/09/15: After a little boy was brutally killed by a recently adopted pit bull, a nearby humane society removed portions of its website dedicated to promoting pit bulls. The Asheville Humane Society, which is located about 30 miles north of Hendersonville in Buncombe County, apparently removed two portions from their corporate website after the boy's mauling death: Project Pit Bull, an awareness campaign, and Want to Join Our Pit Crew?, a volunteer program.
Joshua Strother, 6-years old, was fatally attacked by his neighbor's pit bull on July 7 after he climbed over a fence into his neighbor's yard. The male, neutered pit bull was about 1-year old, according to police, and was adopted by Joshua's next door neighbor 3-weeks earlier. Joshua had played with the dog before, which had not shown any aggression since being adopted. Sheriff's officials still have not named the humane society that recently adopted out this child killing pit bull.
The Henderson County Sheriff's Office has only stated that the pit bull was adopted from a humane society in a nearby county 3-weeks ago.
The Asheville Humane Society (AHS) also operates the shelter for Buncombe County, though they are two separate facilities according to their website. "Since 1990 Asheville Humane Society animal care professionals have operated the Buncombe County Animal Shelter operations under contracts with Buncombe County and City of Asheville," states the website. AHS hopes to build a "no-kill community" in Asheville and has partnerships with Best Friends, the ASPCA and more.
Portions that Were Removed
The central question is: Why would AHS, located in an adjacent county to the fatal attack, remove parts of its website that promoted pit bulls just after this boy's mauling death? On June 19, AHS kicked off their Project Pit Bull, Awareness and Action Campaign with its first event, a community forum. The forum focused on ending "breed discrimination" and selling the public disinformation about pit bulls. The community forum was the first of the campaign's free services for pit bulls.
As pointed out by DogsBite commenter Littlebluetinkerbell last night, "awareness and action campaigns" usually last several months and possibly years. But the Asheville Humane Society pulled the entire Project Pit Bull awareness campaign from their corporate website less than one month into the campaign and, apparently, just after this boy's horrific mauling death. Again, authorities have not named the animal shelter that is responsible for adopting out this mauler.
The Asheville Humane Society's Project Pit Bull page is still in Google Cache (please view here).2 Google last captured it on July 5. The actual URL leads to a broken web page because AHS removed this web page (please view here). If one looks at their current website, you'll notice that the left column is now missing "Project Pit Bull" in the navigation sidebar for Events and News. It does not end there either. AHS also removed their Pit Crew program from their website.
The Asheville Humane Society's Volunteer page is still in Google Cache (please view here).3 Google last captured it on July 7, the day of the boy's death. If you scroll down about midway, you will see the, Want to Join Our Pit Crew? section. Between July 7 and July 8th, AHS removed this program from their corporate website. Go to their volunteer page and see for yourself. Now why would they do this? Because it's a bad time to be promoting pit bulls as "grossly misunderstood?"
This certainly could be the case. After their June 19 forum -- which tried to sell to Asheville homeowners, landlords, neighbors and "even the pit bull wary" that BSL does not keep people safe and that pit bulls are wonderful pets -- a little boy died in the jaws of a male, neutered recently adopted out pit bull. Henderson County Sheriff's Office Maj. Frank Stout said the boy "died a very violent and quick death." The pit bull attacked the boy's face and neck killing him, Stout said.
You be the judge of why AHS took down these parts of their website in the wake of a fatal pit bull attack. You be the judge of why a humane society, in this case partly supported by taxpayers in their role of operating the county's shelter, continues to delete posts from their Facebook page that mention this young boy. Commenter Wigan wrote on our Facebook post just a few hours ago: "Update: [Asheville Humane Society] is deleting posts that mention the boy..." You be the judge.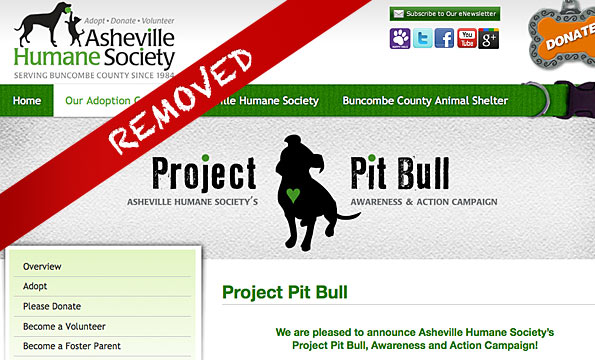 07/08/15: Adopted in a Nearby County
New information is being learned about the pit bull that killed a child. The Citizen-Times reports that Henderson County Sheriff's Office Maj. Frank Stout said the pit bull was a male and a little over a year old. Stout said the owners adopted the dog 3-weeks earlier in a nearby county, with all of the shots and paperwork. Stout declined to name the shelter. Because certainly the public should not be made aware of which agency adopted out a pit bull that in short order killed a child.
Stout did say that part of the investigation will focus on the dog's history. "We're trying to get as much history on this dog as possible," Stout said. "We're just trying to find out the entire chain of events even before the adoption of the dog." Stout also said that Joshua often played with the dog owner's 6-year old daughter, and that both had played with the dog since its arrival without any issues. "There had been nothing to indicate that this dog was aggressive in nature," Stout said.
Jerry Hayes, Josh's great-grandfather who lives at 163 Piney Ridge Drive, said that Joshua would have entered into the first grade at Mills River Elementary School in August. He said that his great-grandson was "smart as a whip" and could count up to 100 forward and backward. Regarding the pit bull, Hayes said, "You just can't trust a pit bull. But that one seemed tame. I petted it through the fence. I thought they had gotten a nice dog. But that one won't bother anyone else," he said.
07/07/15: Pit Bull Mauling Victim Identified
The young boy mauled to death by a recently adopted pit bull in Henderson County has been identified as Joshua Phillip Strother. The late night update from Blue Ridge Now communicates portions of the painful 911 call made by the little boy's mother who is 8-months pregnant, according to a neighbor. The news report also indicates the pit bull had only been with the unnamed dog's owner and next door neighbor for two weeks before fatally attacking a child.4
"I went to the bathroom and my boy is dead," the 911 caller says, weeping. "There's blood all over his face." The mother of Joshua Strother
In the frantic call, the mother tells the dispatcher that her 6-year old son is in the neighbor's fenced backyard at 183 Piney Ridge Drive and that she cannot get inside the fence. The neighbors are not home, she said. The mother tells the dispatcher, "I was in the house. I heard the back door shut, and I come running and I seen him laying in the neighbor's yard." The 911 dispatcher asks her to check whether the child is moving or breathing. "He's not breathing," the mother says.
Investigators suspect the boy climbed the nearly 5-foot tall chain-link fence to play with the pit bull. According to Joseph Strother, the victim's stepbrother, the neighbors got the dog two weeks ago and the dog was familiar with his little brother. "They said the dog's been here two weeks and he's been playing with the dog," Joseph said. The property owners of 183 Piney Ridge Drive were not home when Joshua climbed the fence and was fatally attacked by their recently adopted pit bull.
07/07/15: Adopted Pit Bull Kills Child
Hendersonville, NC - In developing story, a pit bull terrier attacked and killed a 6-year old boy Tuesday afternoon, according to the Henderson County Sheriff's Office. Arriving deputies shot and killed the dog to get to the child, but it was too late to save his life. The fatal attack happened on the pit bull owner's property on Piney Ridge Drive, according to deputies. At the time of the deadly attack, the boy was visiting his grandparent's home next door to the dog owner's property.
The 911 call was made by the boy's mother. She said she went inside to use the bathroom for a few minutes and returned to find her son lying in the neighbor's yard. She said her son played with the dog and the dog was familiar with him. She told dispatchers that she did not believe her son was breathing, and that the neighbor's gate was locked, so she could not get into their yard. She said her son and other children often climbed the fence and that the homeowners were not home.
Fox Carolina also reported that they would not air the mother's 911 call and were told by people at the scene that the mother is pregnant.5
The Citizen-Times reports that deputies responded to a call at 163 Piney Ridge Drive near Mountain Home, a news release from Maj. Frank Stout states. When deputies and emergency responders arrived on scene they were unable to reach the boy due to the pit bull's continued aggression. Deputies shot and killed the pit bull, then deputies and emergency responders pushed down a fence to gain access to the child, who did not respond to medical treatment, Stout said.
Recently Adopted Pit Bull
News 13 reports that Henderson County Sheriff Charles McDonald does not believe there is any evidence of criminal wrongdoing at this time. Sheriff McDonald said the recently adopted pit bull was next door in a fenced-in backyard. Deputies continue to investigate how the child got into the area. Roger Burns lives nearby. He said that his own son, who is 10-years old, had intended to go play with the boy. Then his son told him, "I can't play with him. He's in the yard dead, daddy."
View the DogsBite.org Google Map:
North Carolina Fatal Pit Bull Maulings
.
---
---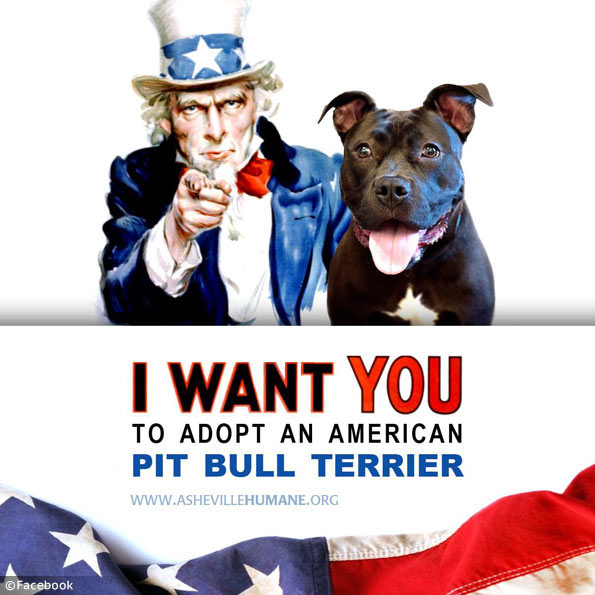 1
Pup Crew is completely disingenuous to what the program is. It's just another mask for breed-specific pit bull advocacy and a deliberate term designed to hoodwink the public. At least Pit Crew properly identified the program.
2, 3
Replaced with a screenshot of Google Cache taken on July 9. Because Asheville Humane republished their pages after getting caught, as well as how Google Cache operates (web cache is only temporary and has now cached the republished pages), a screenshot was our only option. This replacement was made July 17, 2015.
4
Some reports are saying three weeks. News 2 also states the dog came from a "North Carolina shelter."
5
In a late evening update by WYFF, neighbor Diane Henault said the victim's mother is 8-months pregnant. "My heart just goes out to the family, [she] is like 8-months pregnant," Henault said. She referred to the boy as "Josh." No information has so far been released about the agency or rescue that adopted out the fatally attacking pit bull.
Related articles:
08/31/15: Who Can Identify a Pit Bull? A Dog Owner of 'Ordinary Intelligence'...
08/06/15: Buncombe County - Animal Shelter Review Complete (News Release)
07/11/15: Boyle Column: Stats Don't Lie About Dangers Of Pit Bulls - Citizen Times
05/05/09: Alexandra Semyonova: Heritability of Behavior in the Abnormally Aggressive Dog