Fatal Dog Attack Statistics
DogsBite.org recorded 42 fatal dog attacks in 2014, the highest on record in the last 10-years of statistical data we have collected. Citations of each victims' case history are located on the 2014 Fatality Citations page. The last year the CDC collected "breed" information about fatal human dog attacks was 1998. Since this time, pit bulls alone have killed 262 U.S. citizens. The only other known nonprofit in addition to DogsBite.org that tracks this vital data publicly is Animals 24-7.
Discussion Notes
Each year, certain aspects of annual dog bite fatality statistics stand out in comparison to adjacent or recent years, but do not necessarily indicate a new trend. The two striking aspects of 2014 is the total number of fatalities -- 42 is the highest on record since we began collecting data -- along with the surge of off-property attacks. In 2014, 40% (17) of all fatal dog attacks where inflicted by loose dogs off their owner's property. This is also the highest on record since we began tracking.
DogsBite.org underscored the accelerated rate of dog bite fatalities in 2014 in an April report and again in an August report. On average last year, a fatal dog attack occurred in the U.S. every 8.7 days. The majority of these deaths, 60%, occurred in the Southern United States, primarily Texas, Florida, North Carolina and several other Gulf Coast states. Texas and Florida dominated with 7 and 5 deaths respectively. National, regional and local media were mainly absent on this issue.
The overwhelming majority of breed-types that killed in 2014 are longtime killing culprits. Pit bulls, rottweilers and mastiff-type guard dogs and war dogs comprised 83% (35) of all deaths. Removing these breeds from the equation leaves 7 dog bite fatalities in 2014, an annual death rate similar to the mid-1970s before these breed-types gained in popularity. Of the 7 deaths, 5 were off-property attacks involving multiple dogs in semi-rural areas and 2 were family dog attacks.
Rise In Off-Property Attacks
In 2014, an alarming 40% (17) of all fatal attacks were inflicted by loose dogs off their owner's property. This is a sharp rise; the 10-year rate (2005 to 2014) of fatal off-property attacks is 24%.2 In 2014, 88% (15) of these attacks involved dog owners that were direct or close neighbors to the victim or nearby property owners unfamiliar to the victim. Of this subset, 6 occurred in large and midsized cities including, Houston, San Antonio, Modesto, Dayton, Paterson and Killeen.
Of the total number of off-property attacks, at least 35% (6) occurred in semi-rural jurisdictions with minimal animal control resources or no leash laws and struggling Indian reservations, which in addition to these two shortfalls also have longstanding roaming dog problems. These areas include: Tallapoosa County (AL), Riverside (AL), Benton County (MS), Grant Parish (LA), Pine Ridge Reservation, Shannon County (SD) and Wind River Reservation, Fremont County (WY).
Rise In "Unknown" Breeds
2014 also marked a rise in "unknown" breeds involved in fatal dog attacks. In the 10-year period of 2005 to 2014, there were 326 total recorded dog bite fatalities. Only 2.5% (8) of these deaths involved unknown breeds, 3 of which occurred in 2014, 1 in 2012, 1 in 2010 and 3 in 2009. Attacks by unknown breeds on or near Indian reservations account for 50% (4) of all occurrences. In 2014, there were 2 fatal dog attacks on Indian reservations involving multiple unknown dog breeds.
The other fatal attack in 2014 involving unknown dog breeds occurred in Grant Parish, Louisiana and involved up to 15 dogs, 14 of which belonged to the same owner, the victim's next-door neighbor. The dogs were quickly seized, DNA samples taken and an out-of-state lab performed an analysis. The lab results came back in early January and all 15 dogs were euthanized. The Grant Parish Sheriff's Office refused to release any specific dog breed information to the local media.
High Profile Criminal Trials
Though 2014 seemed dominated by fatal dog mauling trials, only 21% of the 42 fatal attacks resulted in criminal charges -- 21.5% is the 10-year national average. What did occur in 2014 were two high-profile second-degree murder cases against dog owners. The conviction of a California man, Alex Jackson, whose loose pit bulls brutally killed a woman in 2013 and the preliminary examination of a Michigan married couple whose cane corsos fatally attacked a jogger in July.
Progress on a national average level may be stalled, but not in certain states. 2014 marked the first time that Michigan prosecutors brought second-degree murder charges in a fatal dog mauling case. In Texas, 2014 marked the first year, to our knowledge, that two of its largest counties -- Harris County (Houston) and Bexar County (San Antonio) -- filed charges under the state felony dog attack law after a fatal mauling. The state law carries a penalty of up to 20-years in prison.
"We had evidence the dog had killed another dog and had been involved in two other attacks against people. Frankly, we're going to make an example of these two owners." - Harris County District Attorney Devon Anderson
Trends that Must Be Stopped
In 2014, after police gunned down an attacking 130-pound family pit bull that brutally killed a little girl in Louisiana, readers were introduced to the "designer" XL and XXL pit bull breeding trend. Within a few hours of the attack being reported, DogsBite.org was able to locate the dog owner's extensive Instagram page and document these disturbing images for readers. This appalling designer trend of breeding quite literally monster-sized dangerous pit bulls must be stopped.
We also shined a light on a growing industry of "family" protection dogs with a "switch" after a protection trained rottweiler named Ozzy killed a boy at his home. The boy's stepfather operated a business at the home, "Platinum K9 Protection - Social Protection Dogs with a Switch" and had formerly worked for Vohne Liche Kennels. The alleged "switch" failed and the boy lost his life. We hope to see this trend dry up fast; attack bred and trained dogs do not make reliable family pets.
Finally, another trend revealed in 2014 that must be stopped is fearful media. News groups too afraid to "name the breed" after a fatal pit bull mauling due to backlash from pit bull owners who often flood their inboxes with nasty messages and cause a scene on their corporate Facebook page. Also, news groups that are fearful and incompetent emerged in 2014 when KIII-TV failed to name pit bulls as the attacking breed and instead hedged it under the "large breed" scenario.
Photographs of the 19 children and one young teenager fatally attacked by dogs in 2014.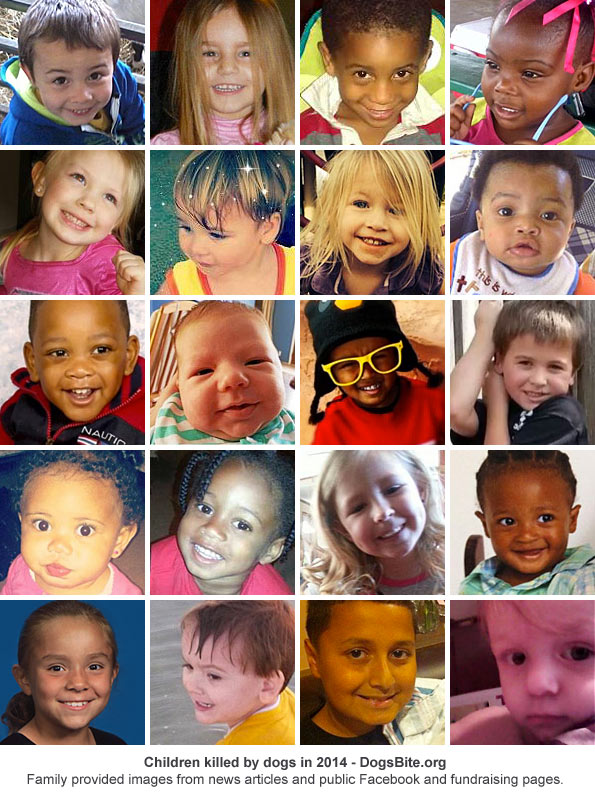 ---
Data Collection Method: How We Collect U.S. Dog Bite Fatality Data
---
Related articles:
01/07/15: 2014 Fatal Dog Attack Breed Identification Photographs
08/22/14: U.S. Fatal Dog Attacks Continue to Rise from Previous Years...August 13, 2014
07/24/14: Nonprofits Urge CDC to Resume Tracking Richer Data Set for Children and Adults...
04/21/14: U.S. Fatal Dog Attacks Accelerate During First Part of Year...April 11, 2014