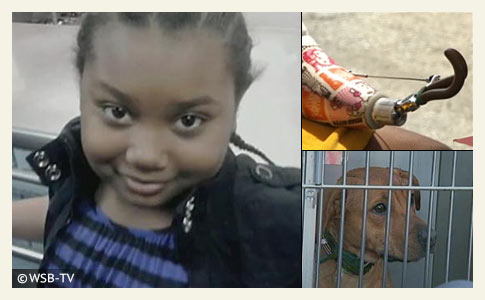 Erin Ingram suffered severe injuries after being brutally mauled by two pit bulls
Judge Limits Ruling
UPDATE 01/13/15: Several hours after the $72 million dollar jury award was announced publicly, Judge Mathew Robins, pursuant to state law, limited the amount of punitive damages to $250,000 in the case of Erin Ingram. The judge ordered Twyann Vaughn, the owner of the dogs -- who did not appear at the civil trial held on January 12, 2015 -- to pay the plaintiff $36,691,278 in compensatory damages and $250,000 in punitive damages, for a total amount of $36,941,278.
---
01/13/15: Landmark Civil Verdict
A DeKalb County jury has awarded $72 million dollars, believed to be the largest verdict in the nation for a dog attack, to a pit bull mauling victim and her family. On March 9, 2010, Erin Ingram, then 8-years old, came home from school and asked her dad if she could shoot hoops in her own driveway. Two pit bulls suddenly appeared and violently attacked her. Erin suffered horrific injuries, including the partial amputation of her left arm and the severe disfiguring of her right arm.
The one day trial ended in the jury deliberating for 45 minutes. The jury heard the horrific 911 call that lasted for nine minutes -- Erin cries out in horror and pain. Shortly after the dogs drug Erin from her driveway into the street a woman drove up on scene and saw a little girl lying in the road. She initially thought she had been hit by a car, but as she got closer she saw two pit bulls tearing at Erin's arms. The woman called 911. The dogs continued attacking Erin throughout the call.
Finally, a Dekalb county police officer arrived on the scene. He saw a 50-foot by 3-foot wide trial of blood on the asphalt that led to Erin. When he approached her, both dogs had her limbs in their mouths, biting and pulling. He was afraid to discharge his weapon in fear the bullet may hit Erin. Instead, he ran as fast as he could, with baton in hand, and hit the larger dog in the head. "The dog didn't budge" said the officer.  He was able to stand over Erin while fighting off the dogs to get enough distance between them. Finally, when the large dog let go and backed a few feet away, the officer saw how badly Erin was injured. Chunks of her flesh where in her hair and all over the trail of blood on the street. She was whimpering and covered in blood. He told jurors that it looked like the dogs had eaten Erin's arms. When the dog lunged at the officer, he used his service weapon and killed the dog. The other dog took off running. - News release, January 12, 2015
During closing arguments, Erin's attorneys asked the jury for one million dollars for every minute Erin was being mauled on the 911 tape. The jury returned a verdict for $36 million in general damages and $18 million in punitive, one for each dog totaling $72 million. Adamson and Cleveland, with Adamson & Cleveland, LLC, and Norcross, Georgia represented the Ingram family. In January 2012, the dogs' owner was convicted of six misdemeanors in a criminal trial.
01/06/12: Jury Convicts Pit Bull Owner
Lithonia, GA - On March 9, 2010, Erin Ingram, then 8-years old, was nearly mauled to death just outside her home by two pit bulls owned by a neighbor. The first responder images depict a grisly scene, and it was. In a rare event, a journalist sought out Erin's police report and published it online. Erin quickly underwent the amputation of the lower part of her left arm along with many other surgeries as trauma doctors tried to stave off additional disfigurements and maimings.

The Criminal Trial
This week, the criminal trial of the dogs' owner, Twyann Vaughn, unfolded in a Decatur courtroom. Portions of segments were recorded by the news media. Jurors listened to the 911 call where Erin is heard screaming in the background. Tearful neighbors described how they could not get the pit bulls to let go of her. Vaughn was charged with two counts of reckless conduct, two violations of the county's vicious dog ordinance and two counts of failing to immunized her pit bulls for rabies.
Six "misdemeanors" in total for a life-altering, catastrophic dog attack.
Jurors also heard testimony from Erin's father and the little girl herself. "I was screaming for help," Erin told the courtroom. Did you see anybody else around, the prosecutor asked? "No." What was going through your mind then? "That I was going to die," Erin said. Though not shown in the news video, jurors received an up-close, personal view of Erin's disfiguring injuries. Her father, Tommy Ingram, described his daughter's wounds to jury members as looking like "shredded meat."
I really can't put it into words ... To sit there and look at your child, you look at the arms and it looked like shredded meat.
On Friday, the jury returned a guilty verdict after the defense called two witnesses who testified that the pit bulls were "extremely nice." Jurors deliberated just over 90 minutes. Judge Dax Lopez then sentenced Vaughn to 16 months in jail and 36 months on probation. Prosecutors had asked for four years in jail. The maximum penalty was five years, for six misdemeanors -- A "felony" provision after a life-threatening dog attack in the State of Georgia is likely light years away.
Now that the criminal trial is complete, DogsBite.org hopes that Erin and members of her family are able to heal in a way that was not possible before.
April Hunt, "Details grip courtroom in DeKalb dog attack," Atlanta Journal-Constitution, January 4, 2012 (www.ajc.com) URL:http://www.ajc.com/news/news/local/details-grip-courtroom-in-dekalb-dog-attack/nQP5Y/. Accessed: 2014-04-29. (Archived by WebCite® at https://www.webcitation.org/6PCktJ0vm)
April Hunt, "Girl, who lost arm in DeKalb dog attack, saddled with nightmares," Atlanta Journal-Constitution, January 5, 2012 (www.ajc.com) URL:http://www.ajc.com/news/news/local/girl-who-lost-arm-in-dekalb-dog-attack-saddled-wit/nQP7r/. Accessed: 2014-04-29. (Archived by WebCite® at https://www.webcitation.org/6PCkWROFi)
April Hunt, "Jury: Woman guilty in DeKalb dog attack case," Atlanta Journal-Constitution, January 6, 2012 (www.ajc.com) URL:http://www.ajc.com/news/news/local/jury-woman-guilty-in-dekalb-dog-attack-case/nQP9C/. Accessed: 2014-04-29. (Archived by WebCite® at https://www.webcitation.org/6PCkmksZk)
Related articles:
12/09/11: 2011 Dog Bite Fatality: Lowndes County Woman Killed by Pit Bull
06/28/11: 1999 Dog Bite Fatality: Savannah Boy Killed by Pit Bull; Father Reflects Upon Attack
05/03/10: Pit Bull Scalp Attack Victim, Brianna Watkins, Recuperating