National Pit Bull Victim Awareness Day - October 24, 2015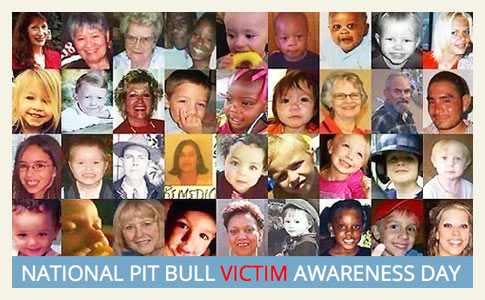 National Pit Bull Victim Awareness Day (NPBVAD) - October 24, 2015
Advocacy Website Launches
North America - Over 50 pit bull attack support groups in the United States and Canada have joined in a coalition to launch a new website -- NationalPitBullVictimAwarenessDay.com -- that coincides with the unofficial National Pit Bull Awareness Day, also occurring on the same day. The first national pit bull day event, started by Tennessee-based Bless the Bullys, was launched 8-years ago in October 2007, at approximately the same time DogsBite.org was launched.
The new advocacy website, National Pit Bull Victim Awareness Day, was developed to raise awareness of the social and financial costs of pit bull attacks and provides information on the growing epidemic of serious and fatal pit bull maulings across North America. The new website combines statistics and information from multiple sources and is intended to help citizens, policymakers and elected officials quickly understand the scope of this urgent public safety issue.
The new initiative evolved out of the need to amass the growing number of pit bull victim groups into a central online support hub, states the news release. "As the numbers of dead and disfigured by pit bulls continue to increase, our concerns are still not being sufficiently addressed by elected officials," states Jeff Borchardt, founder of Daxton's Friends for Canine Education and Awareness. Borchardt's 14-month-old son was mauled to death by his babysitter's two pit bulls in March 2013.
We invite readers to explore the new advocacy website, which features state-by-state reports of pit bull fatality and bite statistics, breed-specific laws pertaining to many U.S. states and recent pit bull attacks in Canada. The Scope of Issues section addresses why pit bulls are dangerous to people, our families and our pets, why pit bulls are a health and safety threat to communities, and why pit bulls are a tax-payer issue, a police and paramedics issue, a legislation issue and more.
The Articles section contains a collection of excellent recent articles by U.S. and Canadian news publications and writers -- the standouts, those who are willing to state the truth and face the consequences -- and is led chronologically by attorney and author J. Thomas Beasley, editor of Animals 24-7, Merritt Clifton, syndicated columnist Lori Welbourne and National Post columnist and author Barbara Kay, who has been writing pointedly about this issue for a number of years.
Finally, the new website drives in how long -- over three decades now and counting -- victims and communities have been struggling with these issues. During this time, pit bull maulings and fatalities have dramatically increased, along with the ever rising total population of pit bulls. The Scope of Issues caused by pit bulls will also continue to expand until more citizens, policymakers and elected officials understand and support preventative breed-specific legislation solutions.
Partnering organizations for National Pit Bull Victim Awareness Day include Daxton's Friends, DogsBite.org, Dangerous by Default, Protect Children from Pit Bulls and Other Dangerous Dogs, a popular Facebook Page, People for the Ethical Treatment of Animals (PETA), BanPitBulls.org and Awareness for Victims of Canine Attack (AVOCA), the organization that launched the first ever Canine Victims Awareness Week last November, headlined with the PSA, "Won't Back Down."
Hashtags:      #NationalPitBullVictimAwarenessDay      #WeAreAllVictims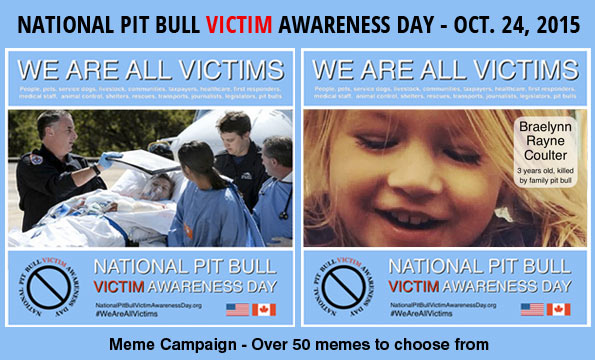 Also explore their extensive meme campaign, and Like and share their Facebook Page.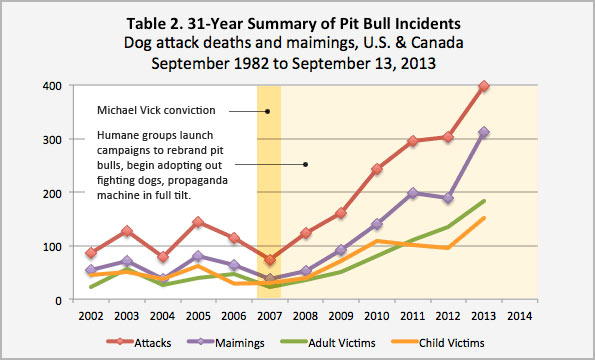 The chart used in the news release is a subset of the Merritt Clifton report, visually charted by DogsBite.org, along with the Vick overlay. It was created in September 2013, when we compared Pawtucket's pit bull ban results to national statistics. This chart is now updated each year.
Related articles:
04/20/15: 2015 First Quarter Report: Municipalities Beat Back State Preemption Bills...
04/01/15: Book Review: Misunderstood Nanny Dogs? A Critical and Objective Analysis...
11/13/14: Canine Attack Victims' Group Releases Open Letter to Arianna Huffington
11/10/14: Canine Attack Victims' Group Releases Public Service Announcement...
07/24/14: Nonprofits Urge CDC to Resume Tracking Richer Data Set for Children...