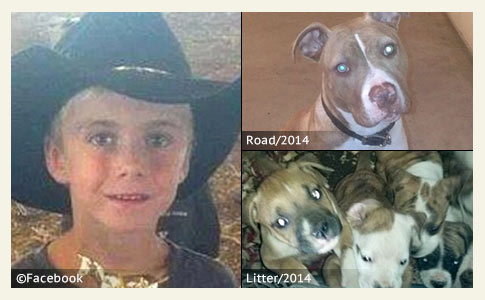 Malaki Mildward, 7-years old, was killed by two dogs in College Springs, Iowa.
Previous Bite, Mother of Litter archived
UPDATE 01/30/14: On Tuesday, the Omaha World-Herald published new information about this fatal dog mauling. A 10-year old boy living at the home of Jeremiah Hicks had been bitten by at least one of the four dogs at the home on September 12. Four months later, two young dogs in Hicks' home will fatally attack 7-year old Malaki Mildward. There were three children living at his College Springs home each with different mothers; two shared the same biological father, Hicks.
For clarification, these children were Malaki, 7-years old whose mother is Amber Braymen and biological father is Xavier Mildward. Braymen is Hicks' current relationship and brought the male pit bull, Shipper, into Hicks' home. The mother of a teenager living at the home left a female pit bull, Road, at Hicks' home last February. Road is the mother of the litter that produced two fatally attacking dogs. The third child is the 10-year old boy that was bitten by Road in mid September.
The 10-year old boy's mother, Talana Auten, told the World-Herald that her son had bite marks and bruises on his left leg on his knee and thigh areas. Auten's husband reported the bites to Afton Police Chief John Coulter. The chief then referred the couple to the Iowa Department of Human Services (DHS). Auten said she then filed a report with DHS and took photos of her son's injuries. Unfortunately, these cell phone images were lost when her phone stopped working.
Auten said that a Page County DHS representative subsequently told her that the bite report had been classified as unfounded. Thus, there was no follow through by any government agency afterward. On Monday, Sheriff Lyle Palmer told the World-Herald he was still conducting interviews about Malaki's mauling death and was previously unaware of the September biting incident. The investigation into the biting incident is still ongoing and there could be future developments.
Auten said her son was one of several family members that discovered Malaki in the yard after the deadly attack. Others close to the case added more details. The boy and several family members had been returning from the library when they saw Malaki's body lying in the yard. The two pit bull-mixes had destroyed the boy and stripped away nearly all of his clothes in the attack. Auten told the World-Herald that her son has been extremely traumatized by what he witnessed.
"At this point in time, he doesn't want to close his eyes. He doesn't want to think," she said. "To hear him talk about what had happened in great detail, just made me physically sick to my stomach." - Talana Auten
The Household Dogs
At the time of the biting incident and deadly attack four months later, there were four dogs in the Hicks household, two adult pit bulls, Shipper and Road, a male and female respectively, and two younger dogs, Two Face and Satan. Both younger dogs were 8 or 9 month old pit bull-mixes from Braymen's August puppy post. People close to the case say that Road and her two fatally attacking offspring were put down after Malaki's death. Shipper still remains in Hicks' home.
The Hicks household had inherited the two adult pit bulls through different maternal relationships. As noted earlier, Shipper came with Hicks' current relationship with Braymen. Road was inherited through the teenager's mother, Jo Anna Wentworth Parrott. The dog was named Road because it was found on the side of the road and taken in by Parrott. Last February, Parrott left Road and a python snake at the Hicks home with a note, apparently unable to care for them any longer.
So what happened to the alleged "Pitbull English bulldog pups" that Braymen advertised for sale in August that produced at least eight puppies, two of which killed Malaki? It turns out that Parrott had two dogs, Road and a male English bulldog. Road may have been pregnant when it was left at Hicks' home in February, or there was a planned breeding between the two or there was never an English bulldog involved in the mating. The mating was simply between Shipper and Road.
Finally, Auten and her son had nothing to do with the four pit bulls in Hicks' home. Hicks also has custody of the boy. It was Auten and her husband that alerted authorities to the September biting incident. For reasons that are still unclear, the bite report was classified as unfounded and no follow up proceeded. Now, after being bitten by Road and witnessing the traumatizing sight of Malaki dead in Hicks' yard, Auten's son must return to this same home where Shipper remains.1
01/24/15: Relationships Begin to Clarify archived
Despite a dizzying array of family relationships -- some of which have now been clarified by the Omaha World-Herald and help from the British media (kudos to the Daily Mail!) -- we have learned much more information about the most recent U.S. fatal dog attack. On Thursday, 7-year old Malaki Mildward was viciously attacked and killed by two young family dogs at his home in College Springs, Iowa. The types of dogs involved should no longer be in dispute after this update.
The first place we looked after this fatal dog mauling was Page County property records to uncover the owner of the home where the attack occurred at 709 Glen Avenue. The owner is Jeremiah J. Hicks. Next the array of different relationships emerged on Facebook that had many of us scratching our heads. The World-Herald clarified that, "Malaki lived with his older sister, his mother, Amber Braymen, Jeremiah Hicks and Hicks' son at Hicks' home in College Springs."
The mother's name had been the missing link, without it, she could not be located on Facebook. Once learned, the Daily Mail scoured her page and found an August 5, 2014 post announcing that she had, "Pitbull English bulldog pups" for sale. Within the comments of this post, Braymen also posted a photograph of the dogs. "Wanna buy one?" Braymen asked. The age of the two attacking dogs, allegedly 6-months old, are more likely 8 or 9 months old and came from this very litter.
There is no indication on Braymen's Facebook page that English bulldogs were roaming around the Glen Avenue home or an indication of this on the father's page, Xavier Mildward. Both pages, however, did have photos of Malaki with a pit bull named Shipper posted in 2012 (See Braymen's and Mildward's separate photographs).2 Notably, Xavier was also selling pit bulls in 2011. His "starting" price was $400, according to his Facebook post. They were a pit bull oriented family.
In 2014, at least the mother had a breeding as well. That litter of at least eight puppies was born in late May or early June. Braymen's August 5 post shows the puppies at about 8 to 10 weeks old and ready to sell. It is a grave distortion that this litter of dogs are not pit bull-mixes. Not even Braymen lies about it: "Have Pitbull English bulldog pups got shots and ready to go message me for details and pics," Braymen states. The lies about the breed of dog start after the boy's death.
Who propagated the lies to Page County Sheriff Lyle Palmer that the dogs were not pit bulls or even pit bull-mixes? That is open to speculation, but we could not ignore one Sue Hicks Mullins either (unknown if she is related to Jeremiah Hicks). A female friend tagged Mullins on the August puppy post Saturday, asking, "Sandy Hicks Mullins here is an ad for the puppies that the mother of the boy who passed away from the pups advertised. Even says they are pit bull mix pups?"
Then we had to view Mullins' page, where things take a nose dive. On Saturday Mullins posted to her Facebook page, "Prayers to the family of Malaki Mildward my grandson was a friend of his in preschool, He died yesterday after being attacked by two family owned 6 month old NON pit bull pups. EVERYBODY, PLEASE give the family time to grieve and remember it doesn't matter the breed or the animal, ANYTHING with teeth can bite." (Kudos to the friend that called her out!)
Mullins was not finished, however, and next posted an even more disturbing post. "This is bitter sweet in Iowa right now but true, just remember as I used to say when asked at the zoo does it bite? Anything with a mouth can bite, be careful especially around strange animals, even the family pet can have a bad day. Thinking about you "M," she writes. Mullins also links to a video about why "dogs make the perfect babysitters," in the post. We will not link to this unsafe video.
In Summary
The evidence is convincing that Malaki was killed by two dogs from the August puppy post. It was a pit bull, English bulldog pairing by the mother's own words and sales routine. The caveat is that both DogsBite.org and Animals 24-7 have few cases on record of 6-month old dogs, pit bulls or otherwise, maiming or killing unless acting as accomplices in a pack of attacking adults.3 9-months old is more believable, but is still unusual. Malaki was also 7-years old, not an infant or a toddler.
01/22/15: Family Dogs Kill Boy
College Springs, IA - The Page County Sheriff Office's reports that a 7-year old boy was killed by his two family dogs. Deputies were called out to 709 Glen Avenue in College Springs at 4:53 pm. On arrival, deputies found Malaki Mildward unresponsive and EMS from Clarinda and College Springs were administering CPR. The boy had been mauled by his family's two 6-month old dogs. He was transported to Clarinda Regional Health Center where he was pronounced dead.
In the last 10-years, January 1, 2005 to December 31, 2014, three fatal dog attacks have occurred in the state of Iowa. In 2013, Jordyn Arndt, 4-years old of Prairie City (Jasper County) was viciously attacked by her babysitter's pit bull. In 2011, Vanessa Husmann, 3-years old of Hopkinton (Delaware County) was savagely killed by her grandfather's two champion rottweilers. In 2010, Shirley Lou Bird, 79-years old of Ida Grove (Ida County) was killed by her pet German shepherd.
1
This may be the most complex update, family relationship and household dog-wise, we have ever done in the history of DogsBite.org. We did receive multiple confirmations on the dogs from people close to the case.
2
The boy's real father is Xavier Mildward. The two may have still been together at that time.
3
Young dogs have attacked and even killed infants in the past, such as the case of 2-month old Zane Earles in 2008 when the family's 8-week old lab-mix killed the baby. But infants are a unique and separate category. DogsBite.org was able to locate one recent fatality, the death of John Harvard in 2014, involving a 5-year old boy and 8-month old pit bull as this post was being prepared. Animals 24-7 was able to locate two pit bull puppy mauling cases in their files on short notice as well. The case of Martina Jennings involving a 4-year old boy and 3-month old pit bull in 2008 (Ohio) and the case of Annette Rojas involving an 8-year old girl and 8-month old pit bull in 2005 (California).
Related articles:
09/14/14: Criminal Trial: Arkansas Mother and Daughter on Trial for Fatal Dog Mauling...
08/26/14: 2013 Dog Bite Fatality: 4-Year Old Mauled by Pit Bull Dies; Babysitter Arrested
03/07/11: 2011 Dog Bite Fatality: Rottweilers Kill 3-Year Old Girl in Delaware County, Iowa
11/18/10: 2010 Dog Bite Fatality: Western Iowa Woman's Death Attributed to Dog Bite