Jury Verdict: Babysitter is Guilty on All Four Counts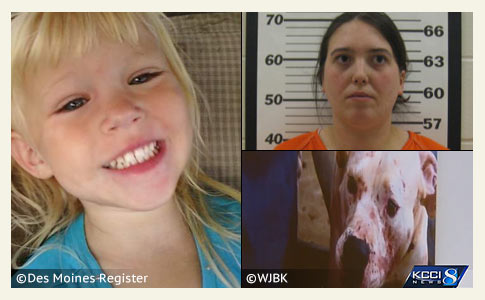 Babysitter Sentenced
UPDATE 07/13/15: On Monday, a Jasper County judge sentenced Jena Maria Wright, 27, to no more than 10-years in prison in connection to the dog mauling death of 4-year old Jordyn Arndt. Back in May, a jury convicted Wright on all four counts after Wright's pit bull savagely killed Jordyn while under her care on April 22, 2013. Wright was found guilty of felony child endangerment resulting in death, felony neglect and abandonment of a child, and two misdemeanor counts.
Wright received 10-years in prison for each felony count. The judge also issued 3-years for the two misdemeanor counts: one year for assaulting a police officer and 2-years for interference with official acts during her arrest. All sentences will run concurrently, meaning Wright will serve a maximum of 10-years behind bars. Also, for the first time, Wright addressed the court, speaking for about 4-minutes. Fighting back tears, Wright apologized to Jordyn's mother, Jessica Arndt.
We believe that justice for Jordyn has finally been served. Our hearts go out to Jordyn's parents as they begin the painful journey of trying to heal.
The conviction and sentencing of Wright follows several other recent high profile fatal pit bull attack criminal trials that also yielded substantial penalties. In 2014, Alex Donald Jackson, 31 of California, was sentenced to 15-years in state prison for the death of Pamela Devitt, 63, after his four pit bulls brutally attacked and killed her. In 2013, Edward Daniels II, 21 of Florida, was sentenced to 10-years in prison after his two pit bull-mixes brutally killed 7-year old Tyler Jett.
05/14/15: Jury: Guilty on All Counts
After two hours of deliberating Thursday morning, a Jasper County jury came back with a guilty verdict on all four counts. Jena Marie Wright, 26 of Prairie City, was found guilty of felony child endangerment resulting in death and felony neglect and abandonment of a child. This combination of felonies carries up to 35-years in prison. The jury also found Wright guilty of two misdemeanor counts, assault on a police officer causing bodily injury and interference with official acts.
On April 22, 2013, 4-year old Jordyn Arndt was horrifically attacked by Wright's pit bull while under her care. She died within 24 hours. At the time of the attack, Jordyn, her brother and Wright's young daughter were playing in the backyard. Wright was inside the home doing laundry. The state successfully argued that Wright knew of the pit bull's propensity to be vicious. Further, the jury did not buy a penny of the canine expert's $18,000 testimony put forth by the defense.
KCCI News spoke with Jasper County assistant attorney Kelly Bennett after the verdict. "This has been an extremely emotional trial for me personally," Bennett said. "I just want to thank the jury for all their hard work, they had to sit through some pretty emotional, graphic and heart-wrenching testimony -- and I'm satisfied with the verdict," Bennett said. Just moments before the verdict was read, District Court Judge Richard Clogg reminded everyone in the courtroom to remain calm.
Wright's sentencing date is scheduled for July 13. She will remain in custody until sentencing.

---
We greatly thank KCCI, WhoTV and the Newton Daily News for their outstanding trial coverage.
---
05/13/15: Day 5 of Trial Coverage - Fatal Dog Mauling
An unexpected rebuttal witness for the prosecution eviscerated testimony from the canine expert today. Kristy Cockerham, a long-time friend of Jena Wright, testified that Brutus latched onto her wrist and Wes had to pry the dog's jaws open. Cockerham also testified that Wright hatched a plan to get rid of Brutus by taking the pit bull out to the country while her husband was gone -- Wright never followed through. Wes claimed in his rebuttal that his pit bull was "just being playful."
This worn out claim, "he was just playing" is a common denominator excuse used by pit bull owners to minimize aggressive acts and damaging attacks by their dogs. Caught red-handed lying through his teeth -- Wes' credibility is out the window at this point and so is Jena's. Cockerham is likely not the only friend that Brutus attacked, but the only one to come forward. Jurors can now see a little more into the mindset of "typical" pit bull owners: deviant, antisocial and perjurers.
Defense attorney T.J. Heir immediately objected to Cockerham's testimony, but District Court Judge Richard Clogg overruled her motion. In a desperate attempt of damage control, defense also made a motion for a continuance to allow the canine expert -- who flew out of Iowa at 6:30am this morning -- to return as a rebuttal witness. Judge Clogg denied this motion too. Following the unexpected and explosive testimony by Cockerham, the state began their closing argument.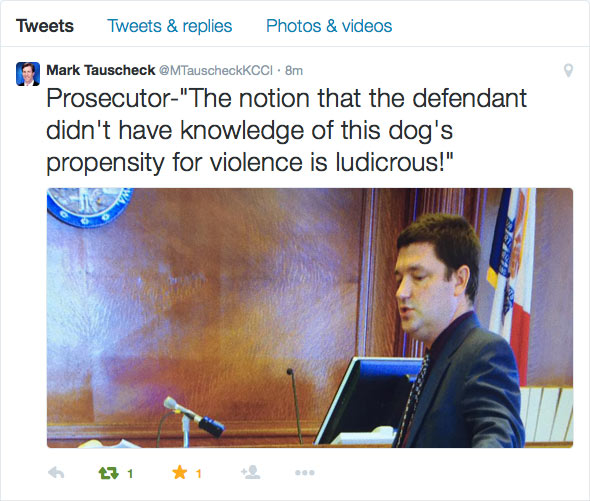 ---
Live Twitter coverage from KCCI | Follow @MTauscheckKCCI for the latest updates.
---
05/12/15: Day 4 of Trial Coverage - Fatal Dog Mauling
Defense gave its opening argument Tuesday morning. As anticipated, they trotted out multiple long-time friends of Jena Wright. Each provided glowing testimony about Brutus and how the pit bull would never harm a child. Greg Beerends even testified, "Brutus was like a big puppy." Despite the jury already seeing images of the dog soaked in Jordyn's blood. Another friend of Wright, Hanna Faidley, told the court that Wright would have never put any children in danger.
Defense also called Jena's husband to the stand, Wes Wright. He also testified that Brutus never gave him reason to believe the dog would attack Jordyn. While under cross-examination by prosecutors, Wes stated that he and Jena are now legally separated. Surprisingly, he also told the court while under cross-examination that he was comfortable with his daughter being in the backyard alone with Brutus, but that he was not as comfortable with Brutus around other kids.
When asked by prosecution if he would have more hesitation in leaving somebody else's child alone with Brutus, Wes replied: Yes.
This rounds back to the critical issue that Wright was inside the home doing laundry when the deadly attack occurred, not watching Jordyn. Sydney Rinehart, a friend of Wright and former resident of the home, testified that the house has a large and "very thin window" in the living room overlooking the backyard, indicating that Wright still had a view of the children while inside the home. Wright has already admitted, however, that her own daughter first alerted her to the attack.
Wright did not see or hear anything initially, despite the grasping at straws testimony by Rinehart: "You could hear everything, even with the washer and dryer going," former resident Sydney Rinehart told the court. Defense also called Wright's mother-in-law, Robin Wright, to testify. Jena Wright was arrested at Robin's home one day after the attack. Robin was present during the arrest and testified that the defendant did not cause an upheaval while being taken into police custody.
Canine Expert Witness
Defense next called California-based canine expert Ron Berman to the stand. As demonstrated by the KCCI News Tweets, his testimony started with a big bang, beginning with Berman's claim that he has "worked with over 12-thousand dogs." One hot tipper sent in email upon seeing the Tweet and wrote: "I just love 'experts' who are reckless with the details." Subsequent Tweets include, "Says he has been certified as an expert witness 80 times." Then follows up with this humdinger.

How is one "not a gun for hire" if one has already been hired 80 times for the specific purpose of providing expert testimony? We already know the court allotted $18,000 to pay the expert, presumably with state funds. Initially Wright had been assigned a public defender. By December 2014, she had acquired a private attorney. Due to these circumstances, we imagine this is a "fair market" price for his services in this case. The judge allowed it to ensure a fair trial for Wright.
During a hearing Monday, the court decided to allot $18,000 retaining Ron Berman -- a California-based certified forensics consultant with expertise in canine temperament, bites and behavior … Judge Clogg was of the opinion that allowing the expert to testify on behalf of Wright would insure a fair trial. - Mike Mendenhall, Newton Daily News, December 9, 2014
Berman concluded his multi-thousand dollar testimony predictably saying, "nothing in Brutus' behavior could have predicted the attack on Jordyn Arndt." Then cross-examination began, kicking court tension up a few notches Tuesday. After grilling Berman on his education and previous experience, prosecutors unveiled the undoing of his testimony. Berman had to state to the court that he had never even evaluated the pit bull -- Brutus was put down shortly after the attack.

The Newton Daily News provided more details, including that Berman stated: "Based on all the work I've done there's no evidence prior to this tragic incident with (Arndt) on April 22, 2013 that would suggest (the dog) presented a specific, unusual or serious danger to (Arndt) when she was left unsupervised by the defendant," Berman said. So, the "expert" claims that leaving a child alone with a dog that caused two neighbors to arm themselves with a deadly weapon is normal?
Berman told jurors he reviewed testimony of all witnesses in the case and interviewed state witnesses Richard Foster, James Billingsley, Tiffany Ewing and Jasper County Sheriff John Halferty who previously testified to their violent encounters with the dog. - Alex Olp, Newton Daily News, May 12, 2015
Closing Arguments Tomorrow
Defense rested their case after testimony and cross-examination of the canine expert. There are two felonies at stake in this case. The first, which carries up to 25-years in prison, is child endangerment resulting in death. This charge requires proving beyond a reasonable doubt Wright "knowingly" acted in a way that created substantial risk to the child's safety by leaving her unattended with Brutus. Proving Wright had knowledge of the dog's vicious propensities is critical.
The second felony charge of neglect or abandonment of a child, which carries up to 10-years, requires proving that Wright "knowingly and recklessly" exposed Jordyn to a hazard by leaving her alone with the dog. Though our understanding of this lesser charge is still gray, there is no doubt that as a babysitter, Wright had the duty to be watching this child, combined with the dog's known aggressive past and Wes stating that even he would not have left other kids alone with Brutus.
Closing arguments are expected Wednesday morning. The case is then handed off to the jury.
---
Live Twitter coverage from KCCI | Follow @MTauscheckKCCI for the latest updates.
---
05/11/15: Day 3 of Trial Coverage - Fatal Dog Mauling
Jasper County Prosecutors called a number of witnesses today, most of whom experienced a dangerous encounter with the Wrights pit bull prior to the attack that killed Jordyn Arndt in April 2013. For clarification, Jena Wright, her husband Harmon "Wes" Wright, their young daughter and Wes' father, Buster Wright, all lived at the 300 South Marshall Street home where the deadly attack occurred. Jena and Buster were at the home when the dog attacked, Wes was at work.1
The prosecution rested its case Monday afternoon. Defense begins its case Tuesday morning. A canine expert is expected to testify for defense.
What became evident during testimony on Monday is that a number of people, including Jasper County Sheriff John Halferty, had experienced aggression from Brutus over a several year period leading up to the fatal attack. Further, the Wrights own veterinarian, Jim Walker, testified that Brutus on at least two occasions attacked an injured another dog in the Wright home. Walker treated the injured dog, named Buddy, both times. He shared Buddy's injury photos with the jury.
What also became evident on Monday is that two key testifying witnesses told Wes or Buster about the aggressive encounters, leaving the question open as to whether or not Jena knew about them. First up was Tiffany Ewing, formerly Tiffany Koder, who shared her dangerous encounter of Brutus with the media shortly after the fatal attack. She provided similar testimony in court today. In April 2013, Ewing described the episode with Brutus to the Des Moines Register as below:
Koder said her brush with Brutus came when she was pregnant and working at the Casey's General Store in Prairie City. Harmon Wright was the store manager at the time, she said.

Koder said she saw Brutus near his home, walking on Iowa Highway 163, which runs through town. She stepped out of her car to see if she could shepherd the dog back into the fenced yard he had escaped from, she said.

When Brutus spotted her, Koder said, the dog growled, lowered itself into what she described as a hunter's crouch, and ran at her.

Koder said she jumped back into her car, slammed the door shut and drove back to the store to tell Wright what had happened. Wright brushed the incident off, insisting that the dog was "nice," she said. - Jens Manuel Krogstad, Des Moines Register, April 25, 2013
James Billingsley, who lived across the alley from the Wrights, offered powerful testimony about the pit bull. Billingsley kept a baseball bat in his garage in case he ever had to defend himself against the dog. Billingsley was concerned every time Brutus got loose, he said. He told the jury about one incident where the animal came within 8-feet of him, growled and showed his teeth. "I wish I had the shotgun," he said. Billingsley expressed his concerns about the dog with Buster.
Richard Foster, another neighbor of the Wrights, backed up Billingsley's claims about the pit bull. Foster told the court that Brutus would chew through the chain link fence that separated their two properties and get into his yard, threatening himself and his family. At one point, Foster even grabbed a gun to defend himself. "I walked around the front yard went to the neighbor's, yelled down into the basement, 'Get your dogs out of my yard before I kill them,'" Foster told the court.
The last witness of the day for prosecutors was Jasper County Sheriff John Halferty. He took the stand and testified that he and his wife encountered Wright's pit bull when he was campaigning in Prairie City to be sheriff in 2012. Sheriff Halferty told the court he was ready to draw his weapon to protect himself and his wife. He said the dog was growling, bearing his teeth and his ears were pinned back. An unnamed adult eventually came out of the house and got the dog under control.
Defense Begins Tuesday
Though the trial coverage is limited, we are still seeing the highlights. Not only was Brutus a problem dog -- apparently constantly breaking out of its owner's fenced yard and running loose -- the pit bull was also animal aggressive, attacking another family dog in the home at least twice, requiring veterinarian treatment both times, and created enough alarm in at least two neighbors that each armed themselves with deadly weapons at different times in fear of Brutus attacking.
All of the adults in the Wright household knew that Brutus consistently got loose, attacked other dogs and had dangerous confrontations with neighbors and strangers in the past. The prosecution does not have to prove the fatal attack was absolutely foreseeable. They do have to prove that Wright knew of the dog's vicious propensities and exposed Jordyn to the dog anyway. This exposure included leaving Jordyn and the other two children outside with Brutus unsupervised.
---
Live Twitter coverage from KCCI | Follow @MarcusKCCI for the latest updates.
---
05/08/15: Day 2 of Trial Coverage - Fatal Dog Mauling
On Friday, Jasper County prosecutors showed jurors graphic images of Jordyn's fatal neck injuries. These images combined with testimony from the trauma surgeon and medical examiner, who told the jurors that the injuries were consistent with a dog violently shaking its head back and forth, should have painted a vivid picture of the violent attack. The trauma surgeon, Dr. Cass Franklin, also told prosecutors that he had never seen injuries like it before in his 37-year career.
Prosecution: As a trauma surgeon, I assume that you've seen dog bite injuries before?

Dr. Cass Franklin: Yes, several.

Prosecution: In your experience had you ever seen injuries like the ones you'd seen on Jordyn?

Dr. Cass Franklin: I have not.
Polk County Chief Medical Examiner Gregory Schmunk, who performed the autopsy on Jordyn, also testified on Friday. He testified that the lacerations were consistent to a dog attacking from behind. Jordyn likely never knew the killing bite was coming, nor would she have known if it had come from the front. Unpredictable attacks by pit bulls occur instantly. KCCI would not show the graphic injuries of the child, but they did show the pit bull covered in blood after the fatal attack.
Police Officer Testimony
Former Prairie City Police Chief Louis Modlin testified on Friday as well. Modlin now works for the Altoona Police Department. Video from his dash camera and audio captured by his body camera, just minutes after the vicious attack, were played in court. Wright is heard saying to Modlin, "My daughter came inside and said there's blood everywhere" and "he's never shown aggression like that." In the video, Wright describes to Modlin the moments leading up to the deadly attack.
According to Modlin's testimony, Wright told him the three children – the defendant's daughter, 7-year-old Aden Arndt and Jordyn Arndt – were playing in the backyard. She then left the residence to run to the store and told her father-in-law to keep an eye on the kids.2 When she returned, she checked on the children and went back inside the house. Minutes later, Wright's daughter came inside and said "there's blood." - Alex Olp, Newton Daily News, May 8, 2015
Wright also faces charges of assault on a police officer causing bodily injury and interference with official acts, which occurred when she was arrested one day after the attack. Modlin, who was the arresting officer, testified that Wright kicked him multiple times in the chest as he tried to take her into custody. Modlin said the defendant was "not cooperative" and tried to get away from him, but fell down a staircase near a backyard door in the process. Modlin was halfway up the staircase.
"As soon as she fell down on the stairs she rolled over on her back and began kicking and she kicked me several times in the chest," Former Prairie City Police Chief Louis Modlin
Among the many atrocities that jurors learned today, what they did not learn details about (at least none were mentioned in the news coverage), may be even more haunting. Both Jordyn's brother and Wright's daughter witnessed the attack. All three children were outside with the dog when it latched onto Jordyn's neck and violently shook its head back and forth, causing a blood spray and killing the girl. The trial continues on Monday. The defense may also start their case on Monday.
---
Live Twitter coverage from KCCI | Follow @MarcusKCCI for the latest updates.
---
05/07/15: Fatal Dog Mauling Criminal Trial Begins
Prairie City, IA - On April 22, 2013, Jordyn Arndt, 4-years old, was brutally attacked by her babysitter's pit bull while under her care. She was airlifted to Mercy Medical Center in Des Moines where she died of her injuries the next day. Hours after her death, Prairie City police arrested her babysitter, Jena Marie Wright, in connection to her death. This week, after over a dozen court delays, the criminal trial finally begins. Wright faces up to 35-years in jail if convicted on all counts.
The case hinges on whether or not Wright exposed Jordyn to the male pit bull named Brutus knowing of the dog's vicious propensities.
Part of the court delays involves the expert canine witness for the defense. Last December, the court allotted $18,000 to retain Ron Berman, a California-based expert in canine temperament, bites and behavior. First, the expert needed more preparation time, later, he suffered injuries in an accident and was unable to travel, causing another continuance. Berman is expected to testify to the issue if Wright had knowledge of the dog's propensity to be vicious or to attack a person.
In February, the prosecution made their frustration about the many delays and the relevance of the expert canine witness quite clear. "The defendant has had almost two years to find an expert witness and it wasn't until the last couple of months this was done," Kelly Bennett, Jasper County assistant attorney told the court. Bennett also questioned the necessity of the canine expert's testimony, given that the dog's behavior -- the dog ripped out the girl's throat -- is not in dispute.
"There is no question about the behavior of this particular dog," Bennett said. "Two years ago this dog ripped the throat out of a 4-year-old little girl."

The only issue is the behavior of the defendant -- and the defendant's actions, what she did or did not do -- knowing at that point in time of the previous behavior of the dog." - Kelly Bennett, assistant attorney, Newton Daily News, February, 2015
Opening Day of Criminal Trial
During opening arguments Thursday, prosecution stated that Wright was aware of the dog's vicious tendencies. The pit bull had previously attacked another dog and Wright's neighbor kept a bat in his garage for protection against the dog. Jordyn's mother, Jessica Arndt, took the stand in tears. She and Wright had been friends for 15-years and attended school and graduated together. She admitted that she initially did not blame Wright. That changed after she learned more details.3
Carl Vander Kamp, who was among the first EMTs on scene, also took the stand today. He said that he arrived to "quite a bit of blood" and a child lying motionless without a pulse. "She had a large wound on her side of her face and also on what appeared to be the back of her head and some marks on her neck area," Vander Kamp testified. He said that from the time he arrived to when the child was airlifted to Mercy the child never showed any vitals or signs of breathing.
The Newton Daily News includes more details, including that the jury listened to the 911 call and saw bloody images from the aftermath of the attack. The attack occurred between the defendant's house and garage. One of the photographs showed blood spatter on the garage wall. Jasper County Deputy Jeremy Burdt, who responded to the attack, provided testimony about the blood splatter on the garage, explaining it was the result of a dog rapidly shaking its head back and forth.
The criminal trial is expected to last 5 days. DogsBite.org will cover each day. The jury of course will not hear about Wright's prior criminal history, unless introduced by defense. Two years before the fatal dog attack, Jena was arrested on multiple felony charges in connection to a marijuana grow operation. Those charges included a charge for neglect and abandonment of a child. In a plea deal, Wright pled guilty to one count of misdemeanor possession of a controlled substance.4
Partly why DogsBite.org is so interested in this case is because it involves a babysitter whose pit bull killed a visiting child that was under her care. This scenario appears over and over again in fatal dog maulings, primarily, fatal pit bull maulings. We are also interested in the testimony by the canine expert witness for the defense. What testimony will he provide and how much weight will the jury give it? Also, what questions will prosecutors ask the expert during cross-examination?
Consequences if Convicted
Jasper County authorities charged Wright with felony child endangerment resulting in death, which carries up to 25-years in jail if convicted, and felony neglect or abandonment, which carries up to 10-years in prison if found guilty. Wright is also facing a charge of assault on a police officer causing bodily injury. Wright allegedly kicked the arresting officer -- former Prairie City Police Chief Louis Modlin -- in the chest during a struggle while being arrested, an aggravated misdemeanor.
Some readers might feel sorry for Wright or believe the potential penalties are too harsh. The serious charges, however, are case-in-point about the responsibility a babysitter takes on when watching a child, a babysitter who also had three dogs at her home.5 Usually, in criminal cases like this, the negligence is more egregious, like in the criminal trial of the babysitter whose pit bull killed a 2-year old girl in 2003. In that case, the babysitter left the child unattended to "run errands."
Jena Wright was apparently inside the home when the deadly attack occurred. Jordyn and Wright's own daughter were in the backyard playing when Brutus viciously attacked the girl. During the 911 call made by Wright, she said, "She and my daughter have played outside with the dog numerous times. I don't know what happened." Jordyn and her brother, who was 7-years old at the time, had only started their babysitting arrangement with Wright about a week earlier.
---
Live Twitter coverage from KCCI | Follow @KStonge12 for the latest updates.
---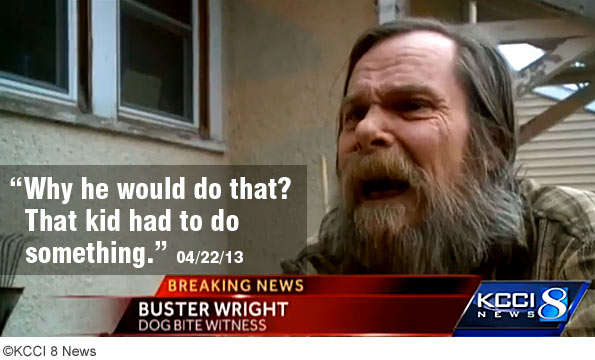 1
Both Wes and Buster Wright publicly speculated the little girl caused the deadly attack in the hours and days following her violent death. Like father like son. Both were also arrested and charged in 2011, along with Jena, in connection to a marijuana grow operation in their basement. Charges were reduced to misdemeanors for all three.
2
On April 22, following the attack, KCCI interviewed Wright's father-in-law, Buster Wright, who said: "I had no clue that was going to happen. That dog was in 7th heaven. Why he would do that? That kid had to do something."
3
The little girl's mother is just as beautiful as her daughter. They are literally mirrors only separated by age. Stunning, tragic and forever haunting. Our heart goes out to Jessica Arndt. This was a tough day in court.
4
By the age of 22, Jena Wright was already speeding down a runway to disaster. Two years later, her pit bull will kill an innocent little girl. Now she faces serious hard jail time. Her first and only "get out of jail free" card is gone.
5
Information about the other two dogs is unknown. Maybe it will become known during the criminal trial.
Related articles:
08/31/15: Who Can Identify a Pit Bull? A Dog Owner of 'Ordinary Intelligence'...
08/26/14: 2013 Dog Bite Fatality: 4-Year Old Mauled by Pit Bull Dies; Babysitter Arrested
07/22/14: 2014 Dog Bite Fatality: Visiting Child Under Babysitter's Care Killed by Family Pit Bull...
07/15/14: New Brunswick Pit Bull Attack: Babysitting, the Zero Margin of Error Rule...
09/24/13: 2013 Dog Bite Fatality: Boy Killed by Pit Bull-Mixes at Babysitter's Home in Gilbert
07/26/13: Beyond the Interview: Essay of a Fatal Pit Bull Mauling - DogsBite.org
05/05/09: Alexandra Semyonova: Heritability of Behavior in the Abnormally Aggressive Dog