Attacked While Taking Down His Christmas Tree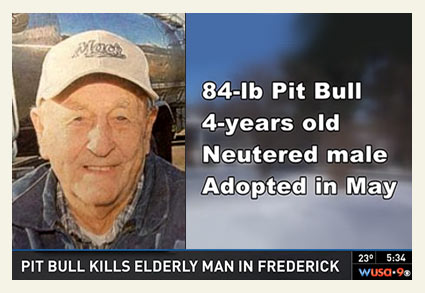 Adopted from Rescue
UPDATE 01/08/15: New information has been released about an elderly man mauled to death by his pet pit bull while taking down his Christmas tree. The fatally attacking dog was a 4-year old neutered male pit bull that Eugene Smith and his son adopted from an unnamed rescue organization in May. The pit bull was not a stray as earlier reports claimed. Police officials continue to look into the dog's background. Animal control euthanized the pit bull after the deadly attack.
WUSA 9 interviewed Smith's co-workers at Clouse trucking in Frederick. At the age of 87-years old, Smith still drove an 18-wheel tanker truck hauling milk for the company. His co-workers said Smith was an animal lover who adored his adopted rescue pit bull. "The dog would at times climb up in bed with him and sleep with him at night," said one female co-worker who was not named. "This is not anything we ever would have expected," she continued, "not ever in a million years."
Officials Describe Dog Attack in Video
The Frederick News-Post published a video today as well with Deputy First Class Amanda Hatcher detailing the dog attack and police response. Hatcher states that when police and animal control officers arrived on scene -- they arrived at the same time -- the dog was still attacking Smith inside the home. Officers were able to disengage the dog from Smith and quickly contain the animal. Smith was taken to Frederick Memorial Hospital with severe injuries where he died.
The News-Post has a recent history of being "extremely" pit bull apologetic. The News-Post, however, is hardly alone in Maryland. Many other state media outlets also swooned, cooed and knelt down for "pit bull kisses" after the landmark 2012 Maryland Court of Appeals ruling, Tracey v. Solesky, that declared pit bulls "inherently dangerous." The News-Post called the Court's ruling "narrow-minded" and "shortsighted" and "an ill-thought-out precedent" among other falsehoods.
Now an animal loving elderly man is dead, horrifically mauled to death in an unprovoked attack by an adopted pit bull rescue that formerly slept in his bed. The failure of the News-Post, who never bothered to interview the Solesky family or their attorney or to grasp the depth of the Court's ruling pertaining to actual Maryland "precedent," is now party to this man's preventable death. Smith clearly believed the false mantra that only "mistreatment or intentional training" creates a killer.1
View Related video
01/07/15: Family Pit Bull Kills Owner
Frederick, MD - In a developing story, an 87-year old man is dead after being critically mauled by his family's pit bull while taking down his Christmas tree. The attack occurred on Wednesday at about 2:30 pm at his home on Stonehouse Road in Frederick. According to deputies, Eugene W. Smith was in the process of taking down his Christmas tree when his family's large pit bull viciously attacked him. Smith was transported to a local hospital and later died of his injuries.
Smith lived in the Stonehouse Road home with his son and his son's fiancée. Deputies say the family had taken in the pit bull as a stray last May.2 Frederick County Animal Control euthanized the animal. In a separate holiday-related tragedy, 40-year old Edward Cahill was mauled to death by his pet pit bull of eight years on Christmas Day in Portage, Indiana. That fatal dog attack was "so obvious," according to Porter County Corner Chuck Harris, that an autopsy was not required.
View the DogsBite.org Google Map:
Maryland Fatal Pit Bull Maulings
.
Related articles:
01/20/15: In Frederick, a Tragic Reminder of Pit Bull Ruling - Dan Rodricks, Baltimore Sun
12/30/14: 2014 Dog Bite Fatality: Portage Man Mauled to Death by Pet Pit Bull on Christmas Day
06/02/14: Maryland Legislature Mutes Landmark Ruling, Tracey v. Solesky, During 2014...
11/05/13: 2013 Dog Bite Fatality: Baltimore Woman, 56, Killed by Her Pet Pit Bull
04/30/12: Maryland Court of Appeals Holds Pit Bull Owners and Landlords Accountable...
Photos: WUSA9