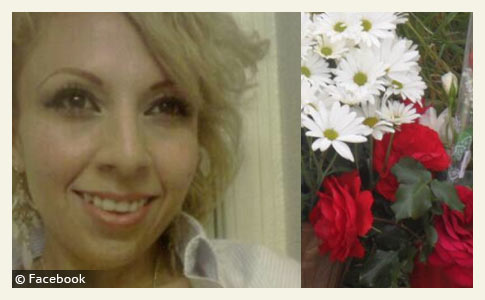 Claudia Gallardo, 38, of Stockton was mauled to death by a pit bull.
Pit Bull Owner Guilty
UPDATE 03/25/15: Last week the criminal trial of Brian Hrenko was held and jurors began deliberating. On Tuesday, a San Joaquin County jury found Brian Hrenko guilty of involuntary manslaughter and keeping a mischievous animal that killed a person. In April 2013, Hrenko's pit bull brutally killed 38-year old Claudia Gallardo, the mother of three children, when she visited his home to discuss her house cleaning services. Hrenko was not home when the attack occurred.
Deputy District Attorney Stephen Maier said that Hrenko knew of the dog's propensity to be vicious and still failed to properly secure his backyard fence and post proper signage to warn visitors. The attack was horrific, inflicting massive face and neck injuries. Gallardo was declared dead on scene by first responders. During closing arguments Friday Maier said, "What a horrible way to go. To just be mutilated by a dog like this. To have your throat essentially ripped out."
The jury got it right and did the right thing. - Deputy District Attorney Stephen Maier
Brian Hrenko now faces up to 4-years and 8-months in prison; sentencing is scheduled for April 27. Prosecutors said that this was the first fatal dog mauling case prosecuted in San Joaquin County. After the verdict was read jurors shared their thoughts about the case with attorneys. "They felt that the evidence was pretty strong that Hrenko knew the dog was dangerous," Maier said, "He didn't adequately maintain the property so the dog couldn't get out," Maier said.
Pit bull owners in California should take special notice of this case. The jury convicted based on the owner's knowledge of viciousness – testimony showed the pit bull had previous acts of aggression -- and the decision to keep the animal anyway without sufficient warning posted or a secure enclosure on the property to keep the dog from attacking a hapless visitor. Sources close to the case say that "Russia" the attacking pit bull was only finally put down in January 2015.
11/22/13: Victim's Family Interviewed
Family members of mauling victim Claudia Gallardo expressed relief at Brian Hrenko's arrest. Claudia's sister, Mireya said, "We all as a family just grouped together and, 'oh thank God, it's finally here. Her death is not going to be in vain." Mireya added, "I think about her every day. We were only one year apart. So we were very close." Claudia's grieving father, Juan Gallardo, spoke softly in the interview. Juan has faithfully maintained a memorial where Claudia's life ended.
Claudia's family intends to be present in court throughout the criminal proceedings. In October, the Gallardo family attended Kaylie's Candlelight Vigil for Victims of Dangerous Dogs in Sacramento. Family members brought photographs and writings by Claudia to hold during the vigil. Attorney Kenneth M. Phillips, who represents Claudia's three children in connection with her wrongful death, recently issued a statement on his website that provides additional details about Hrenko.
Of the 28 recorded dog bite fatalities so far this year, 6 resulted in criminal charges, 50% of which stem from California. 100% of dog bite fatalities resulting in charges this year involve pit bulls.
11/21/13: Involuntary Manslaughter
Seven months after a pit bull named "Russia" savagely attacked and killed 38-year old Claudia Gallardo in east Stockton, the dog's owner has been arrested and charged. Brian Michael Hrenko, 60-years old of Stockton, faces involuntary manslaughter and felony animal charges in connection to her April 11 death. Hrenko is being held at San Joaquin County Jail in lieu of $250,000 bail. Hrenko is scheduled to be arraigned in San Joaquin County Superior Court on Friday afternoon.
04/13/13: 'I Tried to Save Her Life'
Javier Sanchez Sr. told the Record.net that he and his family had just returned home that night when they heard someone screaming for help. They quickly realized a woman was being attacked by a dog in the front yard of a home across the street. Sanchez jumped the fence, ventured into the darkness and began beating the animal with a large piece of wood his wife grabbed from their backyard. The attacking pit bull, however, refused to release its jaws from the woman's throat.
I kept hitting the dog, but it wouldn't let go. I tried to save her life, but I couldn't. - Javier Sanchez Sr.
Sanchez told the Recordnet.com that he wishes he could have done more to save the woman's life, but the dog had already inflicted too much damage by the time he arrived. That night he only slept two hours. "I was thinking all night about the dog and the lady and what I saw," Sanchez said. "It was hard. I've never seen something like that." Gallardo's sister, Mireya Gallardo, said her sister didn't deserve this. "I don't think anybody deserves to die that way," Mireya said.
Olga Paez, the victim's aunt, said her niece's death has devastated and angered her family -- "It's just terrible. We want answers," Paez said. Detectives continue to investigate, but there are still many unanswered questions. It remains unclear why Gallardo was at Hrenko's home, whether she knew the man or if she climbed over a fence to get into his yard. Hrenko couldn't be reached for comment Friday, but his ex-wife, Gloria Hrenko, said he was "distraught" over what happened.
04/12/13: Mauling Victim Identified
Family members told CBS 13 News that the victim's name is Claudia Gallardo, 38, and is a mother of three. On Thursday, Gallardo was discovered dead in a man's front yard after being attacked by a pit bull named Russia. The owner of the dog, Brian Hrenko, said he didn't know the woman and alleged that she climbed over his fence when he was gone. A female friend of Hrenko, who was home at the time of the fatal dog mauling, said the victim claimed to be there to clean the house.
The San Joaquin County Sheriff's Office has not confirmed the woman's identity, nor has it confirmed if the woman climbed over the fence. Hrenko was away for about 40 minutes. When he returned home, Hrenko said his female friend "was all hysterical, said Russia attacked (the woman)," said Hrenko. "She was all crying and stuff," said Hrenko. He didn't learn much more at the time because deputies quickly took him in for questioning. The investigation continues.
View Related video
04/11/13: Woman Mauled to Death
Stockton, CA - A woman was killed Thursday night after being attacked by a pit bull that has terrorized the neighborhood for months, according to authorities and residents. The San Joaquin County Sheriff's Office received a report of a dog mauling at 8:19 pm in the 400 block of North Lillian Avenue, just east of Highway 99 and north of East Miner Avenue. When deputies arrived, they found a woman dead who appeared to have been attacked by a dog, Sgt. Tom Rees said.
Rees wouldn't describe the woman's injuries, but he said, "there's a lot of blood" and described the dog as a "big, nasty pit bull."
Neighbors were horrified and angered by the attack, but not surprised. Some said the dog has jumped fences to attack other animals in the area. Rita Vasquez said the pit bull attacked her dog and bit her late husband. She said the dog's owner has more pit bulls as well. Vasquez said her husband reported the attacks to the Sheriff's Office, but authorities said there was little they could do at the time. She asked: "Why did somebody have to get hurt for something to happen?"1
View the DogsBite.org Google Map:
California Fatal Pit Bull Maulings
.
1
What Vasquez possibly meant to ask was, "Why did somebody have to get killed for something to happen?
Related articles:
10/24/13: Kaylie's Candlelight Vigil for Victims of Dangerous Dogs Approaches
02/25/13: 2013 Dog Bite Fatality: Elderly Woman Mauled to Death by Pit Bulls in Motel Room
12/14/12: 2012 Dog Bite Fatality: Fresno County Man Mauled to Death by Pack of Pit Bulls
12/07/12: 2012 Dog Bite Fatality: San Diego County Woman Killed by Pack of American...
08/28/12: San Diego County Pit Bull Responsible for Death of 4-Year Old Tijuana Girl