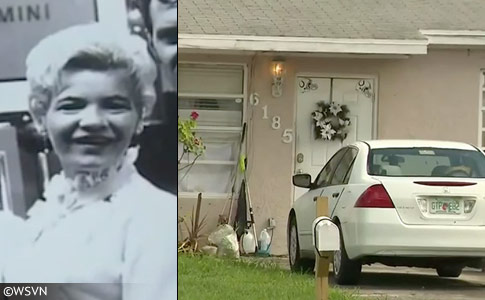 Location where a pit bull-mix killed a woman and injured her son in Margate, Florida.
Stray Pit Bulls as Pets
UPDATE 09/06/20: On August 28, Carolyn Varanese was killed by Smokey, a dog her son Joseph had adopted several weeks earlier. Joseph was badly injured in the attack while trying to save her. Miami-Dade Animal Services picked up Smokey as an injured stray on June 16. The dog was covered in bite marks and tested positive for heartworm and Ehrlichia. The dog had a 52-day shelter stay and was advertised as "dog selective" with "free" heartworm treatment if adopted.
On August 7, Mastiff of Florida Rescue pulled the dog and placed it with the Varanese family shortly thereafter. The dog, formerly named Axon at Miami-Dade Animal Services, had not yet cleared heartworm, which compromises blood flow to major organs and decreases blood-oxygen levels. By late July, Smokey's appearance had greatly improved, but temperament displayed at that time was still impacted by the illness. Only a healthy dog shows its true temperament.
As demonstrated by Mastiff of Florida Rescue, very little time was spent by the rescue evaluating or "rehabilitating" this dog outside of the shelter environment. Smokey, a large muscular dog, was also placed into a home with an 84-year old woman who used a wheelchair and was on dialysis. This is the subject of the recent Sun-Sentinel article. Rescues wanting to "save" pit bulls like Smokey, who are picked up as strays with little-to-no history and placing them into new homes.
Smokey is a harrowing example of rescues wanting to see a mistreated pit bull succeed. Instead, once it became healthy, it acted out its genetics.
The Sentinel piece also highlights how some rescues go through a "'painstaking process for each adoption," while others do not. Some rescues keep dogs like Smokey -- abandoned, abused and being treated for illnesses -- for a reasonable amount of time, rather than giving it to the first willing family. Smokey might have been fully clear of heartworms after being with the Varanese family for several weeks. That is also when this dog violently attacked for reasons that are unknown.
A week before Carolyn was killed, another adopted pit bull in Broward County suddenly attacked three family members, requiring two pediatric trauma alerts (brothers, 11 and 12), one airlift and an ambulance for their mother. The father in the household, Carlos Aviles, is a dog trainer and the owner of Green to Alpha K9, which specializes in dogs with behavior issues and new pet owners. That pit bull, Kane, also had an unknown background when Aviles agreed to foster and train it.
So while there is an argument among rescuers -- incensed that Smokey was "set up to fail" by the rescue -- the same cannot be said for Kane, who went to the home of a professional dog trainer. With or without an unknown history, pit bulls have long been identified as a breed that will attack disproportionately to minor or no stimuli, including suddenly attacking their owners and family members. Single pit bulls are also consistently involved in attacks that result in multiple victims.
For these reasons, we recommend against adopting pit bulls from shelters and rescues; the risks are too high. Some shelters and humane groups also remove breed labels -- specifically to adopt out more pit bulls -- use deceptive advertisements, fail to disclose bite histories and even drug dogs to mask aggression from adopters. We'd like to hear more from responsible shelters and rescues that measure a "successful adoption" as a "safe adoption" for the dog and the community.
---
08/31/20: Dog Came from Shelter
According to an unidentified spokesperson from Miami-Dade Animal Services (MDAS), the dog that killed Carolyn Varanese and badly injured her son came from that shelter. "Smokey" was picked up by MDAS as an injured stray on June 16, reports the Sun Sentinel. The dog had a 52-day shelter stay, where Smokey "did not display any aggression toward humans." On August 7, Mastiff Rescue of Florida pulled the dog and placed it with the Varanese family shortly thereafter.1
Late Monday, we submitted a detailed public information request to MDAS for the dog's shelter, behavior and medical records during its 52-day stay. Despite this dog eventually being placed outside of Miami-Dade County, we do not believe "Smokey" even remotely qualified as a "pit bull" under Miami-Dade County's pit bull ban, which requires the dog to be 70% pit bull or more. Our hypothesis is that MDAS identified the dog as an "American bulldog-mix" or a "mastiff-mix."2
Miami-Dade Animal Services now joins a growing number of taxpayer-funded shelters, in whole or part, since 2014 that have adopted out or transferred a dog to a rescue that killed a person shortly thereafter. Our list does not include dogs placed by "fosters" or "rehomings." It's still a damning track record, and Florida shelters top the list. Back in 2015 and 2016, the media had outrage over these attacks. Now, it's just "routine" that dangerous breeds adopted from county shelters kill.
2020 - Miami-Dade Animal Services (FL) - Carolyn Varanese, 84-years old
2019 - Humane Society of St. Lucie County (FL) - Christine Liquori, 52-years old
2018 - Pinellas County Animal Services (FL) - Infant Khloe Williams
2018 - The Animal Foundation (NV) - Susan Sweeney, 58-years old
2018 - Logan County Pound (WV) - Robin Conway, 64-years old
2018 - Henderson Animal Shelter (NV) - Bradley Cline, 62-years old
2017 - El Paso Animal Services (TX) - Jacob Brooks, 4-years old
2017 - New York City Animal Care Centers (NY) - Margaret Colvin, 91-years old
2017 - Kent County Animal Shelter (MI) - Infant Susannah Murray
2016 - San Diego Humane Society (CA) - Infant Sebastian Caban
2015 - Jackson-Madison County Pound (TN) - Anthony Riggs, 57-years old
2015 - Asheville Humane Society (NC) - Joshua Strother, 6-years old
2015 - Rochester Animal Services (NY) - Anthony Wind, 26-years old
2014 - Branford Animal Shelter (CT) - Rita Pepe, 93-years old
Animal ID Found on Facebook
On Wednesday, the Animal ID of "Smokey" was sent in. The dog's previous name was "Axon." The dog arrived in bad shape with multiple bites wounds, an ocular condition, heartworms and more. Mastiff Rescue of Florida pulled Axon on August 7. "Happy new beginnings" and "never to be failed again," said one rescue. "He was 5 years old with no aggression!" said another. "He was a sweet dog per the volunteers at MDAS. The rescue took their links down for him. Why?"
"My rescue MASTIFF RESCUE OF FLORIDA, INC did not fight for me. What they did is delete all my posts as if I never existed." - Rescue Me Miami
"Why would a rescue place a dog like this in a home with an 84-year old woman?" Rescue Me Miami Shelter Dogs asked. That is the same question the readers of DogsBite.org would like to know. Of course the delirious "death row" dog rescuers now want to "save" Axon after the dog killed a woman and mauled her son. "I never meant to hurt anyone. Something happened in that home to make me do what I did," goes the ridiculous claim. There is no hope for Axon now.
Dog Owner Speaks to Media
Just before the Animal ID was sent in, we saw that Local 10 published a follow up. Joe Varanese, the victim's son, is quite shaken, saying, "It happened on my watch. It was something I brought into the house." Racked with grief and guilt, Varanese can't even enter back into his own home. Varanese had Smokey for three weeks (ample time to "decompress") before the fatal attack. He told Local 10 he was helping his mother from the bathroom when the dog "just went berserk."
"I flipped the dog over, slammed him on the ground -- that didn't help, he came back stronger," Varanese said. "I hit him with the leg of the wheelchair -- it didn't even faze him." During the struggle, his socks lost traction in a pool of blood. He fell down on the floor, but got up and "that's when I started beating that dog to no avail," he said. There were no signs of aggression during the first three weeks, Varanese said, and stated it would now be hard to trust another pit bull breed.
---
08/29/20: Dog Kills Elderly Woman
Margate, FL - An elderly woman is dead and her son was left severely injured after a violent dog attack Friday night, according to the Margate Police Department. Officers were dispatched about 9:40 pm to 6185 Southwest 1st Street. When responders arrived, they found 84-year-old Carolyn Varanese dead at the scene. Her son, 57-year-old Joseph Varanese, was transported to Northwest Medical Center with severe dog bite injuries. Both victims were the owner of the dog.
Local 10 News spoke to a family friend, who described the dog attack as vicious and brutal. The dog, a male pit bull-mix, had just started staying at the home on Southwest 1st Street a few days earlier, according to the friend. News footage from Local 10 and CBS Miami captured images of the tan pit bull as Broward County Animal Control officers removed the dog from the home. On Saturday, Joseph was released from the hospital and is now staying with this same family friend.
"The dog messed him up pretty good. His eye is all messed up. His nose," the unidentified family friend told Local 10, who is seen wearing a red Harley Davidson tee-shirt. "His whole arm is all messed up. Cause he was trying to save his mom, and the dog just kept going for her jugular," the man said. Margate police continue to investigate this multi-victim dog attack. It is unclear what, if anything, caused the deadly attack, and it is unclear how long the two had owned the dog.
A Saturday update identified the friend as "Jimmy," who said the dog was usually friendly with the wheelchair-bound woman, even sleeping in bed with her, reports Local 10. "The dog grabbed her ankles and [Joseph] started beating the dog with the wheelchair," he said. In March, a woman using a wheelchair was killed by a pit bull her roommate had taken in a week earlier. Authorities blamed the attack on the victim by "speculating" that she rolled over the dog or fell on the canine.
Jimmy told WSNV that after the dog grabbed her ankles, "she dropped to the floor, and he went for her throat." Jimmy added that Carolyn was "there for five days with the dog and had no problem," as if that is a measure of success for a pit bull in a household with an 84-year old woman using a wheelchair. Jimmy did not say where the dog came from. Carolyn's son, who is likely the only owner of the dog, is now being cast as doing "everything he could to protect her."
New Environments
In the 33 parameters that we track for each fatal dog mauling victim, there are three that relate to time and changing environmental factors: 1.) The dog or victim was new to the household in a 0-2 month period -- these fatal attacks often occur with 14 days; 2.) A babysitter was watching a child or the dog was being "watched" by a person other than its owner when it fatally attacked; and 3.) The victim was visiting or living temporarily with the dog's owner when the dog fatally attacked.
Over the 15-year period of 2005 to 2019, 19% (101 of 522) of fatal dog maulings fall under the first scenario, the dog or victim was new to the household in a 0-2 month period. This scenario includes all infant fatalities, 0-2 months old. Pit bulls carried out 56% (57) of these attacks. When only looking at adults 21 and older, pit bulls carried out 76% (19 of 25) of these attacks. The other dog breeds involved in these adult deaths are primarily rottweilers, bullmastiffs and mastiff-mixes.
By late Saturday afternoon, Jimmy said that Joseph had recently taken in the dog from an unidentified rescue group; police have not yet confirmed.
We question how long the two had owned the dog because many of the adult victims in the "new to a household in a 0-2 month period" scenario are often new owners of the dog through a recent adoption (Anthony Riggs, Susan Sweeney, Robin Conway, Margaret Colvin). We have no cases on record, except the death of Bethany Stephens that involved long-term ownership of the dog, a 0-2 month shift in the environment and the end result being an owner-directed fatal attack.
Victim was "Very Sick"
As more updates and clarifications came to light by late Saturday afternoon, we also learned that the 84-year old victim was "very sick," according to Rahem Menendez, who lives next door. "It's very surprising that she died this way. She was very sick," he said. The Sun-Sentinel also talked to Menendez, along with neighbor Fabian Gonzalez, who lives across the street. Gonzalez stated that Carolyn was "kind of sick" and often had an ambulance take her to medical appointments.
That any rescue would place this type of dog -- a massive pit bull-type dog -- in a household with an 84-year woman in her condition is not only reckless, it should fall under a criminal statute for depraved indifference, reckless homicide, negligent homicide or endangering an elderly person. The same criminal charge should apply to her son Joseph. As noted in our comment section, this dog looks like a "rhino" or more aptly stated by using "shelter terminology," a "house hippo."
View the DogsBite.org Google Map:
Florida Fatal Pit Bull Maulings
.
Related articles:
1
"Mastiff Rescue of Florida Inc" promises, "We make certain the mastiffs are fully vetted prior to going into homes." The dog is not even a mastiff, it is an American Bully flavor -- heavy on the "bully" (thickness). 
2
In 2011, Miami-Dade County changed the percentage of pit bull required to meet the definition of the ban from 50% to 70%, raising the evidentiary standard to "clear and convincing" evidence. This attack did not occur in Miami-Dade County, it occurred in Broward County. So the strict standard of pit bull classification by Miami-Dade is moot.
04/14/20: 2020 Dog Bite Fatality: Woman Dies After Pit Bull Attack in Fort Worth, Texas
11/15/18: 2018 Dog Bite Fatality: Adopted Dog Kills Baby While in Foster Care in Clearwater
---
Baseline reporting requirements:
Law enforcement departments across the United States should release consistent "baseline" information to the media and the public after each fatal dog mauling,
including these items
.