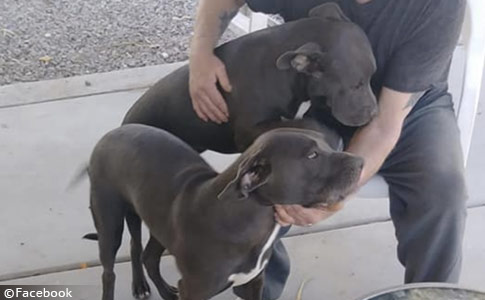 Pair of male pit bulls believed to be Spike and Zeus three months before killing a man.
---
DogsBite.org - During 2018, we sent out 10 public information requests to uncover unreported dog bite fatalities, as well as to gain more information on cases that did receive media coverage. There were a total of 36 deaths in 2018. Our requests uncovered two of these 36 deaths that otherwise were unreported, or in the case of a devastating family pit bull mauling in Henderson in May, was only reported as a second dog mauling death in Clark County, Nevada with no other details.
In October 2018, Susan Sweeney, 58-years old, was brutally killed by a mastiff-mix she adopted several days earlier from The Animal Foundation in Las Vegas -- the county seat of Clark County. Her death made national headlines. Yet, five months earlier, also in Clark County, a 62-year old man was viciously mauled and killed by a pair of male pit bulls adopted from the Henderson Animal Shelter eight months earlier. There were no media reports about his mauling death.1
Both fatal dog attacks that went unreported in 2018 involved a destructive attack by a family pit bull on the dog owner's parent.
On May 23, 2018, Henderson police were dispatched to a home on Shimmering Glen Avenue about 7:30 pm. Officers found the male victim "suffering from serious injuries to his throat, neck, face and other extremities," states the police report. Bradley Cline, 62, was transported to Sunrise Hospital for medical treatment. Police determined that four pit bulls resided in the home. Arriving officers observed "large pools of blood covering the entirety of the living room," states the report.
A witness said that Cline was attempting to take a female pit bull, named "Terror Vicious Cuddle Bugs," outside when a pair of male pit bulls, Spike and Zeus, attacked the female. When Cline intervened to stop the fight, both males attacked him. The attack lasted up to 20 minutes, states the report. Cline died of his injuries three days later. The male pit bulls' owner, Cline's son, told police he adopted Spike and Zeus on September 19, 2017 from the Henderson Animal Shelter.
The neutered, microchipped, gray and white pit bulls were about 1-year old at the time of the attack, states the report. Both dogs were euthanized. A February 17, 2018 Facebook post shows a family member had tried to rehome the pair of male sibling pit bulls because, "we can't keep them with our other pit bulls," she wrote. Three months later, in a grisly mauling of up to 20 minutes long, leaving "blood evidence on the walls, floors, furniture in the room," the dogs killed Cline.
The Clark County Coroner ruled the cause of death as "canine mauling" and the manner of death an accident. Our initial public information request was to the coroner to ensure that our records matched the number of dog bite-related deaths over a 6-year period (Jan 1, 2013 to Dec 31, 2018) in Clark County.2 We then requested and were able to obtain records from the Henderson Police Department about the May 26 dog mauling death of Cline and the outcome of the involved dogs.
Lastly, the police report also states, "It was learned that 4 pit bulls were currently in the house, secured in rooms, the garage, and the backyard." While details about the day-to-day housing of the dogs is unknown, we do know the pair of males could not be kept with the other pit bulls. Thus, a crate-and-rotate routine was needed in the multi-pit bull household to keep the dogs from fighting. A similar scenario, which did not prevent the fatal attack of a toddler, occurred in March.
View the DogsBite.org Google State Map:
Nevada Fatal Pit Bull Attacks
.
1
The last recorded fatal dog mauling in Henderson involved the heavily litigated case of a dog named "Onion," a mastiff-Rhodesian ridgeback that killed a 1-year old boy in April 2012. After two years of legal wrangling between the City of Henderson and animal rights advocates, the city released the dog to the Lexus Project, which sent the dog to an unnamed out-of-state rescue. Perhaps that is why there was a tight lid on Cline's case. Henderson fought hard for two years to put Onion down only to become the center of a national debate to "save a dog" that violently killed an innocent child. Six years after the boy's death, revelations about Onion continue. In 2017, after "another" upheaval at the city of Albuquerque's Animal Welfare agency due to allowing potentially dangerous shelter dogs to be adopted to the public, the rescue was identified. At that time, on the hot seat was director Paul Caster, who had hired an animal rights colleague from Colorado, Deb Brinkley, as an associate director of the department. Brinkley admitted that it was her Colorado animal rescue, DMK Rehoming, that stepped into "save" Onion after the dog killed the boy. Brinkley was also on the hot seat due to her "frequent habit of blaming victims for dog bites," reported the Albuquerque Journal. Brinkley was later "placed on administrative leave after revelations surfaced that she cherry-picked adoptable dogs, including puppies, from the city shelters for transfer to her private animal rescue. The rescue sold puppies for $250 when the city of Albuquerque was charging $80," reported the Albuquerque Journal.
2
We do not include dog bite sepsis deaths in our fatality statistics, so we redacted that victim's name.
Related articles:
03/13/19: 2019 Dog Bite Fatality: Rescue Dogs Kill Toddler, Leave Grandmother with Traumatic...
10/12/18: 2018 Dog Bite Fatality: Pit Bull-Mix Attacks Two Family Members, Killing One...
10/09/18: 2018 Dog Bite Fatality: Recently Adopted Mastiff Kills Owner in Las Vegas, Nevada
---
Baseline reporting requirements:
Law enforcement departments across the United States should release consistent "baseline" information to the media and the public after each fatal dog mauling,
including these items
.