After the Dogs Killed Her, They Consumed Part of Her Remains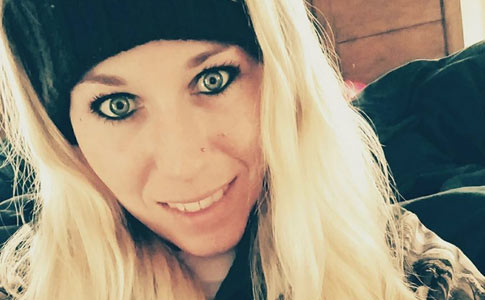 Bethany Lynn Stephens, 22, was brutally attacked and killed by her own pit bulls.
Investigation Complete
UPDATE 02/20/18: Today the Goochland County Sheriff's Office released a summary report of the death investigation of 22-year old Bethany Stephens. On December 13, 2017 Stephens left her father's home at about 3:45 pm to take her two male pit bulls, Tonka and Pacman, for a walk. She never returned. Stephens was mauled to death then partially eaten by her two pit bulls. Authorities did not discover her grisly, horrific remains until the following evening, over 24 hours later.
Much of the information in the report is already known. We knew on December 15 that her death was "not a homicide," according to statements by the medical examiner. Three days later, the Goochland County Sheriff's Office gave another press conference, providing even more details about her death. The summary report contains more facts about her pit bulls and lab test results, which certainly were impacted by the 30 hours of exposure until deputies discovered her body.
"The medical examiner's report substantiated what we observed. I hope that the family can get some peace now." - Goochland County Sheriff James Agnew
The cause of death was "multiple sharp and blunt force trauma due to mauling by animal(s)." The manner of death was an accident. Human DNA was detected on swabs taken from Tonka. Blood was detected on the collars of both dogs. "The probability of randomly selecting an unrelated individual with a DNA profile matching that developed from the samples collected from the collar is 1 in greater than 7.2 billion (which is approximately the world population)," states the report.
---
12/18/17: Press Conference Two
Goochland County Sheriff James Agnew gave a follow up press conference today after a 22-year old woman was mauled to death by her two pit bulls late last week near 2204 Manakin Road. The news conference was largely in response to the high volume of misinformation that was being disseminated by pit bull advocates on social media after the grisly attack. These deceptions were then bolstered by irresponsible media outlets who spread the rumor-mongering even further.
After securing permission from Bethany Stephens' family, Sheriff Agnew provided more details about her gruesome mauling death, including the observation that the dogs were "eating the ribcage on the body." Bethany's two pit bulls, both male and one neutered, were euthanized on Saturday, December 16 at 11:30 am. The dogs' bodies have been preserved as evidence and investigators are following up with veterinarians and laboratories for potential forensic analysis.
Goochland County Sheriff James Agnew
Let me cut right to the chase. The most important detail that we did not release because we were worried about the well being of the family, is that in the course of our trying to capture those dogs, early Friday morning, while we were talking about strategies to catch the dogs, we turned and looked, the dogs had gone back over to the body. I observed, as well as four other deputy sheriffs observed, the dogs eating the ribcage on the body.

We were able to shoo them away. At that time, we had to decide whether or not we were going to take care of the dogs then and there by shooting them or whether we would continue to try to capture them. About that same time, a friend of Bethany's came and said he could capture the dogs, and after about 10 minutes he was able to do that, but it was not an easy task.

As you might suspect it was very dark. We could not tell the state of the dogs at that point. But we were able to get them confined and away from the public. It was only then that we were able to see the body and start collecting evidence. As I had said earlier, this was an absolutely gruesome scene. Mrs. Stephens was terribly, terribly injured, but it was very apparent to us that she had been dead for quite some time. - Goochland County Sheriff James Agnew
When asked about the severity of her injuries, Agnew responded: "Her injuries were very severe. Let me see if I can put this in the proper way. When we witnessed the autopsy, the medical examiner made clear that there were wounds to her hands that were not obvious to us that night because her other wounds were so severe. She had incredibly traumatic wounds to her arms, both of them, to her chest area and to her face. They were extremely gruesome," Sheriff Agnew said.
Despite the medical examiner already ruling out homicide, one of the reporters asked if Bethany could have been murdered and if her dogs were only protecting her body? "We certainly do not think so," he said. "We had a number of witnesses who came forward. We were able to put a time frame together and put peoples movements together and they do not fit with that particular narrative," he said. We will add that "narrative" is a kind word; "conspiracy theory" is more suitable.
"From what we found on the scene, from the evidence that we observed, the evidence that we collected, that narrative does not fit." - Sheriff Agnew
When asked by a reporter, "And there was in fact blood on those dogs?" Sheriff Agnew replied that one of the dogs had a significant amount of blood on it. "On at least one of the dogs there was blood in a significant amount around the collar and neck. I can't speak to the other dog, I'm sure it did too because both dogs were around the body," Agnew said. In response to whether she was attacked by a bear Agnew replied there was no evidence of any larger animals at the scene.
"There was no evidence of any larger animals," he said. "The medical examiner, in his preliminary talk with our deputies, made it pretty clear that it was not a large animal because the bite wounds on her head did not penetrate her skull; they just left marks. His recitation of that is that if it where a large animal, they would have at least punctured part way into the skull. There were also scratch marks that were consistent with a smaller animal than something like a bear," Agnew said.
"The bite marks were conducive to a canine. They were not conducive to a bear or a larger animal." - Investigator Shawn Whitlock
Investigator Shawn Whitlock spoke to dispel another conspiracy theory, which claimed she was dead before her dogs started eating her. "No, that is not correct based on the injuries. Some of them were before she was dead, while her heart was still beating based on the bruising. When it is post, there's a yellow discoloration on the body," he said. "She does have bruises and she does have the yellowing of the skin after death. There is pre and there is post," Whitlock explained.
After a reporter asked, "So all of those injuries are consistent with bite marks, not a beating?" Whitlock replied, "You are correct. They did a CAT scan x-ray of her body before they even did the autopsy. There was nothing that said domestic violence, nothing that said she was stabbed or shot. No bones broken. No injuries to the throat area," he said. "No petechial bleeding inside the esophagus, which would have been conducive with choking her out. None of that," he said.
Misinformation Hurting Investigation
Sheriff Agnew also responded to the misinformation and rumor-mongering that is harming the investigation. "It's been difficult," he said. "There's been such a high volume of misinformation going about on social media that it has complicated our investigation. It's complicated everything we have tried to do in this case. It's been difficult and I am afraid that even after releasing these additional facts as we have tonight, it's not going to nullify some of these people," Agnew said.
Agnew also addressed the pit bull issue. After a reporter asked, "What do you think happened?" He said: "I have no idea. I can tell you that since this happened; I've spent a significant amount of time researching attacks by dogs of this sort. While it is not an every day occurrence, it's not rare, and it happens with some frequency in this country. I don't want to disparage any particular breed, but if you do the research, you'll find that many of those are perpetrated by pit bulls," he said.
Police Often Struggle After Maulings
Sgt. Michael Blackwood spoke to the difficulty of conducting an investigation of a horrific pit bull mauling and how police departments from across the country have reached out to them. "Some of the police departments around the country have contacted us and have basically been somewhat empathetic because they have experienced the same kind of traumatic injuries and death from some of these animals who have been adopted and had been brought into the home," he said.
In June, a Virginia Beach woman was brutally killed by a pit bull her daughter had acquired from a rescue group hours earlier that day.
Blackwood also talked about the dogs. Bethany had recently been keeping the dogs at her father's home in outdoor kennels; the pit bulls had previously lived indoors. The dogs "were a little bit neglected towards the end of this," he said. "I'm just trying to create a little background of what might have occurred when they became a little bit distant from their owner towards the end." Yet, 99% of all other dog breeds would not respond to this by ripping out their owner's throat.
As the press conference came to a close, a journalist asked Sheriff Agnew, "Why did you feel it was necessary that we as journalists see with our own eyes some of the horrible things that you saw that night?" Agnew replied, "The primary reason is to give to credible news organizations facts that can be looked at and viewed in the proper way." There has been such misinformation, especially on social media. "All based on information that is absolutely untrue," Agnew said.
---
---
12/15/17: Press Conference One
Goochland County, VA - On Friday, Goochland County Sheriff James Agnew gave a press conference about a 22-year old woman who was mauled to death by her own pit bulls. Deputies discovered Bethany Lynn Stephens Thursday night near the 2200 block of Manakin Road. Agnew is shaken during the conference and states: "It was an absolutely grisly mauling. In my 40 years of law enforcement, I've never seen anything quite like it. Hope I never see anything like it again."
Goochland County Sheriff James Agnew
About 8:18 pm last night, a father called the office saying that he believed his daughter had been located in the woods and had suffered some kind of trauma and was very concerned about her, but not sure of her condition at the time and asked us to come. Dispatched deputies arrived about 10 to 12 minutes later and discovered the body of a white female in the woods off of the 2200 block of Manakin Road. The female had suffered severe trauma and was being, for the lack of a better term, guarded by two very large brindle color pit bull dogs, who were very reluctant to be caught.

Deputies spent about an hour, hour-in-a-half, along with Goochland Animal Control, in attempt to catch these dogs. Meanwhile, as we were attempting to capture them, we were able to survey the scene and what we observed was, to put it quite frankly, grisly. There were various articles of clothing, underclothing scattered about the area, not far from the body and torn into small pieces. There were patches of blood. It was very clear that the woman in the woods had suffered very severe injuries consistent with being mauled by these dogs.

We called Henrico Animal Control for assistance, as they had tranquilizer guns, but we were able to catch the dogs before Henrico arrived. Once the dogs were under control, we called Goochland Fire and Rescue who came and put up lights for us because it was a very dark, remote area. It was very difficult to see. They brought crash trucks, set up lights. We collected about 60 pieces of evidence. Took numerous photographs and after about eight hours, about 5:00 am this morning, we were able to end and have the body transported to the medical examiner.
- Goochland County Sheriff James Agnew
During the press conference, Sheriff Agnew also read the preliminary autopsy results from the medical examiner. The results show a classic pit bull attack resulting in death: 1.) Pit bulls execute the killing bite, "the first traumatic injury to her was to her throat," Agnew stated. 2.) Pit bulls take the victim to the ground, "she was taken to the ground," Agnew stated and 3.) Pit bulls complete the kill, "then mauled her to death." The medical examiner added, "this was not a homicide."
It appears the attack was a violent attack initiated by the victim's dogs while the victim was out for a walk with the dogs. The victim had defensive wounds on her hands and arms trying to keep the dogs away from her, which would be consistent with being attacked while she was still alive. It appears that the first traumatic injury to her was to her throat and face area. It appears she was taken to the ground, lost consciousness and the dogs then mauled her to death. There were no strangulation marks. The victim had puncture wounds in the skull and this was not a homicide. - Medical examiner
Sheriff Agnew also answered questions during the press conference. "It was a very unpleasant night for all of us. Having told you that, I would be glad to answer any questions," Agnew said. The first question was, "Are these her dogs?" Sheriff Agnew responded, "These were her dogs. And I don't have a history of the dogs, I don't know their backgrounds, but they would be dogs you'd suspect would be bred for fighting, just in looking at them. They were big, strong, powerful dogs."
We learned from comments that Tonka and Pacman were the names of Bethany's pit bulls. Commenter Brookland Lloyd states the dogs were littermates and grew up together. "These two dogs were her life, and she would have given hers to protect them," Lloyd wrote. "It's a tragedy and a hard loss. Bethany was a great person, and worked hard to advocate for pit bulls," she wrote. Lloyd states this after learning of Bethany's "grisly mauling" death by these same pit bulls.
---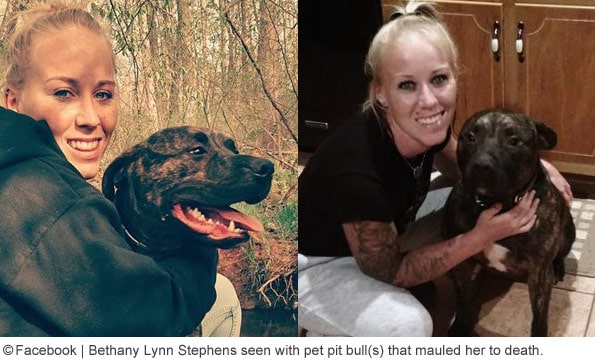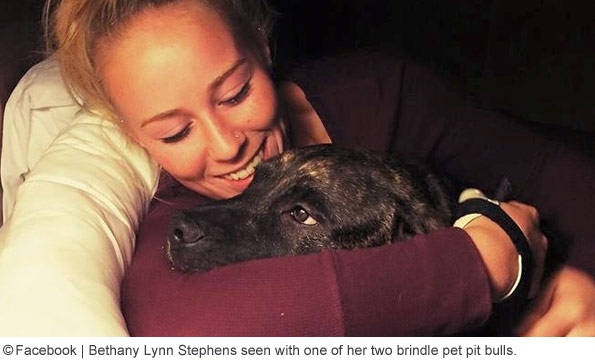 ---
Some of Bethany's Facebook Likes include, Tia Torres' Villalobos Rescue Center -- a nonprofit that brings in over $4 million dollars annually and has not filed their federally required 990 tax forms for three consecutive years -- Pit Bulls and Parolees, Stop Pit Bull Bans (Ban the Deed Not the Breed), American Bully World and at least two XXL "extreme" designer pit bull breeders, Reaper Bulls XL, XXL & Extreme Bully Style Pit Bulls and Phantom Rolls XXL Bully Pits.
---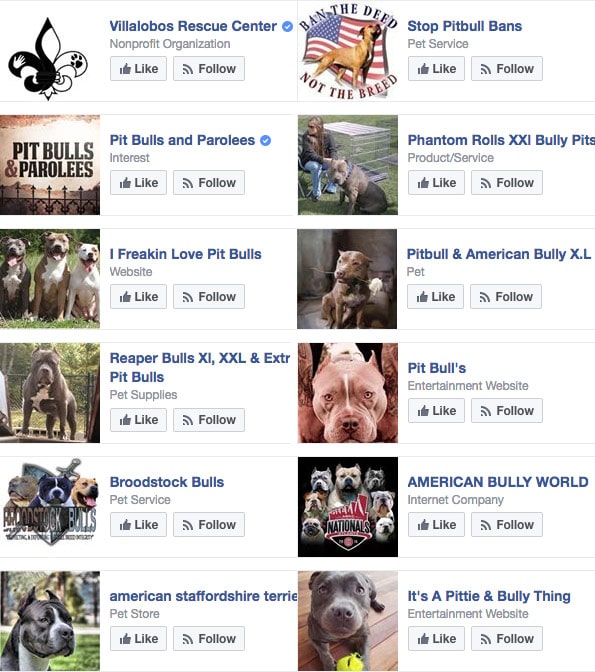 ---
Rumor-Mongering Follows Press Conference
Shortly after Sheriff Agnew gave the press conference, some of the victim's friends -- who are pit bull advocates -- began publicly stating that Sheriff Agnew and the medical examiner's office are lying about her death. This type of bullheaded denial and rumor-mongering is characteristic after a pit bull advocate like Bethany Stephens is killed in an "absolutely grisly mauling" by her own pit bulls. Notably, homicide was ruled out right away; toxicology remains the only unknown factor.
After pit bull advocate Darla Napora and her unborn child were horrifically killed by her pet pit bull in 2011, rumors claimed "she fell from a ladder."
One of these friends is Barbara Norris, who blindly told media outlets, "I wasn't able to see the body, so I can't tell you if it was a blunt force or if it was a mauling." This legal role is for experts: investigators and forensic pathologists at a medical examiner's office who perform medical autopsies. Norris will likely never see her body either. Fatal attacks inflicted by pit bulls nearly always result in a closed casket due to the gruesome facial, head and neck injuries they inflict.
Another denier who spoke to the media is Dr. Amy Learn, a local veterinarian. Despite knowing the medical examiner's findings, including "this is not a homicide," Learn asks, "Was there somebody else there? Were they being attacked by somebody, were they trying to defend themselves and their owner from somebody else, from a wild animal?" Dogs kill an American about every 11 days. They kill more people annually in the U.S. than bears, sharks, cougars and coyotes combined.
Since November 4, pit bulls alone have killed five people in savage maulings: David Baber, 65 (Hamlet, NC), Tracy Cornelius, 46 (Guntersville, AL), Emily Colvin, 24 (Section, AL) and Dorothy Ford, 77 (Alsip, IL). The fatal pit bull mauling of Ford occurred just three days before Bethany's death. "If I go through the rest of my career without seeing something like this, that would be a good thing," Deputy Chief Shawn Schuldt of the Alsip Police Department said after Ford's attack.
"In my 40 years of law enforcement, I've never seen anything quite like it. Hope I never see anything like it again." - Goochland County Sheriff James Agnew
This is partly why jurisdictions in over 40 countries have enacted breed-specific laws. Appellate courts across the U.S. have been weighing in on the unique "savageness and unpredictability" of pit bull attacks since the 1980s, along with their selection for gameness, a "continuing tenacity and tendency to attack repeatedly for the purpose of killing." The macabre injuries pit bulls inflict are shocking, but not surprising. These injuries are a well-documented attribute of the breed.
"pit bull dogs are unique in their "savageness and unpredictability" (Hearn v. City of Overland 1989) "Pit bulls also possess the quality of gameness ... which can be described as the propensity to catch and maul an attacked victim unrelentingly until death occurs, or as the continuing tenacity and tendency to attack repeatedly for the purpose of killing. It is clear that the unquantifiable, unpredictable aggressiveness and gameness of Pit Bulls make them uniquely dangerous ... Pit bulls will have these instincts and phenotypical
characteristics; most significantly, such characteristics can be latent and may appear without warning or provocation" (Vanater v. Village of South Point 1989) "The physical characteristics of pit bulls, the historic use of the dogs as fighters, and the increasing number of unprovoked and unexplained attacks on people has caused the pit bull to be perceived as presenting a threat of danger, warranting a legislative response" (State of Ohio v. Robinson 1989) "the American Pit Bull Terrier breed possesses inherent characteristics of aggression, strength, viciousness and unpredictability not found in any other breeds of dog ... A pit bull in the grip of such a fighting frenzy will not respond to attempts to deter its attack. Such frenzies can occur at any time and for no apparent reason" (Garcia v. Village of Tijeras 1988) "the pit bull bites to kill without signal" (Starkey v. Township of Chester 1986)
Finally, Animal behaviorist Alexandra Semyonova explains the disproportionate response (high arousal and aggressivitiy in a safe environment) in breeds selected for killing. "It's also not realistic to pretend that impulsive aggression is not pathological. The environments (the fighting pit, the baited bull, the escaping slave) for which these behaviors were selected as an adaptive response are so extreme that in fact there is no appropriate context for these behaviors in normal life."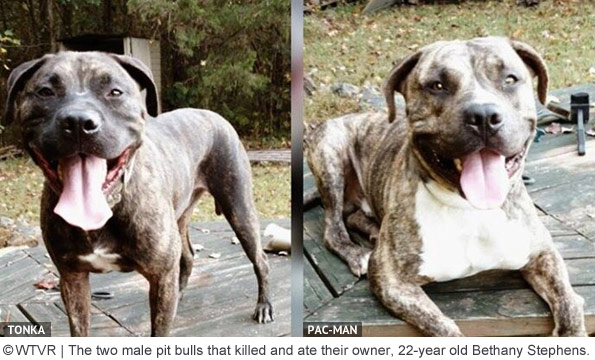 View the DogsBite.org Google Map:
Virginia Fatal Pit Bull Maulings
.
Related articles:
01/31/18: Photographs of the Year: Young, Self-Appointed Canine 'Experts' in the Wake...
12/19/17: Kerry Dougherty: Unemployed and Unedited: Pit Bulls. Grrrrr.
11/17/17: 2017 Dog Bite Fatality: Adopted Out Pit Bull Kills Elderly Woman in Virginia Beach
03/14/17: Persistent 'Wild Animal' Theory Finally Derailed, Elderly Man Killed by Dogs...
02/21/17: 2016 U.S. Dog Bite Fatality Statistics and Discussion Notes - DogsBite.org
05/05/09: Alexandra Semyonova: Heritability of Behavior in the Abnormally Aggressive Dog
---
Baseline reporting requirements:
Law enforcement departments across the United States should release consistent "baseline" information to the media and the public after each fatal dog mauling,
including these items
.