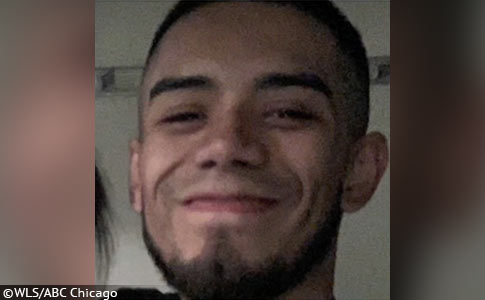 Devin White, 25, died after his pit bull attacked him and three others in Plainfield.
Man Dies of Injuries
Plainfield, IL - A 25-year old man has died after a male pit bull attacked four people on Saturday. The Cook County Medical Examiner identified the man as Devin White of Plainfield, a resident of the 2000 block of Mystic Drive. White was pronounced dead at 8:30 pm Monday at Loyola Hospital in Maywood. Three other victims of the attack, a 52-year-old woman, 25-year-old woman and 19-year-old man, survived with non-life-threatening injuries, according to Plainfield police.
In an updated news release issued by the Plainfield Police Department Tuesday, Sgt. Kevin McQuaid stated that White "died as a result of the injuries sustained due to the dog bite." In an earlier release, McQuaid stated the attack was "unprovoked" and the dog "attacked for an unknown reason." The pit bull was also owned by the victims. This "multi-victim producing" attack remains under investigation by Plainfield police detectives and Will County Animal Control.
His cousin, Samantha Costilla, expressed disbelief after the attack. "I have been around the dog a few times and it never gave the indication it was vicious," she told WLS Chicago. Costilla, who spoke as if she witnessed the attack, said the situation "was uncontrollable at a certain point" and that White tried to protect the other family members. "He definitely fought. He saved his brother and everyone else involved. But, we cannot believe that this is happening right now," she said.
Case Background
On February 8, four people were transported to hospitals after a family pit bull attacked them. Police were dispatched to a home in the 22900 block of Judith Drive about 9:15 pm for a report of a dog bite. Upon arrival, officers found a male pit bull inside the home acting aggressive. "Officers were able to partially gain control of the dog, but due to its aggressiveness towards the officers and the victims, the dog was immediately euthanized," states a release from Plainfield police.
Police and fire department officials located the four victims in the second story of the home. One victim, a 25-year old male, suffered severe injuries to his arms. He was transported to St. Joseph Hospital in Joliet then transferred to Loyola Hospital in Maywood for additional treatment, states the release. Three other victims, a 52-year old female, 25-year old female and 19-year old male suffered minor injuries. They were treated for their injuries and released, states the release.
"The initial investigation indicates the dog, which was owned by the victims, was unprovoked and attacked for an unknown reason."
Plainfield Fire Chief Jon Stratton said a helicopter was initially called to the scene to transport one of the victims, but was cancelled, reports Patch.com. All four victims were taken to area hospitals by ambulance. Plainfield Detective Sgt. Kevin McQuaid said the pit bull was shot at the scene due to its aggression and that officers at the scene were unable to gain control of the dog. The incident remains under investigation by the Plainfield Police Department and Will County Animal Control.
---
View the DogsBite.org Google Map:
Illinois Fatal Pit Bull Maulings
.
Related articles:
11/30/18: Book Review: 'The Scar Dance' - A Couple's Journey of Rebuilding Their Lives...
08/06/18: 2018 Dog Bite Fatality: Large Pit Bull Kills Woman on Chicago's Far South Side
---
Baseline reporting requirements:
Law enforcement departments across the United States should release consistent "baseline" information to the media and the public after each fatal dog mauling,
including these items
.