What They Tell the Public vs. What They Tell New Holding Facilities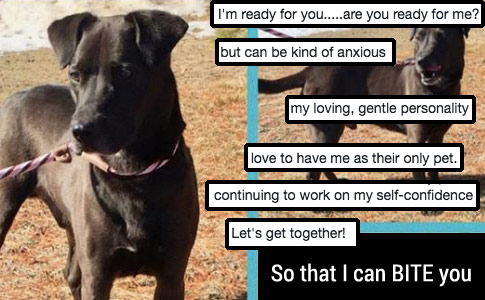 Described as "loving, gentle," but has dog, stranger and handler aggression.
False Advertisement
DogsBite.org - In September 2016, we published an expose about what lies behind the web advertisements of aggressive shelter dogs available for adoption today. We determined that many shelters candy-coat dogs with aggressive behaviors in their zeal to increase "live release rate." Animal behaviorist Alexandra Semyonova provided a detailed analysis of the 34 case files we obtained from a county shelter, along with a special report about behavior testing shelter dogs.
Which brings us to today. We have another example. These advertisements aimed at the public are often deliberately fraudulent. However, there is a willingness on the part of shelters to disclose the dog's true nature when the intention is to obtain a different holding place for the dog. One of these facilities provided this recent example to us; primarily due to the many requests they receive for unadoptable dogs with "serial" aggression issues that will never find a "forever" home.
The fraudulence is driven by the holy grail of boasting a high "save rate" at any cost, including over the welfare of high-risk dogs and public safety.
First, we invite you to read the fraudulent advertisement of a dog named Hershey located on the Cherryland Humane Society's Facebook page (accessed May 4, 2018). Note, "I can be kind of anxious," decoded translates into "extreme anxiety" even after "medication and behavior modification." Also, "I am continuing to work on my self-confidence," decoded translates into "stranger aggression as well as dog aggression" and "aggression towards his person/handler."
Cherryland Humane Society
February 25, 2018

I'm ready for you.....are you ready for me? So questions HERSHEY! I'm a youngish (2 1/2 years old) lab mix and I am looking for a kind of calm, laid back home and best friend I can really connect with. So, I know most of the basic commands and like interacting with people but can be kind of anxious so that's why I am looking for someone to compliment my loving, gentle personality and who would love to have me as their only pet. I am continuing to work on my self-confidence and perhaps could use your help! Let's get together!1
Now, we invite you to read the letter sent to a potential holding facility. Ask yourself, "Why are the two so different? Why do they have to 'encode' for the public? Why would they create such false hope?" This dog was returned at least three times and has a multiple bite history. No-kill devotees will bend the truth or conceal it to place a high-risk dog like this into a home with an unsuspecting family with children, but they are factual when the intent is to unload the dog on a sanctuary.
My name is               , I am the Animal Behaviorist at the Cherryland Humane Society in Traverse City, Michigan. Best Friends, recommended that we reach out to you regarding a dog we currently have, Hershey, we are running out of options for him.

Hershey has extreme anxiety and with medication and behavior modification, it does not seem to help. We have had him for 7 months. He is very protective of his people to the point of stranger aggression as well as dog aggression. Hershey has a few bites on his record towards people and dogs. In Hershey's calm state he is affectionate, playful, loving, and kind of a goofball. Hershey can redirect his anxiety into aggression towards his person/handler. He has been returned twice and returned by a foster, which did not work out after almost a month.

We would appreciate any advice or assistance in finding Hershey an alternate place to live, as we are unable to adopt him out. Thank you,                Animal Behaviorist / Enrichment Coordinator Cherryland Humane Society...
In a desperate attempt to "save them all," shelters, humane groups and rescues try to place unadoptable and dangerous dogs at sanctuaries across the country. Entities that claim to accept numerous dogs like Hershey often become hoarding operations, such as Spindletop and Olympic Sanctuary. A dog like Hershey, who can't be handled safely and has both human and animal aggression, could only co-exist at a sanctuary by living in total isolation with no quality of life at all.
The very inventor of the term, "save them all," Utah-based fighting dog advocates Best Friends Animal Society (BFAS), is also mentioned in the correspondence. With an excess of $80 million dollars in donations in 2016, and adoption facilities in four cities, BFAS recommends referring this unplaceable dog to smaller, under financed sanctuaries that are already stretched thin. BFAS, apparently, did not even welcome this problematic dog into its own five square mile sanctuary.
The Dichotomy of Disclosure
The case of Hershey shows the dichotomy of disclosure. What is shared about the dog's true nature depends upon the intention of the shelter. If the intention is get the dog into the home of a gullible family, they encode and conceal the dog's aggression into a "baby talk" style adoption listing. If the intention is to obtain a different holding place for the dog, they are pragmatic: "stranger aggression as well as dog aggression" and "aggression towards his person/handler."
Due to the prevalence of fraudulent adoption advertisements, we remind the public to always request the uncensored behavioral and medical files prior to adoption. As noted in our earlier piece, it is critically important to understand that "disclosure" is not the same as "full disclosure." In order to gain full disclosure, you need to see the complete case file. Otherwise, you may wind up with a Hershey -- a dog disposed to mauling or killing a beloved pet or seriously injuring a person.
When Adopting From a Shelter
Do your research
Go in with questions
Bring a trainer with you to the shelter to evaluate for signs of aggression

2

Request all behavior records for the dog
Request all medical records for the dog
Request all "outcomes" for the dog (if the dog was returned to shelter)
---
Animal behaviorist and author Alexandra Semyonova provides analysis and a special report: Behavior Testing Shelter Dogs -- A Summary of Where We Are Now
---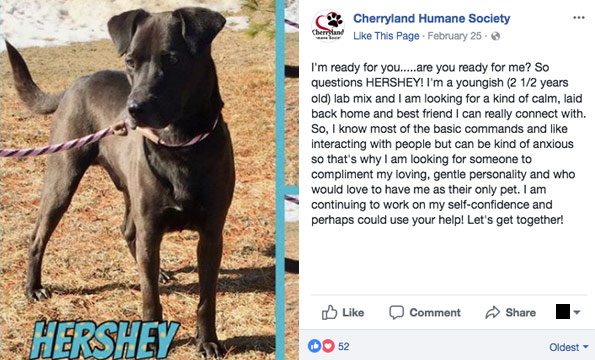 "Save them all" is a myth with real life consequences. People pay. Beloved pets pay. The unplaceable dog pays and hearts are broken. There is no such thing as a "forever home" for dogs like Hershey. Not even reputable sanctuaries want dogs that cannot be safely handled and require a "prison-like" existence. We first obtained a copy of the letter to the sanctuary in late April. It is unknown what the final outcome was for this dog. Humane euthanasia would have been kind.
---
1
The dog came into the shelter in October 2017 as a stray. It was adopted out the first time on November 10. So the February 25 advertisement was likely written after the dog was returned a second time (after two failed adoptions).
2
Preferably a trainer who is not a fan of any breed in particular. The idea is to eliminate bias.
Related articles:
09/20/16: What's Behind the Clickbait Web Advertisements of Aggressive Shelter Dogs Available for Adoption Today?