Originating County Shelter of Fatally Attacking Pit Bull is Logan, WV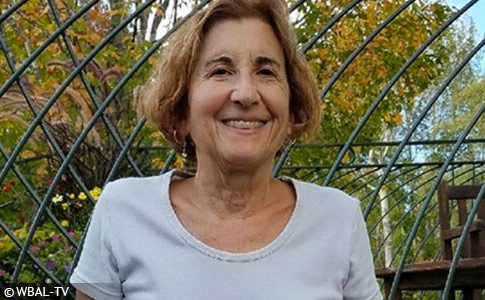 Robin Conway, 64, was mauled to death by a pit bull she adopted two weeks earlier.
Victim and Killer Dog
UPDATE 09/27/18: On September 27, we were alerted to an updated portion of a Baltimore Sun article that contained descriptive information about the male pit bull that attacked and killed Robin Conway on September 3, two weeks after Conway rescued the dog from death row. "Ramsey said Conway had been in contact with a West Virginia rescue group for some time about the all-white male pit bull initially named Snowball that she eventually brought home," reports The Sun.
Usually, news sources show the first and last update in the time stamp -- but not The Sun. So we did not review this article again until today. With this new information, we were able to quickly locate the pit bull and validate Robin Conway as its new owner. On August 21, Conway is photographed with an all-white pit bull named Snowball, which was pulled from the Logan County Pound in West Virginia by Laura Shamblin-Smith's rescue then transported by Robin Kilgore.
Several days earlier, Selena Marcum of The Paws Squad, who frequently pulls death row dogs from the Logan County Pound, put out an "urgent call" for Snowball -- previously named Bullet. Marcum stated the dog was an owner surrender that had been given up two times previously. Snowball was living on "borrowed time," Marcum wrote, and had been the longest stay at the shelter. "Good with male and female dogs and loves human attention," Marcum wrote.
On August 9, Marcum wrote that Snowball is only slated for rescues -- not available for adoption. The Logan County Pound apparently does not adopt out pit bulls or disagreed with her assessment of the dog. On August 1, the dog's previous owner states in comments: "Yes this is my pit, his name is Bullet not Snowball, Angel Harley Sumpter states. "I was letting a friend keep him cause I can't have a pet where I live." It is unclear if Sumpter knows that Bullet killed Conway.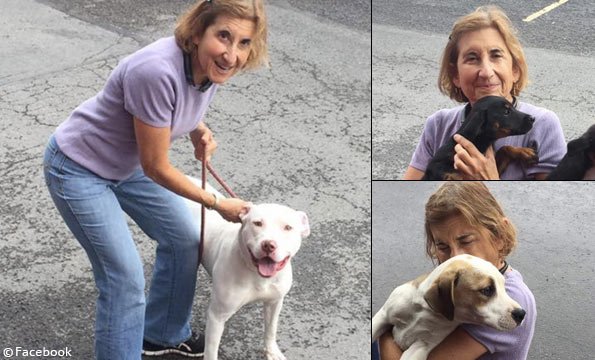 Robin Conway seen with the pit bull named Snowball, AKA "Bullet," on August 21, 2018.
---
A recent GoFundMe page by Shamblin-Smith, who is based in Amma, West Virginia, states that donations for her rescue efforts are "tax exempt." The fund is titled: Wheels 4 Paws. It is unclear at this time if Shamblin-Smith is one of many drivers for North Carolina-based Wheels 4 Paws, which offers "freedom rides" for unwanted and death row dogs in southeastern states up to northeastern states. They also do "emergency" cross-country transports, according to the nonprofit's website.
Finally, while Marcum of Paws Squad credit's Shamblin-Smith for the lifesaving "pull" of Snowball on August 21, a fundraiser for "Snowball's Vetting Costs" shows that Ray of Hope Dog Rescue, a Howard County, Maryland-based rescue, takes credit for "pulling" Snowball on the same day -- two days before his August 23 scheduled euthanasia date. Though all players are eager to take credit for the "pull and save," they are just as eager now to delete pages associated to Snowball.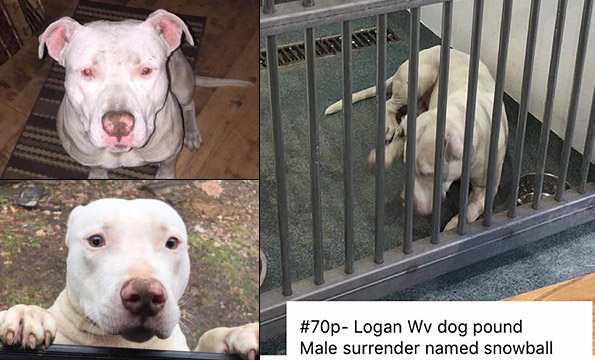 Snowball seen at the Logan County Pound, posted July 25, 2018 (right), and other photographs.

---
09/06/18: No New Information
The Howard County Police Department has still not released information about the shelter or rescue that adopted out a pit bull that killed its owner two weeks later. On Labor Day, Robin Conway, 64, was mauled to death by a male pit bull she went out-of-state to adopt two weeks earlier. The adoption date coincides with August 18, where NBC and Telemundo news stations teamed up with shelters nationwide for the fourth annual "Clear the Shelters" adoption drive.
A report from Fox Baltimore states, "Family members say Conway found the dog two weeks ago at an out-of-town shelter and saved the animal from being put to death." This pit bull, presumably, was a death row dog. Despite hundreds of unwanted pit bulls in shelters closer to Conway -- eager to be adopted on August 18 -- the victim went out-of-state to get this particular dog. The results were deadly. The animal mauled her to death just after she took the dog for an evening walk.
The term "out-of-state" pertaining to rescue pit bulls is more loaded that it sounds. Hypothetically, the dog was on death row at a southern high-kill shelter until a rescue transport swooped in and gave the dog a "freedom ride" up North, where it wound up on death row (again) in a Northeastern shelter. While sitting on that death row, the dog was pulled by a different out-of-state rescue and passed through two different states before being delivered to its umpteenth "forever home."
Early reports indicate Conway was fostering the dog, which is another "fast fix" to stop the euthanasia clock for aggressive pit bulls. But the clock always keeps ticking, because virtually no foster can handle such a problematic dog for more than a few weeks. When the foster returns the dog, the "urgent death row dog" calls go out again for a new foster to stop the clock again for a few weeks. It's unknown what happened in this case, but there is a world of possibilities.
Also, the victim's sister, Susan Eve LeClair, offered up a press conference to an array of news stations Tuesday professing that not all pit bulls are bad." No one has ever said, "all pit bulls are bad." The argument is that the public -- and even trained professionals -- cannot tell the difference between a good pit bull and bad pit bull. The attack methods are the same: A "no warning," unprovoked attack with explosive aggression followed by the dog executing the killing bite.
In 2012, the highest court in Maryland issued the seminal ruling declaring "pit bulls inherently dangerous" in Tracey v. Solesky. The Court's decision was in part due to their attack method and the severe and fatal injuries pit bulls inflict. The Court did not ban pit bulls. They attached strict liability to the owner when a pit bull attacks. "When an attack involves pit bulls, it is no longer necessary to prove that the particular pit bull or pit bulls are dangerous," the Court wrote.
"Everybody's different. Every animal's different. Some animals have their problems that you don't see on the outside." - Susan Eve LeClair
The state legislature muted the high court's ruling in 2014 after two years of high profile legislative attempts to derail the ruling and replace it with a statutory dog bite law. People like Conway and LeClair celebrated afterward. Four years later, and less than 24 hours after her sister was killed by a pit bull, LeClair sticks to her propaganda-based logic that every "dog is an individual." Even the CDC admitted 18 years ago, "there appears to be a breed-specific problem with fatalities."
---
09/04/18: Adopted Pit Bull Kills Owner
Columbia, MD - A 64-year old woman is dead after being attacked by a pit bull she adopted two weeks ago, states a news release by the Howard County Police Department. Robin Conway had adopted the pit bull out-of-state. On Labor Day, police were called to a home in the 6300 block of Tamar Drive for a report that a woman had been attacked and badly injured by a pit bull she recently adopted. Officers found Conway deceased in her backyard with "significant injuries."
A family member discovered Conway in her backyard about 7:20 pm with the dog standing over. The person tied the dog to a fence post and called 911. The pit bull was "barking and lunging," and still attached to the fence post, when paramedics and police arrived. It was ultimately euthanized. Police are awaiting autopsy results from the state medical examiner's office to determine the cause of death. Police have no additional information about the adopting agency at this time.
Dispatch recordings on Broadcastify.com paint an ugly picture of what first responders arrived to. "The caller is saying he thinks his wife was attacked by a dog and might be dead." There was confusion over what to do with the dog after paramedics arrived too. "It's not safe for anyone to handle this dog right now. They are going to have to come out," presumably referring to animal control. The news release issued by police infers the pit bull was put down at the scene.
WBAL-TV interviewed the victim's sister, Susan Eve LeClair. "This is one animal she thought she could save. An animal that needed to be rescued. (And that) animal unfortunately killed her," LeClair said. Conway brought the dog home two weeks ago and began "providing foster care," reports WBAL-TV. LeClair pleaded that her sister's death should "not to be taken as something to be held against all pit bulls" less than 24 hours after the male pit bull "unfortunately killed her."
News Release: Columbia woman reportedly mauled to death by dog; Robin Conway, 64, had recently adopted pit bull out-of-state.

Howard County police were called to a residence in the 6300 block of Tamar Drive Sept. 3 for a report that a woman had been mauled to death by a pit bull she adopted two weeks ago. Officers found Robin Conway, 64, deceased in her back yard with significant injuries. The cause of Conway's death will be determined in an autopsy by the state medical examiner.

A family member reported finding Conway injured in her yard around 7:20 p.m., with the dog standing over her. The witness called 911 and tied the dog to a fence post until assistance could arrive.

Police and paramedics responded and pronounced Conway deceased at the scene. The dog, still attached to the post, was barking and lunging on the leash and had to be subdued by animal control officers and ultimately euthanized. A necropsy will be performed to determine if the dog had rabies or any other medical issues.

There were no previous calls to animal control related to this address prior to this incident. Police do not have information about the dog's adoption, except that it came from out-of-state.

Police are conducting a standard death investigation and awaiting autopsy results to confirm the cause of Conway's death. - Howard County Police Department

Conway's death recalls a similar fatality in Maryland. In January 2015, Eugene Smith, 87, was critically injured by his rescue pit bull while taking down his Christmas tree. When police arrived, the pit bull was still actively attacking Smith. Officers were able to "disengage" the dog. Smith was taken to a hospital with severe injuries where he died. The male neutered pit bull was 4-years old. Smith had adopted the dog from an undisclosed Baltimore area rescue seven months earlier.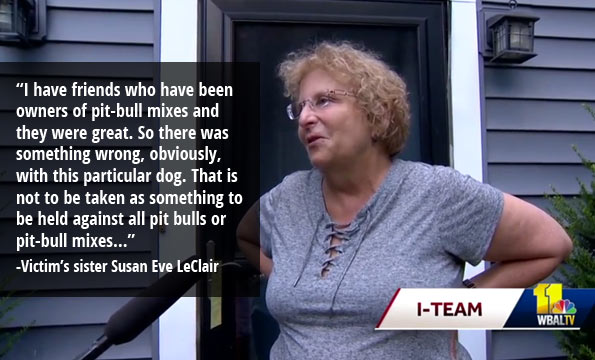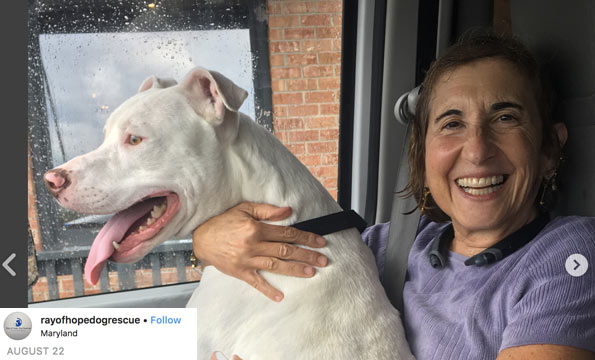 View the DogsBite.org Google Map:
Maryland and D.C. Fatal Pit Bull Maulings
.
Related articles:
03/24/17: 2017 Dog Bite Fatality: 8-Month Old Baby Killed by Family Pit Bull in Calvert County...
01/09/15: 2015 Dog Bite Fatality: Maryland Man Mauled to Death by Adopted Rescue Pit Bull
06/02/14: Maryland Legislature Mutes Landmark Ruling, Tracey v. Solesky, During 2014...
11/05/13: 2013 Dog Bite Fatality: Baltimore Woman, 56, Killed by Her Pet Pit Bull
04/30/12: Maryland Court of Appeals Holds Pit Bull Owners and Landlords Accountable...
---
Baseline reporting requirements:
Law enforcement departments across the United States should release consistent "baseline" information to the media and the public after each fatal dog mauling,
including these items
.