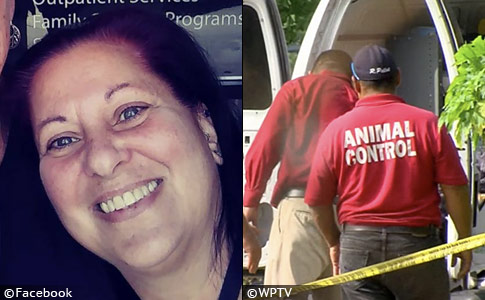 A volunteer died after being attacked by a pit bull at the Humane Society of St. Lucie County.
Violent, Traumatic Attack
UPDATE 05/15/19: Police released new details about a vicious dog attack that left a shelter volunteer of the Humane Society of St. Lucie County "mutilated" and "dead" last week. Christine Liquori, 52, was killed by a pit bull-mix named "Amos" that had been found wandering the streets a month earlier, not eight days earlier, as previously reported. Police concluded their investigation Wednesday and authorized the release of the 911 call made by an individual at the shelter.
Liquori arrived at the shelter about noon that day. She was found dead by a volunteer about 2:00 pm after he noticed that Amos was not in his kennel. The police report states that Liquori had "several lacerations and puncture marks to her right arm" and severe injuries to her face, which was covered in blood. A white plastic lawn chair, also covered in blood, was laying on its side next to Liquori, reports WPTV. Amos was found in the play area near Liquori with blood on its face.
Fort Pierce police said there was one surveillance camera outside the facility where the attack happened, but it was not working at the time.
In the 911 call, the dispatcher asks the caller, "Is she awake?" He replies, "No." The dispatcher next asks, "Is she breathing?" He replies, "No, I don't believe she is." The caller then states the condition of Liquori. "She's mutilated. And she's dead," he said. "She also has a severe laceration on her right arm," he added. David Robertson, the Executive Director of the Humane Society, said that Amos, who was available for adoption, had never shown any signs of aggression before.
---
05/12/19: Friends Mourn Woman's Death
Over the weekend, more information became known. David Robertson, the Executive Director of the Humane Society of St. Lucie County, said the dog that killed Christine Liquori, a longtime shelter volunteer, had arrived at the society's Fort Pierce Second Chance Shelter eight days earlier and had been up for adoption for two days. On Thursday, the dog brutally attacked Liquori, killing her, in an outside play yard pen. Liquori was alone with the dog when it attacked her.
Police spokeswoman Audria Moore-Wells told media outlets Friday via email, "The Fort Pierce Police Department is conducting a death investigation. This is an ongoing investigation and any comments will be provided at the conclusion of the investigation." Police have been tight-lipped from the get go. The initial story being spun was that it was "unknown" how she died. Fortunately, the coroner's office cleared that up quickly: She died of severe blood loss due to dog bites.
It is unknown how long Liquori was in the play yard with the new shelter dog, but death due to "severe blood loss" can happen within minutes if the bite severs a major artery. What is known is that the attacking pit bull-mix -- which the society has loads of -- had been cleared for "adoption to the public" six days after it arrived. Russian Roulette is a life-or-death "game" made famous by the Deer Hunter film. That is hardly what a potential adopter has in mind when visiting a shelter.
As mentioned earlier, Liquori was also a volunteer for Paws Fur Recovery, a group of "recovering addicts and alcoholics helping shelter dogs find new homes," according to their Facebook page. The group mainly rescues pit bulls. The group's founder, Lori Boettger, said that Liquori "loved loved loved what she did and she died doing what she loved." Except that no one knows how Liquori felt while being viciously attacked and bleeding out until her death -- Liquori died alone.
---
05/09/19: Volunteer Killed by Shelter Dog
Fort Pierce, FL - A volunteer at the Humane Society of St. Lucie County is dead after being bitten by a dog earlier today, Fort Pierce police said. Responders were called to the facility at 100 Savannah Road about 2:17 pm. "This incident involved an adult volunteer, who is deceased," police stated in a news release issued at 5:02 pm. The investigation was focused outside, in one of the "play group" pens, where they removed the body. No breed information was released.
WPTV reports that the female volunteer was found "dead inside a fenced play area, next to the shelter." Police say it's unclear if the victim died of a dog bite or from other causes. The "biting dog" is scheduled to be euthanized Friday. The victim was a member of Paws Fur Recovery, reports WPTV. A group of "recovering addicts and alcoholics helping shelter dogs find new homes," states their Facebook About Us page. The group primarily rescues pit bull-type dogs.
On Friday, the Human Society of St. Lucie County identified the woman as Christine Liquori, whose Facebook page indicates she primarily rescues pit bulls and American bulldogs (Scott-type). Another rescuer, Melissa McInturff, recently summed up her mauling death, "Another do-gooder gone too soon today..." McInturff's first and foremost goal was to advertise the adoption of unwanted pit bulls on behalf of Christine Liquori, "in her memory" so to speak -- Godspeed.
Statement of Sympathy on the Death of Christine Liquori. "It is with deep regret and with profound sympathy for her family and friends, that we must advise that on May 9, 2019, Christine was found deceased in the play area of our Fort Pierce Second Chance Shelter. Christine was a valued volunteer working with our good friends at Paws Fur Recovery. The circumstances of her tragic passing are under investigation by the proper authorities." - The Humane Society of St. Lucie County
The dog has since been identified as a pit bull-mix. Also on Friday, TC Palm reported that the coroner's office said the cause of death is exsanguination, or severe loss of blood, from dog bites. The manner of death was ruled an accident. David Robertson, the Humane Society's executive director, said the facility is now reviewing all safety protocols, especially dog-walking protocols for volunteers. As the death investigation proceeds, the dog involved remains in a "limbo status."
The Humane Society of St. Lucie County joins a growing list of shelters involved with fatally attacking dogs, including: The Animal Foundation (NV), Henderson Animal Shelter (NV), Asheville Humane Society (NC), Jackson-Madison County Rabies Control (TN), Pinellas County Animal Services (FL), San Diego Humane Society (CA), El Paso Animal Services (TX), Rochester Animal Services (NY), Logan County Pound (WV), the Dan Cosgrove Animal Shelter (CT) and more.
---
View the DogsBite.org Google Map:
Florida Fatal Pit Bull Maulings
.
Related articles:
04/11/19: 2018 Dog Bite Fatality: Pair of Adopted Male Pit Bulls Mauled to Death a 62-Year Old...
03/03/19: 2019 Dog Bite Fatality: Rescue Dogs Kill Toddler, Leave Grandmother with Traumatic...
12/23/17: 2017 Dog Bite Fatality: Rescue Dog Kills Woman at Phoenix Boarding Facility
---
Baseline reporting requirements:
Law enforcement departments across the United States should release consistent "baseline" information to the media and the public after each fatal dog mauling,
including these items
.