The Attacking Pit Bull is an Alleged "Support Dog" for a Child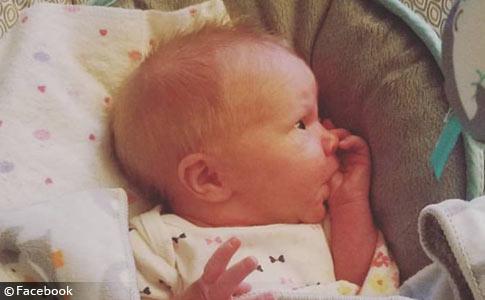 Susannah Jean Murray, 3-weeks old, was killed by a family pit bull in Grand Rapids.
Prosecutor's Opinion
UPDATE 07/03/17: Today we visited our P.O. Box and received the opinion from Kent County Prosecutor Chris Becker that we requested on June 19. Reports by the media left out critical details, including that Momma was in the room with the infant, along with Rhino, when the baby was discovered injured. To recap, from the get-go we suspected Momma was involved because the baby's father said the female killed the baby. Momma was the only female dog in the home.
The family adopted Momma from the Kent County Animal Shelter several years earlier, the same agency that refused our FOIA about this issue.
The two adults said they were only on the porch for five minutes. When Rodriguez went inside to check the baby, she noticed Rhino licking Susannah's face. "Momma was also in the room at this time, but this dog was not next to the baby," Becker wrote. The medical examiner indicated the cause of death was "craniocerebral trauma." Susannah had "multiple laceration, abrasion, contusions, and puncture wounds of the head consistent with dog bites," Becker wrote.
"There was no way to conclusively prove which dog bit Susannah. Rhino, the dog that was found licking Susannah and was closest to the baby, was a support dog for one of Ms. Murray's children. Rhino completed a "Doggy Manners" course in November of 2016 through Happy Trails Dog Training and had also been certified by the American Kennel Club as a "Canine Good Citizen" in February of 2017 ... The other dog in the room, Momma, had been with the family for years and there were no reports of any issues with the dog, other than when animal control arrived on scene. Animal control was told the dog "didn't like men." However there are no reports of Momma attacking or biting any men. All three dogs have been turned over to animal control and Ms. Murray surrendered control of the three of them to Kent County Animal Control for euthanasia." - Prosecutor Chris Becker
It is true there would be no way to irrefutably prove which of the dogs attacked the baby. There were no witnesses for five minutes, leaving four minutes and 55 seconds for the dogs to act. Both dogs may have been involved too, as is often the case in fatal dog attacks. As a reminder to parents, an attack like this, enough to fatally injure a newborn, can happen in mere seconds. Think about that the next time you see a propaganda photo of a pit bull lying with a baby on Facebook.
---
06/19/17: No Criminal Charges
Kent County Prosecutor Chris Becker issued a three page opinion today regarding the pit bull mauling death of an infant. Susannah Murray, 3-weeks old, was severely attacked in the head after being left alone with her family's three pit bulls for about five minutes on May 25. The fatal attack occurred in the 1100 block of Kalamazoo Avenue SE. The baby died after seven hours of surgery on May 26. The baby's mother, Michelle Murray, will not face any criminal charges.
On June 19, we sent a fax to the prosecutor's office requesting a copy of the three page opinion. At that time, Becker's office was already closed.
Becker states he found no evidence that any of the pit bulls had been violent in the past -- often a necessary requirement to bring charges. The family claimed one of the dogs was a "support dog" for a child -- which is not a "service dog" nor is it covered under the Americans with Disabilities Act. An emotional support animal (ESA) does have rights under the Fair Housing Act and Air Carrier Access Act, but requires a letter from a physician. It's unclear if that obligation was met.
At the time of the attack, there were other children in the home, but not in the living room area where the baby had been left in a bouncy seat. The family's three pit bulls were also loose inside the home. Murray and her friend, Bobbi Rodriguez, had stepped out onto the porch for about five minutes for a smoke. When Rodriguez came back inside, she saw one of the pit bulls, named Rhino, licking the baby's face. She kicked the dog away and saw the infant was covered in blood.
Clarifying the Family Pit Bulls
According to the MLive article, the family's three pit bulls are the same ones identified in earlier news reports: Rhino, a 2-year old male, Devlin, a 2 or 3-year old male and Momma, a 3 1/2 year old female. As we stated in late May, Rhino passed the Canine Good Citizen test in February and Momma was adopted to the Murray family by the Kent County Animal Shelter when it was 3-months old. Also, a family member stated in comments that all three dogs were "rescues."
Rhino was likely the killer, which shows that passing the Canine Good Citizen (CGC) test has no bearing on unpredictable aggression, particularly when the owner is not present. The CGC is not an aggression test to begin with (here are the testing requirements). Earlier, the baby's father had stated the killer dog was a female leading us to believe that Momma was the killer. However, Becker said that none of the other dogs could be ruled out; all three were euthanized Monday.
According to Becker, Rhino was also the alleged "support dog." With the proper documentation, Rhino could sit next to anyone on an airplane.
Rodriguez told police that her 11-month old had been in the home with these dogs before the fatal attack without any incident. In December, Murray posted a photo to her Facebook page of a baby the same age snuggling with Rhino -- Hey, it was great for social media points back then? In fact, Murray can't get enough social media points. After her pit bull killed her baby, she allowed her daughter to post a photo of the now deceased baby lying with Devlin, the other male family pit bull.
Failure of the Law
Despite unpredictable aggression being a well-documented trait in pit bull terriers, criminal statutes ignore this. "The law imposes culpability in situations where a person knew of a danger and could have prevented something from happening when it must have been apparent injury would result. Neither of these elements are present," Becker states. "Simply having three dogs in the home, even if all of them are a pit bull mix, is not enough to hold a person criminally liable," he states.
First, two of these dogs are full breed pit bulls -- enough with the "mix" nonsense. Second, we remind readers that criminal charges require being proven "beyond a reasonable doubt," the highest standard of all. Since criminal charges are about proving a "mindset" (of criminal intent), why can't statutes be written to address people who choose to own a dog breed 1.) Selected for unpredictable aggression and 2.) Kill more people than all dog breeds combined each year?
Summary
Another child, in this case an infant, is dead due to a family pit bull. This particular dog had passed the CGC test and is an alleged "support dog" for a child, which requires no training or certification and is not afforded the same privileges as a "service dog." Obviously the Murray family is enamored by the breed, they had three adult pit bulls in the home, not just one. Furthermore, to prove how "safe" their pit bulls are, they posted multiple photos of their pit bulls lying with babies.
It will be interesting to see how long it takes this family before they obtain new pit bulls. Don't they have an even greater duty now, albeit narcissistic, to prove how "misunderstood" and "safe" pit bulls are? Don't they have an even greater duty now, albeit narcissistic, to prove, "It's all how you raise 'em?" What family members should do is read Misunderstood Nanny Dogs, by J. Thomas Beasley, to learn about the genetic heritage of a dog breed selected to fight to the death in a pit.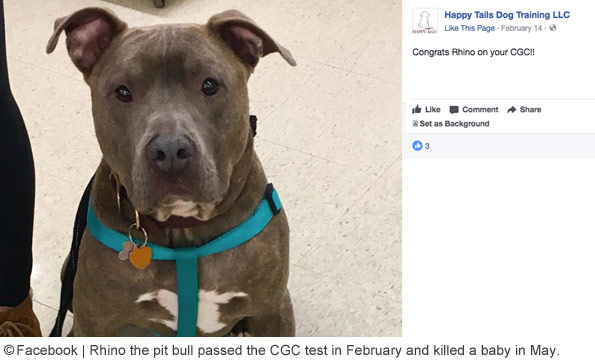 ---
05/29/17: When Pit Bull Advocacy Kills
The mother of a newborn recently killed by one of her three family pit bulls has been identified as Michelle Murray of Grand Rapids. Murray left her 3-week old infant alone in her home for about five minutes with three pit bulls roaming loose. We already provided a link that "unpacks" the role Murray's teenage daughter played in caring for the dogs. "I pay for their care all by myself," she wrote in 2016. On Sunday, the daughter posted the below image as her Facebook Cover photo.
The image depicts the now deceased newborn lying on a bed with one of the family's two male pit bulls. As far as we are concerned, Murray is 100% responsible for her daughter's recent Facebook action. Michelle Murray should be prosecuted for the "vividly clear" preventable mauling death of 3-week old Susannah Jean Murray, which Murray then followed up with sociopathic pit bull advocacy. We hope Child Protection Services takes both children away from Murray -- for good.
Meanwhile, Kent County Animal Shelter has five days to reply to our public information request.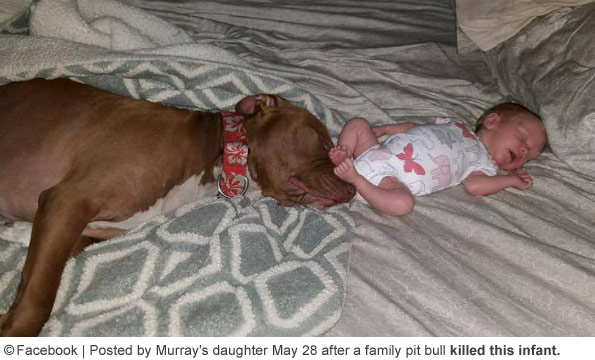 ---
05/27/17: Dog Mauling Victim Identified
A 3-week old baby girl killed by a family pit bull has been identified as Susannah Jean Murray. An autopsy confirms the infant died due to severe dog bite injuries to her head. The Murray family owned at least three pit bulls -- two males and a female according to their Facebook pages. On Saturday, we sent a public information request to the Kent County Animal Shelter (KCAS) asking them which of the pit bulls inflicted the attack, and if that dog was adopted out by their facility.1
Late Friday, we posted an image of three pit bulls belonging to the Murray family that was posted to a family member's page on June 21, 2016. These same three pit bulls were also posted in another photo as recently as January 1, 2017. The black pit bull-mix, a female named Momma, was adopted to the Murray family about four years ago by KCAS. A family member also created a "Momma's Journey" Facebook page last year that details a surgery that pit bull underwent.
Finally, as we try to sort through which of the three family pit bulls attacked and killed the infant, a man who claims to be the baby's father said the attacking dog was a female. Thus, we are led back to Momma as the primary suspect, until KCAS answers our public information request or clarity is gained through new media reports.2 We invite readers to watch two videos posted to the Momma's Journey page. The pit bull playing tug-of-war and the three dogs interacting as a pack.
Remember, the infant was left alone in the house in a glider (which is similar to a bouncer) for five minutes with three pit bulls roaming loose.
---
05/26/17: Infant Killed by Family Pit Bull
Grand Rapids, MI - A 3-week old baby girl is dead after being left alone with three family pit bulls, Grand Rapids police report. The fatal dog attack happened about 6 pm Thursday at a home in the 1100 block of Kalamazoo Avenue SE. After about 5 minutes, an adult checked on the infant and found her bloody with severe head injuries. One of the pit bulls had blood on its mouth, detectives said. The baby was transported to Helen DeVos Children's Hospital where it died Friday morning.
The dogs were taken to Kent County Animal Shelter where they are under quarantine. All three are pit bulls. - Grand Rapids Police Department
Grand Rapids police Sgt. Terry Dixon said during a press conference the baby girl underwent seven hours of surgery before dying. No one heard crying or sounds of an attack. Child Protection Services was contacted because another child lives in the home, he said. Once the investigation is complete, police will meet with Kent County prosecutors to determine if any criminal charges will be brought. The pit bull suspected in the baby's death is about 2-years old, reports Mlive.com.
Dixon also said during the press conference, "Any dog can bite." That is not the issue to discuss after a mauling death or an attack resulting in catastrophic injuries. Both horrific scenarios are largely inflicted by a very small group of dog breeds. Pit bulls make up about 6% of the total U.S. dog population, yet are responsible for 65% (254) of all dog bite deaths (392) from 2005 to 2016. The second leading killer, rottweilers, trails significantly, responsible for only 11%, (43).
Infant Fatalities in 12-Year Period
Reviewing our 12-year dog bite fatality data set -- January 1, 2005 to December 31, 2016 -- we see the U.S. infant fatality rate for ages under 12-months old. During this period, canines killed 392 Americans. 12% (47) were infants under the age of 12-months. Of this subset, 45% (21) were neonates ages 3-weeks old and younger. Of all 47 deaths, pit bulls were responsible for 51% (24). Huskies were the number two killer, inflicting 7 deaths, followed by rottweilers, inflicting 6 deaths.
During this same 12-year period five infants were mauled to death by dogs in Michigan, the majority killed by family pit bulls. Holden Garrison of Davisburg, was killed by "catahoula leopard" dog while being held by his uncle in 2014. Tarilyn Luciana Bowles of Detroit, Darius Tillman of Kalamazoo and Leonard Lovejoy Jr. of Eastpointe, were all killed by family pit bulls from 2009 to 2012. Lastly, Kylie Cox of Warren was killed by a rottweiler while siting in a car seat in 2007.
View the DogsBite.org Google State Map:
Michigan Fatal Pit Bull Attacks
.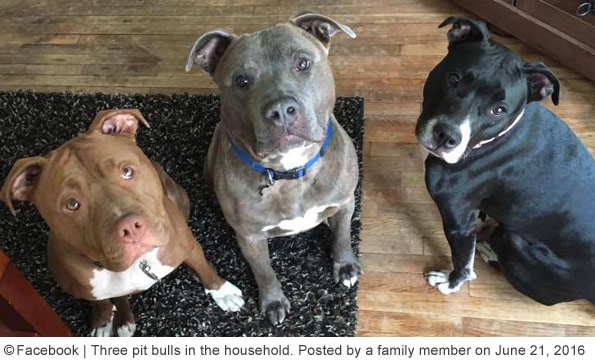 ---
The family pit bulls from left: Devlin (male), Rhino (male) and Momma (female). Rhino passed the Canine Good Citizen test in mid February this year, according to Happy Tails Dog Training LLC.
---
1
There is significant history with the Kent County Animal Shelter. Back in 2014, artist Joan Marie Kowal created an entry for the Grand Rapids ArtPrize 2014 competition titled, "Out of the Blue." It was the nation's first physical memorial for victims of fatal dog attacks. Nearly 30 differently decorated crosses represented a person killed by a dog. Kent County Animal Control Officer, Rachel Jensen, participated in an effort to sabotage the memorial by intimidating art viewers by partially blocking them from the memorial with their bodies and their pit bulls. Kent County defended Jensen's actions as well. In this light, it makes sense that police spokesman Sgt. Terry Dixon dished out the "any dog can bite" propaganda routine to the public after a baby was killed by the family pit bull.
Also, at that time, attorney Kenneth Phillips, left a related comment, stating: "In law, there is a saying: 'the appearance of justice is as important as justice itself.' (Offutt v. United States (1954) 348 U.S. 11, 14 (U.S. Supreme Court).) This officer has damaged the appearance of justice by showing his or her bias. The results will damage Kent County in the future: the officer's word will not be trusted in court and other legal proceedings, and significant numbers of residents will feel less safe as long as he or she remains on the job. Kent County: Fire this officer!"
2
As if this cannot get more confusing, there is another female pit bull named Bella -- the red and white dog in the Cover photo for the Journey page. This dog is "around" but it's unclear who owns it or where it lives full time.
Related articles:
05/09/17: 2017 Dog Bite Fatality: Family Pit Bull Kills Baby in Northwest Las Vegas
03/24/17: 2017 Dog Bite Fatality: 8-Month Old Baby Boy Killed by Family Pit Bull in Maryland
04/29/16: 2016 Dog Bite Fatality: Pit Bull Rehomed by Humane Society Kills Newborn Baby
09/26/14: ArtPrize Exhibit, 'Out of the Blue,' First Physical Memorial for Fatal Dog Attack Victims
---
Baseline reporting requirements:
Law enforcement departments across the United States should release consistent "baseline" information to the media and the public after each fatal dog mauling,
including these items
.