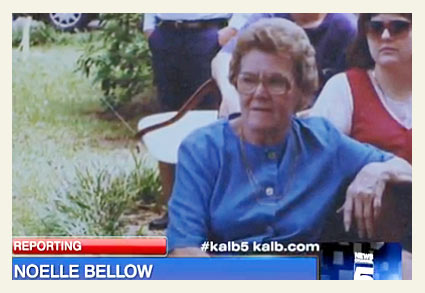 Investigation Complete
UPDATE 01/13/15: The Grant Parish Sheriff's Office has concluded its investigation into the brutal dog mauling death of 85-year old Bobbie Cheveallier. The woman was viciously attacked by up to 15 dogs on November 26. The dogs so severely injured her legs that both were amputated above the knees. She died while hospitalized on December 1. A pathologist who examined the autopsy results determined that Cheveallier was unconscious prior to being attacked by the animals.
The 15 dogs, initially described as strays by the sheriff's office, were seized and DNA tested. Their investigation showed that 14 of the dogs belonged to the same owner, Cheveallier's next-door neighbor. The sheriff's office did not report any specific breed of dog involved in the attack. Just that 14 belonged to a neighbor and one was allegedly a stray. The sheriff's office also did not report any results of the DNA tests done on the animals, just that all 15 dogs were euthanized.
Several comments left at the news article expressed frustration at the handling of the case. "It does not matter if she was unconscious or not … the owners need to be held accountable for their animals actions," wrote one. "If it would have been a person with a gun that committed this crime it would have been taken care of rather promptly. But they are unsure what to do about this case. So they come up with, 'She was not conscious at the time of the attack.' What?" wrote another.
Small jurisdictions often struggle after a horrific fatal dog mauling, not always knowing quite how to proceed legally. The Grant Parish Sheriff's Office seemingly proceeded just fine by sending the autopsy and DNA testing to an out-of-state lab for results. Continuing to be silent about the breed(s) of dogs involved and details about the dog's owner -- who owned a whopping 14 dogs that escaped his property and fatally attacked a person -- is an injustice to the community.
The sheriff's office report was forwarded to the Grant Parish District Attorney's Office for further proceedings. Chances are slim that any actions will be taken against this dog owner despite Louisiana's criminal law -- passed unanimously by legislators in 2009 after the fatal attacks of Luna McDaniel and Michael Landry -- which allows prosecutors to charge dog owners with negligent homicide who fail to properly confine their animal and the result ends in human death.
12/09/14: Dog Owners Identified
In a brief update, the Grant Parish Sheriff's Office issued a press release today regarding the "many questions and concerns surrounding" the brutal dog attack and death of Bobbie Cheveallier. Miss Bobbie was viciously attacked on November 26 by several alleged "stray" dogs when she went outside to burn her trash. She remained hospitalized in critical condition until she died on December 1. The sheriff's office rounded up 15 dogs for DNA testing after the attack.
"We are investigating all avenues related to this incident, including the possibility that Mrs. Cheveallier was unconscious or incapacitated prior to the encounter with the dogs," states the release. "We do not have any other reports before or since this incident that anyone in that area has been bitten or attacked by dogs." Owners of 14 of the so-called "stray" dogs have since been identified by authorities. The investigation is ongoing. No breed information has been released.
A December 4 report from KALB provides more information. Of the 15 dogs seized, 14 belonged to the same owner who lives in the area. Sheriff Steve McCain said his office is waiting on autopsy and DNA results. "There's not a lab in Louisiana that can perform these types of scientific tests that we need in this case and so we've been in touch with labs in other states as far as California," McCain said. Officials stated that they expected all test results to come back in three weeks.
12/01/14: Dog Mauling Victim Dies
Pollock, LA - An 85-year old woman who suffered catastrophic injuries by two or more loose dogs in her own yard on Wednesday died Monday at Rapides Regional Medical Center.1 Grant Parish Sheriff Steve McCain confirmed the death of Bobbie Cheveallier Monday evening after news of her death had been posted on social media. After the life-threatening attack, Cheveallier was transported to the hospital where doctors amputated both of Cheveallier's legs above the knees.
Background of the Attack
The vicious attack was first reported on Thanksgiving after the Grant Parish Sheriff's Office issued a press release. On Wednesday afternoon, deputies responded to a report of a person being mauled by two dogs on Highway 8 just west of Pollock. The elderly woman remains in critical condition, Grant Parish Sheriff Steve McCain said. The release also issued a warning, cautioning residents to be aware of any loose dogs in the area when allowing children to play outside.
Cheveallier was taking some trash outside of her home when the dogs attacked. Her son, Randy Cheveallier, told The Town Talk that the boyfriend of a neighbor saw three loose dogs outside as he was preparing to work on an outdoor project. He walked over to investigate and found "Miss Bobbie" unconscious in her yard. He yelled for his girlfriend to call 911. The couple stayed with Cheveallier until the ambulance arrived to transport her to Rapides Regional Medical Center.
Randy Cheveallier said the attack left the woman without skin on most of her legs, and that most of the tissues and muscles had been mutilated. - The Town Talk, November 29, 2014
It is unclear at this stage if anyone witnessed the attack while it was occurring. According to Randy, one witness told him that one of the dogs appeared to be wolf-like, or possibly a German shepherd or chow. This witness reported seeing three dogs, Randy said, instead of just two as the press releases stated. On Monday, Sheriff Steve McCain said that a total of 15 loose dogs were captured and taken to a veterinarian in Alexandria so that DNA samples could be taken.
Over the weekend, Randy and other family members kept a vigil at the hospital, praying for her recovery. Family members were upset when the surgeon told them that both of Cheveallier's legs would have to be amputated above the knees. But Randy also knew that she would die without the operation, complicated further by internal bleeding and that she was diabetic. Randy believes his mother would have died outside from blood loss if her neighbor had not noticed the loose dogs.
1
The Grant Parish Sheriff's Office press release and all subsequent media reports describe the attacking dogs as "stray" dogs. The definition of a stray dog is that it has no owner -- the dog was dumped or abandoned by its owner. If that were truly the case, there would be little point in DNA testing.
Related articles:
04/11/14: 2014 Dog Bite Fatality: Family Pit Bull Kills 4-Year Old Girl in Houma, Louisiana
06/24/09: Louisiana State Dog Attack Law (HB 155) Wins Final Legislative Approval
04/14/09: 2009 Dog Bite Fatality: Michael Blaise Landry, 4, Killed by Dogs in Own Yard
06/23/09: 2008 Dog Bite Fatality: Luna McDaniel, 83-Years Old, Dies from Pit Bull Injury