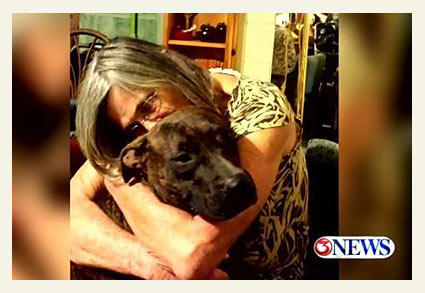 A Bloody Mess
UPDATE 01/19/15: In what can only be described as a "bloody mess," more news about the December 15 fatal dog mauling of pit bull rescuer Rita Woodard was reported Monday. Police and animal control were called back out to the home where Woodard was discovered bitten, bloody and dead in December. At that time, authorities seized 17 dogs at Woodard's home that she had rescued. Authorities euthanized four pit bull-mixes they believed inflicted the deadly attack.1
For the Love of Strays, a rescue group that Woodard had fostered many dogs for, immediately seized upon the tragedy of her death by calling on the public to donate to their organization to ensure that four of Woodard's remaining dogs, called her "personal dogs" -- pit bulls and pit bull-mixes -- could find homes. All four were dog aggressive. For the Love of Strays has since deleted this post from their Facebook page, it was originally published on December 20, 2014.
On Friday, January 16, 2015 gunshots rang out at Woodard's former home. According to neighbors, two friends of Woodard's relatives had been staying at her residence caretaking two rescue dogs that remained after her death (the KIII-TV segment does not clarify if either of these dogs was amongst Rita's "personal" four that the rescue group was trying to adopt out). The two dogs attacked each other causing severe injuries, so the caretakers shot and killed both dogs.
Investigators said the two dogs were shot in the head and buried in the backyard. The carcasses of the animals were exhumed and bagged up by Animal Care Services. As the animal cruelty investigation continues, Animal Care Services will work with the police department about potential charges against the caretakers. Rita deeply cared for the many pit bulls she rescued and also acknowledged publicly on some of her Facebook posts that many were "DA" (dog aggressive).
This dangerous behavior is likely how she got killed -- she was trying to break up a fight amongst her multiple pit bull rescues. The animals then began attacking her. At her death scene, one dog (pit bull or otherwise) was so badly injured by the attacking pack of pit bull-mixes that it had to be put down. Just several weeks later, an animal cruelty investigation has been launched against the friends of relatives assigned to care for two dogs she had been living with at the time of her death.
"Rainbow Bridge" Update
On Tuesday, a day after KIII-TV aired this segment, we uncovered the identity of the two pit bulls involved in the animal cruelty investigation. The two dogs, Roscoe and Kaja, were indeed part of Rita's four "personal" dogs that For the Love of Strays was trying to place after her death. Notably, the December 20 post that For the Love of Strays has since removed states, "Roscoe does get along with Kaja." However, Rita was quite open that Kaja (the tree climber) was dog aggressive.
"That's my special baby Kaja Brat. Not allowed around other dogs." - Rita Ross Woodard, October 13, 2014, Facebook.com
On the KIII-TV Facebook post about the animal cruelty investigation, one of Rita's friends, Jennifer Lutz Pulver, comments about the two dead pit bulls: "They were her own dogs! Not fosters!" Pulver was a founding member of For the Love of Strays, according to a January 2010 newsletter. Pulver also worked with the rescue group at least through October 2013, according to her Facebook photo album, which lists her contact information on a fundraising flyer for the group.
The conversation about KIII-TV's recent news segment continues onto Woodard's personal Facebook page, where Alice Buttler clarifies the identities of the two dead pit bulls further. "I know that Rita welcomed Roscoe & Kaja at the Rainbow Bridge but she is super pissed about how they got there." Buttler also states that she wants to see a new photograph of Woodard's remaining two pit bulls -- Duke and Echo -- to ensure the dogs are safe and being taken care of properly.
"Bloody Mess" Summarized
For the Love of Strays rescue portrayed Roscoe and Kaja as two pit bulls that "got along" with each other despite Woodard saying as recently as October that Kaja was not allowed around other dogs. Woodard lost her life due to pit bull dog aggression and so have other rescuers who intervened to break up an explosive pit bull fight. Even after the loss of her life, in fact just a few days later, on December 20, the rescue group was peddling out four dog aggressive pit bulls.
Also recall that the director of For the Love of Strays, Melissa Rizzo, became a self-appointed "expert" after Woodard's death. Rizzo was highlighted in multiple news stories as gathering donations for Woodard's four "personal" pit bulls so that her group could adopt them out. Rizzo even went on camera to explain to the public how safe "large breeds" are and how she had "never heard about this happening before" -- a pit bull rescuer being killed by her own rescue dogs.
Rizzo is not an expert or even responsible. Woodard had 17 large breeds in her home at the time of her death, many of which were dog aggressive pit bulls. This was not seen as hazardous by Rizzo or anyone else working at For the Love of Strays. Coupling Roscoe and Kaja together, both dog aggressive, was an appalling decision as well. The truth is, rescue junkies like Rizzo are making extremely poor decisions about literally deadly animals with no oversight or regulation.
Now Rita Woodard is dead, along with two of her "personal" dog aggressive pit bulls that the self-appointed experts at For the Love of Strays were supposed to be keeping safe after her death. The only thing missing from this "bloody mess" now, since evolving into an animal cruelty investigation, are the self-appointed experts like Rizzo who refused to admit the dangerous temperament of these dogs or make the hard, but responsible decision not to adopt them out.
12/16/14: Medical Examiner Report
Corpus Christi, TX - A 64-year old woman was discovered dead in her home Monday night after being attacked by dogs she was fostering. The Nueces County Medical Examiner determined that Rita Woodard, also known as Rita Ross, died from a heart attack after multiple dog bites. Authorities believe five of the 17 dogs she had been fostering inflicted the attack. The same five also nearly killed another one her dogs during the attack; it was put down due to severe injuries.
The Medical Examiner released a report Tuesday evening stating that Woodard had died from coronary artery atherosclerosis after suffering multiple dog bites. According to Corpus Christi Police Department Commander John Houston, who supervises Animal Care Services, five of the 17 dogs found at her home are believe to be responsible for the attack. All five dogs will likely be euthanized. The video shows multiple images of pit bulls being taken away by animal control.
Many of the dogs -- presumably at the time of the attack -- were in cages. Four have already been turned over to an adoption group Woodard was linked to. The eight remaining dogs will be turned over to her son, who lives out-of-state. Woodard was devoted to helping unwanted dogs find "forever" homes and spent much time helping the rescue group, For the Love of Strays, who is already asking for donations to help care for the four dogs they took in after Woodard's death.
Late Evening Update
After publishing the initial post, we reviewed Woodard's Facebook page. Her photo album is filled to the brim with photographs of rescued pit bulls -- her profile image is of one of her pit bulls, rescued or otherwise, climbing a tree. This is not unique pit bull behavior. YouTube is filled with videos of proud pit bull owners filming their dogs climbing up and down trees. Back in August, Woodard noted on Facebook that two pit bulls, apparently under her care, had also escaped.
Woodard had at least 17 dogs in her home. No media reports so far have stated that this was unusual or against city code nor have they explained any relevant city codes. With 17 dogs in her home, her situation was indeed questionable -- that most of these dogs were pit bulls is worse. One of the pit bulls seen in the video was previously nursing, so part of the 17 dogs could have included puppies. Notably, the tan pit bull seen in the video also appears to be the tree climber.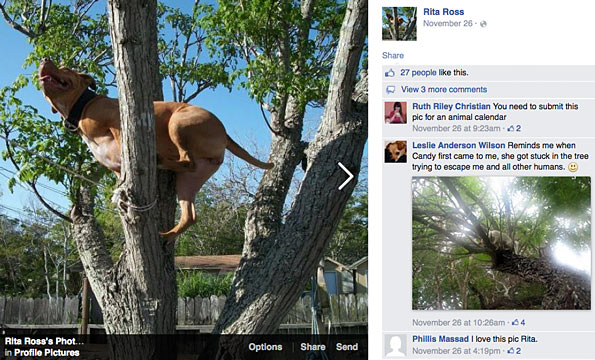 View the DogsBite.org Google Map:
Texas Fatal Pit Bull Maulings
.
---
Join Texas Dog Bite Victims' Advocacy - Join our Texas email list to stay informed
1
KIII-TV never named the breed(s) of dogs involved in Woodard's fatal attack. KIII-TV instead hedged it under the "large breed" scenario, which is dangerous and incompetent. Corpus Christi Police Chief Floyd Simpson, upon an email request, did name the breed involved in her death -- pit bull-mixes. Just like her Facebook page indicated.
Related articles:
11/04/12: 2012 Dog Bite Fatality: Pembroke 'Dog Rescuer' Killed by Rescued Pit Bulls 
08/17/12: 2012 Dog Bite Fatality: 23-Year Old 'Dog Rescuer' Mauled to Death by Own Dogs
04/06/12: Week of Escalating Violent Attacks by Rescued and Adopted Pit Bulls