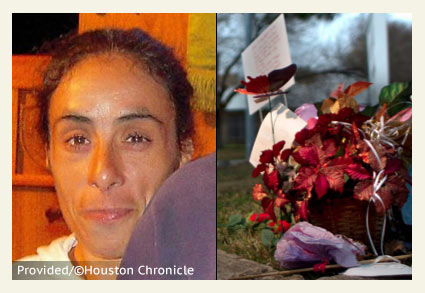 Christina Bell and flowers left where she was killed by two pit bulls.
Dog Owners Charged
UPDATE 07/01/14: In an unexpected development, Harris County prosecutors are charging both dog owners in connection to the death of Christina Bell, who was viciously killed by at least two pit bulls in early January. Timothy Dewayne Coleman, 33, and Tiara Deshawn Thomas, 26, who owned at least one of the attacking pit bulls, are being charged under the state felony dog attack law. Click2Houston reports that Coleman and Thomas were taken into custody this afternoon.
Vicious dog attacks which result in seriously bodily injury or death will not be tolerated. - Harris County District Attorney Devon Anderson
Anderson goes onto state: "We have evidence that the dog had killed another dog. And has been involved against two other attacks against people. So, this is a case where frankly, we're going to make an example of these two owners." It's about time too. Harris County leads all Texas counties in fatal dog attacks. Since January 2005, there have been seven fatal dog maulings in Harris County. This is the first one to our knowledge that has resulted in felony charges in the county.1
Also, in late June, the Houston Chronicle published an update about the criminal investigation and stated that Christina's husband, Benjamin Bell, filed a negligence lawsuit in February. The lawsuit accuses Thomas, the Glenwood Village Condominiums Association and James Nguyen, Thomas' landlord, of failing to secure or control a dog, failing to warn of its "dangerous propensities" and failing to comply with the city's leash laws. Bell is seeking damages of at least $1 million.
01/07/14: Cause of Death Released
The Harris County Institute of Forensic Sciences has identified the victim as Christina Burleson, 43, who was also known as Christina Bell. The agency determined "blunt and sharp force injuries of the neck and upper extremities" as the preliminary cause of death. The female pit bull captured by authorities shortly after the attack was "covered in blood" later determined to match the deceased woman, according to Christopher Newport, a spokesman for the BARC animal shelter.
A second pit bull was seized Sunday afternoon when officials located a woman who claimed both dogs. The owner was cited for allowing the two dogs to run at large. After four puppies were found in her apartment, she was also cited for not having current rabies vaccinations or pet licenses for any of the six dogs and for violating the city's animal "care and keeping" regulation. Police and the Harris County District Attorney's Office will determine whether to pursue criminal charges.
01/06/14: Mauling Victim Identified
Authorities have identified the woman mauled to death by several loose pit bulls. Christine Bell was killed by the animals early Sunday morning. The dogs also attacked two other people. Houston animal control officials now have both female pit bulls in custody, which belong to the same owner. Only one of these dogs is believed to have been involved in the attack. The dog's owner was not home when KTRK visited, but predictably, pit bull puppies were home.
Authorities are still looking for additional pit bulls involved in the attack.
Christine Bell and her husband, known as B.B., were longtime members of the Servants of Christ United Methodist Church at Park Place. The pastor, Will Reed, knows the couple well. He told KTRK that he remembered the last time he spoke to Christine. "I actually went by that intersection Friday afternoon and saw her and spoke to her and said, 'Stay safe,'" Pastor Reed said. Though homeless for years, Reed said the couple got married in the church and recently got an apartment.
01/05/14: New Details Released
News continues to be released and updated about the first deadly pit bull mauling of the new year. At around 2 am Sunday morning, a woman in her 40s died after being attacked by up to three loose pit bulls in southeast Houston. The animals also attacked two other people. Authorities say the three victims were attacked by at least two female pit bulls. The dogs are estimated to be about 1-year old and 30 pounds, according to the City of Houston Animal Control manager.
Osby Pineles,2 21, who lives in the neighborhood, tried to pull the dogs off the woman. Pineles said she was already dead when he arrived. He said that one dog appeared to be eating her when he approached the body. The two female pit bulls then attacked him. Pineles was bitten on his legs and arms. The third victim, a female, was taken to Memorial Hermann Southeast Hospital for treatment. Authorities captured one pit bull and are still searching for at least one more.
The Click2Houston coverage continues to press the "stray" and "feral" dog themes, which is notably absent in the Houston Chronicle coverage. What is important to remember about alleged "stray" or "feral" dogs inflicting serious or fatal injuries is the following: In the vast majority of cases, the dogs are currently owned, but roaming without collars or were previously owned, but got lost or were abandoned (See: Pack of Dogs Kills Boy in Cibola County, New Mexico).
01/05/14: Pit Bulls Blamed in Fatal Attack
Click2Houston reports that the three attacking dogs are pit bulls, according to Houston police. Two of the pit bulls "are still out there," according to investigators. Animal control did capture one of the dogs. Because that dog lacked a collar, police believe all three might be strays (Come on Houston PD! You must have more experience with "typical" negligent pit bull owners than any other jurisdiction in Texas!). Loose pit bulls, reportedly, are a growing problem in the neighborhood.
01/05/14: Woman Dies After Dog Attack
Houston, TX - A woman is dead after neighbors say she was attacked by dogs in southeast Houston overnight. Neighbors said they heard screaming a little after 2 am, and saw a woman's body lying in the street. A witness said that a man who tried to help her was also attacked; he was treated on scene. Neighbors said three dogs were involved in the attack. Two were picked up by their owner before police arrived and a third, an alleged stray, was taken away by animal control.
An early report from the Houston Chronicle states that the victim, in her 40s, died at the scene of multiple wounds, according to police. A second victim is being treated at Memorial Hermann Southeast Hospital. A third person suffered minor injuries, not requiring hospitalization. Victims told police that two loose dogs in the neighborhood attacked them; they did not know who owned the dogs. The victims were attacked about 2 am Sunday morning on Glen Prairie near Leonora.
View the DogsBite.org Google Map:
Texas Fatal Pit Bull Maulings
.
---
Join Texas Dog Bite Victims' Advocacy - Join our Texas email list to stay informed
1
The lack of criminal charges after the deaths of Edna Dyson and Juan Campos were especially hard to swallow. However, Anderson is signaling a change in Harris County. So, kudos to the Harris County Prosecutor's Office!
2
January 6 updates to the Houston Chronicle article reflect that Osby Pineles was the victim treated at Memorial Hermann Southeast Hospital. His friend who was with him that night, Gustavo Velasco, suffered minor injuries and was treated at the scene. So the two other victims were male (initial reports said one of the victims was female). We hope both men are receiving counseling after witnessing this horrifically violent fatal pit bull attack.
Related articles:
00/02/13: 2013 Dog Bite Fatality: Pit Bulls Suspected of Killing 96-Year Old Texas Man
03/20/13: Report: Texas Dog Bite Fatalities, January 1, 2005 to February 17, 2013
05/21/11: Texas Doctors Produce Study: Mortality, Mauling and Maiming by Vicious Dogs
Photo: Houston Chronicle