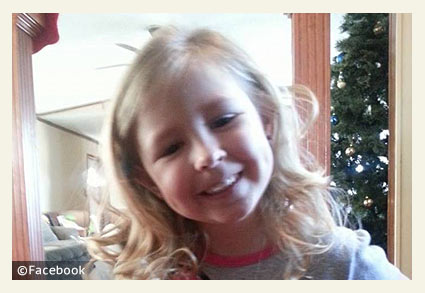 Dogs Free to Kill
UPDATE 02/28/14: No leash laws in semi-rural parts of Tallapoosa County? No problem. Dogs are free to roam and kill innocent children at their choosing with no criminal penalties to their owners. Several news reports have expressed that the grandfather's yard was either partially fenced or not fenced at all. It is a dog owner's responsibility to keep them contained on his property, not the responsibility of neighboring residents to erect fences to keep these dogs away from their homes.
"It's heartbreaking what has happened," said Tallapoosa County District Attorney E. Paul Jones. "We have investigated the possibility of charges. But Tallapoosa County doesn't have a law on the books that says owners can't allow their dogs to run at large. If there is no law, there can be no charges."1 - Montgomery Advertiser
02/28/14: Mauling Victim Identified
The child victim has been identified by authorities as 4-year old Summer Sears. She had been playing in her grandfather's backyard when one or more loose dogs brutally attacked her. A woman who formerly rented and lived in the home, Janet Conn, spoke to CBS 8 News. She said the grandfather, who owned the home, had been living there since and taking care of Summer. Conn said the scene of the fatal dog attack was horrific, as did Police Chief Jimmy Rodgers.
The way I described it earlier is what you'd envision when somebody gets attacked by a wild bear. - Police Chief Jimmy Rodgers
Authorities sent Summer's body to forensic sciences. Investigators hope to have testing results soon to ensure that the dogs in custody are the ones responsible for the attack. Both loose dogs belonged to a neighbor, Rodgers said. The owner could face charges pending an investigation. Conn and other neighbors said they had seen the dogs loose before. She and other neighbors plan to stay indoors for safety until they know if the seized dogs are the ones that killed Summer.
02/27/14: No Leash Laws in County
The Tallassee Police Department continues to investigate the death of a 4-year old girl. She was attacked and killed by one or more dogs late Wednesday afternoon. "The child was playing in her yard," Police Chief Jimmy Rodgers said. "Her grandfather went out to check on her and spotted a large dog standing over her," Rodgers said. "There may have been other dogs involved in the attack. He yelled at the dog and it ran off. He called 911 and officers responded," Rodgers said.
She was pronounced dead on the scene. Police believe they have the dog involved in the attack in custody, along with a secondary dog. Rodgers described the primary dog as a large shepherd-mix. In an earlier report, the child's grandfather said it was a white dog. "We have identified the owner of the shepherd-mix. We are investigating to see if any criminal charges can be filed," Rodgers said. However, in Tallapoosa County, where the fatal attack occurred, there are no leash laws.
02/26/14: Little Girl Killed by Dogs
Tallassee, AL - In a developing story, police say a 4-year old child was killed after being attacked by one or more dogs late Wednesday afternoon. The young girl was attacked at about 5:00 pm on Lower Tuskegee Road in southern Tallassee, according to police. The little girl suffered numerous injuries during the attack. Two dogs, so far, have been taken into custody by authorities. The animals did not belong to the child's family. Police continue to investigate who owns the dogs.
All 7 victims of fatal dog attacks so far in 2014 have been female (ages include: 89, 57, 43, 4, 4, 3 and 2). This is unusual and worth noting, particularly concerning young children. In 2013, there were 5 female child fatalities total. In the first two months of 2014, there have already been 4.
1
Fail grade "F" goes out to Tallapoosa County District Attorney E. Paul Jones.
Related articles:
01/07/14: 2014 Dog Bite Fatality: Woman Dies After Pit Bull Attack in Southeast Houston
01/03/14: 2013 Dog Bite Fatality: Woman, 75, Killed by Bullmastiff in Arkansas Gated Community
Photo: WAKA.com