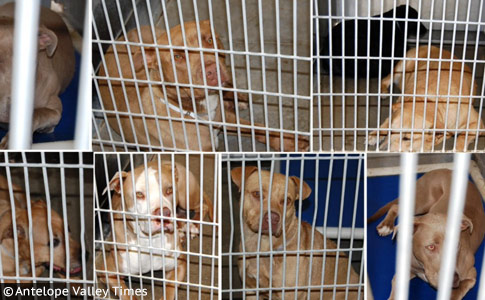 Authorities seized multiple pit bulls and mixed-breed dogs from the home of Alex Jackson.
Sentenced to 15-Years
UPDATE 10/03/14: On Friday, Alex Donald Jackson was sentenced to 15-years in state prison for the murder of Pamela Marie Devitt -- the 63-year old woman was mauled to death by four of Jackson's loose pit bulls on May 9, 2013. Devitt suffered catastrophic injuries in the violent attack; she died while being transported to the hospital. In August of this year, a jury found Jackson guilty of second-degree murder in connection to her death and guilty of multiple drug-related felonies.
During the hearing, the victim's husband, Ben Devitt, gave an emotional victim impact statement. Just days before the deadly attack, the couple had been making retirement plans. They planned to relocate to Washington to be closer to family members. "Her story shouldn't have ended in such a horrific way," he said. Los Angeles County Superior Court Judge Lisa Chung handed down the 15-year sentence and 7-years for the other guilty counts, to run concurrently with the murder term.
08/29/14: Guilty of Second-Degree Murder
Los Angeles, CA - A 31-year old man whose four pit bulls brutally killed a woman last year has been found guilty of second-degree murder. On Friday, the defendant, Alex Donald Jackson, was also found guilty of cultivating marijuana, possession of marijuana for sale and possession of a controlled substance, psilocybin, according to the Los Angeles County District Attorney's Office. The jury also found that Jackson was armed with a shotgun during the commission of the offense.
On May 9, 2013 Pamela Devitt, 63, was walking near her Littlerock home when she was violently attacked by four pit bulls belonging to Jackson. Devitt suffered catastrophic injuries, including 150 to 200 puncture wounds, her scalp ripped off and one arm dismembered. She died en route to the hospital. County police authorities unleashed a ground and air search effort to find the attacking dogs and offered a $25,000 reward for, "Information leading to the capture of the 4 killer pit bulls."
Jackson was an unsympathetic defendant from the get-go; his dogs were guilty of multiple acts of aggression prior to killing Devitt. These aggressive acts, however, were primarily directed at animals. Jackson had also put a set of four pit bulls down in 2006 after a separate act of animal aggression. His defense attorney tried to portray Jackson as an "animal lover" who rescued strays. This defense strategy clearly fell flat on its nose. Excellent verdict for a repeat vicious dog owner!
Jackson is scheduled to be sentenced on October 3. He faces 24-years to life in state prison.
05/31/13: Repeat Vicious Dog Owner
Within the massive news coverage in the last 48 hours, new information was revealed on Friday at the first court hearing. Alex Jackson previously owned four other violent pit bulls that were destroyed in 2006 after attacking emus. On Friday, Los Angeles County prosecutors said that this previous incident weighed into the second-degree murder charge, along with three incidents since January involving Jackson's "current" crop of pit bulls that savagely killed Pamela Devitt on May 9.
Most members of the public do not know that many owners of these types of dogs are repeat offenders. After the dog attacks (enough times), it's eventually deemed "dangerous" and the owner puts it down to avoid paying the necessary fees and insurance to own a designated "dangerous" dog. The person then buys a new crop of dangerous dogs and the process begins all over again, including attacks on innocent people and pets. This cycle persists without legal intervention.1
05/30/13: Second-Degree Murder Charges
Los Angeles County prosecutors charged a 29-year old man with murder in connection to the pit bull mauling that killed a 63-year old Antelope Valley woman in early May. Alex Jackson, 29, was arrested at his Littlerock home. His bail is set at over one million dollars -- $1,050,000. If convicted, he faces up to life in prison, according to a district attorney's spokeswoman. Since January, authorities received at least three other reports of Jackson's pit bulls attacking other people.
Pamela Devitt, 63, died en route to the hospital from catastrophic injuries inflicted by the dogs. Coroner officials said they found 150 to 200 puncture wounds and sharp force trauma across her body. Previously, Los Angeles County authorities said Devitt "was dragged 50 yards, scalped and her arm removed." Jackson was also charged with cultivating marijuana, possession of marijuana for sale, possession for sale of a controlled substance and assault with a deadly weapon.
05/11/13: LA County History Lesson
On Friday, 6abc.com published an article, "Littlerock pit bull attack raises legislation questions," that contained an erroneous statement from Los Angeles County Supervisor Mike Antonovich's Office: "the Littlerock attack is the first fatal pit bull attack in the county's history." According to the Fatal Pit Bull Attacks website -- visually tracked on the California Fatal Pit Bull Maulings Map -- there have been 9 previous pit bull fatalities in this county, one stemming as far back as 1891.2
05/10/13: Mauling Victim Identified
The victim has been identified as Pamela Devitt, 63-years old, of Littlerock. On Thursday at about 9:30 am, Devitt was savagely attacked by up to four pit bulls she encountered while taking her morning walk. Tony Bell, spokesperson for LA County Supervisor Michael Antonovich, said Devitt "was dragged 50 yards, scalped and her arm removed. We've gotta do something about it; they're killing machines." Devitt died in an ambulance en route to the hospital. Bell also stated:
Supervisor Antonovich's office says this incident points out the need to change state law regarding the aggressive dogs to make communities safer.

"To ask state legislature to allow local government to pass their own ordinances, breed specific if you will. We're not talking about bans necessarily. We're talking enhanced enforcement on pit bulls and the owners," Bell said.
Currently, California municipalities are prohibited from declaring a specific dog breed "dangerous" or "vicious," as well as banning a dog breed. Municipalities are limited to breed-specific regulation of the spay/neuter status of a dog. The ordinances on the California breed-specific laws page reflect this limitation. Prior to the ability to regulate the spay/neuter status of specific dog breeds (2005), California was a full anti-BSL state, disallowing all forms of breed-specific regulation.3
The six seized pit bulls remain in quarantine. Authorities are conducting DNA tests to determine if the dogs were involved in Devitt's mauling death. Evelina Villa, a spokeswoman for the county Department of Animal Care and Control, said the owner of the pit bulls had previously been cited because at least one of his dogs had attacked a horse. The 29-year old owner, identified as Alex Jackson, was arrested yesterday on unrelated charges for suspicion of cultivating marijuana.
05/09/13: Investigation Continues
Tweets from Captain Mike Parker of the Los Angeles County Sheriff's Department along with the Palmdale Sherifff's Station Facebook Page help clarify developing events. Eight dogs were taken into custody on the 37000 block of 115th Street. Six of the dogs were pit bulls, the other two were mixed. The owner of the dogs was arrested for cultivation of marijuana. The correct location of where the mauling victim was found is 116th Street East and Avenue S, Littlerock, California.
It is still not known if the seized dogs are responsible for the woman's death.
05/09/13: Dogs Seized from Home
NBC Los Angeles updated their article reporting that at least four dogs were taken from a home near the mauling site after deputies served a search warrant after 5 pm Pacific Time. Women at the home were reportedly "screaming as the dogs were taken away" and two men appeared to be in custody in the back of the patrol car, according to the article. Seizing the dogs4 comes hours after an active ground and air search effort and county authorities offering a $25,000 reward for:
"Information leading to the capture of the 4 killer pit bulls."
05/09/13: Woman Killed by Pit Bulls
Littlerock, CA - In a developing story, a woman was fatally mauled by pit bulls while out for a walk Thursday morning in the Antelope Valley. Los Angeles County Sheriff's Department and animal control responded to the call of a fatal pit bull attack at about 9:30 am. The victim, a 63-year old Hispanic woman, was out for her morning walk on Avenue S near 110th Street East when the dogs attacked. Deputies shot at the dogs, which sent them scattering into the dessert.
A witness saw the attack and began honking her horn to try to scare the dogs away. Instead, the four pit bulls tried to attack the witness's car -- specifically trying to puncture the car's tires. County officials continue air and ground searches trying to locate the pit bulls. Los Angeles County Supervisor Michael Antonovich offered a $25,000 reward for information leading to their capture. The woman suffered severe injuries and died en route to the hospital.
View the DogsBite.org Google Map:
California Fatal Pit Bull Maulings
.
1
These dog owners also put the attacking dog down to evade the "potentially dangerous" designation. Why not? A new crop of pit bulls has no paper trail -- it's a clean slate for new attacks without accountability. It is true in this case that prosecutors are using Jackson's past vicious dog ownership against him. We hope this is a trend that sticks!
2
The article also contains erroneous data about the number of pit bulls euthanized in Denver since its 1989 pit bull ban. In 2009, Animal People reported on the effect of breed-specific laws on pit bull euthanasia rates. Denver's annual average is 275 versus Los Angeles with 13,000. This is not rocket science. After a pit bull ban is enacted, the population of pit bulls dramatically decreases over time, thus the pit bull killing rate decreases as well.
3
The statewide preemptive anti-BSL measure was passed by the California legislature in 1989.
4
The article did not explicitly state that the seized dogs were the culprits.
Related articles: 
04/13/13: 2013 Dog Bite Fatality: Stockton Woman Killed by a 'Big, Nasty Pit Bull'
12/14/12: 2012 Dog Bite Fatality: Fresno County Man Mauled to Death by Pack of Pit Bulls
12/07/12: 2012 Dog Bite Fatality: San Diego County Woman Killed by Pack of American Bulldogs