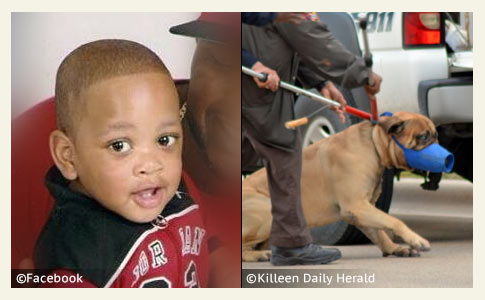 Raymane Robinson Jr., 2-years old, was killed by a bullmastiff in Killeen, Texas.
No Criminal Charges
UPDATE 04/06/14: The parents of a 2-year old boy killed by a loose bullmastiff hope their son's death encourages officials to change state law regarding vicious dog attacks. Currently, if the animal does not have a history of previous attacks or documented previous aggression, criminal charges cannot be filed. On March 1, 2014 a bullmastiff charged out of its owner's garage and attacked two children walking down a residential street, severely injuring one and killing the other.
The dog could have killed both children during its rampage (more had they been in the vicinity) and there still would be no criminal charges under these circumstances -- not even misdemeanor fines for multiple vicious attacks. At the very least, the owner or caretaker should have been fined $4,000 (Class A misdemeanor maximum) for each attack resulting in serious bodily injury, along with facing up to 2-years in jail. Instead, the caretaker was issued a $164 "dog at large" fine.
The Robinson family has launched a dog violence prevention website at noviciousdogs.com.
View Extended interview with Angela Robinson
03/05/14: Mauling Victim Identified
The victim of the latest Texas fatal dog attack has been identified as 2-year old Raymane Camari Robinson, Jr. Preliminary autopsy results show the cause of death as penetrating and blunt force injuries. Last Saturday, Robinson and an 8-year old girl were walking on a sidewalk in a Killeen residential neighborhood when a bullmastiff flew out of its owner's garage and violently attacked them. Robinson did not survive his injuries; the other child was hospitalized with serious injuries.
03/02/14: Neighbors Respond to Attack
Three people, ages 18, 8 and 2-years old were walking back from a park on the sidewalk Saturday afternoon when a bullmastiff ran out of its owner's garage and attacked. Killeen police were called out to the 4100 block of Pennington Avenue regarding gunshots being fired. While en route, they were told a dog had attacked several children. The 8-year old girl was the first target and victim of the dog. As neighbors pulled the large animal off of her, the dog next attacked the 2-year old boy.
Police said the child was dragged down the sidewalk until one neighbor fired off rounds to scare the dog away. The animal fled back into the garage after the gunfire. The Coon family, who lives next door and have two children of their own, said it could have been their own. "We were in the backyard at the time when it happened. Any normal day we would be out in the street; it would be my 2-year old and 7-year old and they're out every single day on the street," said Neil Coon.
Mildred Lubina, who lives right in front of where the attack happened, is a nurse. She ran out to help the victims. She saw the injured boy and began administering CPR. "The child started to breathe, but blood was coming out," said Lubina. "Looking at the child, I felt so bad for the helpless child," said Lubina. The boy was rushed to Darnell Army Medical Center in critical condition, but did not survive. As of Sunday afternoon, the 8-year old girl is in stable condition.
Neighbors told Fox 7 News that the dog's owner was out of town at the time and that the massive brute that killed one child and seriously injured another was "being watched by his mother."
Misinformed Texas Media
Fox 7, along with too many other Texas media groups, once again failed to get the Texas felony dog attack law (also called Lillian's Law) correct. The root of the confusion may also be Killeen or Bell County officials. If the latter is true, we invite both to look at the track record of Travis County, who continues to successfully prosecute under the state law. Lillian's Law only applies to loose dog attacks where knowledge of prior viciousness can be proven beyond a reasonable doubt.
Sec. 822.005.  ATTACK BY DOG.  (a)  A person commits an offense if the person is the owner of a dog and the person:

(1)  with criminal negligence, as defined by Section 6.03, Penal Code, fails to secure the dog and the dog makes an unprovoked attack on another person that occurs at a location other than the owner's real property or in or on the owner's motor vehicle or boat and that causes serious bodily injury, as defined by Section 1.07, Penal Code, or death to the other person; or

(2)  knows the dog is a dangerous dog by learning in a manner described by Section 822.042(g) that the person is the owner of a dangerous dog, and the dangerous dog makes an unprovoked attack on another person that occurs at a location other than a secure enclosure in which the dog is restrained in accordance with Subchapter D and that causes serious bodily injury, as defined by Section 822.001, or death to the other person.

(b)  An offense under this section is a felony of the third degree unless the attack causes death, in which event the offense is a felony of the second degree.
Learn more about Lillian's Law at DogBiteLaw.com.
03/01/14: Dog Kills Child, Injures Another
Killeen, TX - In a developing story, yet another monster bullmastiff attacked and killed one child and seriously injured another in a different part of the country today. Killeen Police said a 2-year old boy died from injuries inflicted by the dog and an 8-year old girl is currently in critical condition at Carl R. Darnell Army Medical Center due to injuries inflicted by the animal. The attacks occurred in a neighborhood near Iduma Elementary School at about 5:00 pm on Saturday afternoon.
The Killeen Daily Herald interviewed Carroll Smith, a Killeen Police Department Public Affairs Officer, in this related video. At the time of the attack, at least three people were walking by a home, ages 18, 8 and 2-years old, when the bullmastiff (unrelated to the victims) escaped its owner's property and attacked the 8-year old girl. People were able to pull the dog off of her. The animal then turned on the 2-year old, latching on to him, dragging him, ultimately killing the boy.
This is the second fatal dog mauling of a child in Bell County, Texas in under 15 days.
---
Join Texas Dog Bite Victims' Advocacy - Join our Texas email list to stay informed
Related articles:
02/19/14: 2014 Dog Bite Fatality: Texas Toddler Killed by Pit Bull Being 'Watched' by Her Family
03/20/13: Report: Texas Dog Bite Fatalities, January 1, 2005 to February 17, 2013
09/02/09: Grandmother and Mother Charged in 2007 Dog Mauling Death of Killeen, Texas Boy
Photo: The Killeen Daily Herald