Pit Bull Owner Convicted in Mauling Deaths of Two Men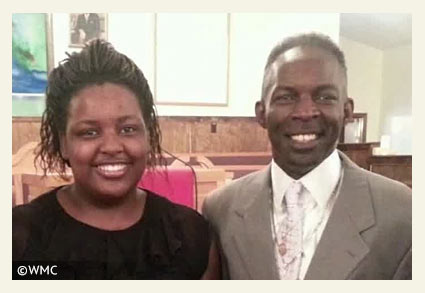 One victim, David Glass Sr., standing with his daughter Marietta Glass.
15 Years in Jail
UPDATE 03/08/18: A man will spend 15 years in prison after this pack of pit bulls killed two grown men in 2014. Eric Hodges, 35 of Lamar, was found guilty on two counts of manslaughter in February for the deaths of Derrick Sanders, 45, and David Glass Sr., 50. Sanders was found dead in a ditch off Highway 7 with grisly injuries on July 4. Glass was also found in a ditch with mauling injuries in September. He was airlifted to Regional One Medical Center in Memphis where he died.
The Benton County Sheriff's Office initially believed Sanders' dog mauling death was a homicide. When Glass was discovered under similar conditions 2.5 months later, they connected the two deaths to Hodges pit bulls that he turned loose to roam at night. Thursday morning in Ashland, a judge handed down a 20-year sentence with five years suspended on each count and ordered Hodges to serve the sentences concurrently. Eric Hodges will spend 15 years in a state prison.
---
02/22/18: Double Pit Bull Homicide
A Lamar man has been convicted in the deaths of two people killed by his pit bulls. Eric Hodges, 35, was found guilty of two counts of manslaughter. Hodges will be sentenced on March 8. In September 2014, up to six of Hodges' pit bulls killed David Glass Sr., who was found critically injured lying in a ditch. Glass died the next day. Derrick Sanders, 45, was found lying in a ditch in the same area with similar injuries on July 4, 2014, but he was already dead when discovered.
At that time, the Benton County Sheriff's Office said they were investigating Sanders' death as a homicide, not a dog mauling.
After learning of Sander's death in September 2014, we kept notes of both crime scene and injury descriptions. Glass was "chewed up pretty bad, marks all over him, left ear torn off, clothes torn off, shoes torn off," said AA "Arnie" McMullen, the sheriff of Benton County. Sanders' "throat was split. He has a wide cut by the neck. He was shot several times. They cut his ear off. They beat him badly," his sister said ... "they also saw his clothing scattered across their front yard."
What was eerily similar to us then -- identical deaths occurring two months apart in the tiny community of Lamar, Mississippi -- did turn out to be two separate fatal pit bull maulings inflicted by the same dogs. Hodges was found guilty of two counts of manslaughter in connection to the deaths of David Glass and Derrick Sanders. It has taken four years for this case to come to trial. Investigators must have matched DNA from one of the pit bulls to Sanders' body or clothing.
The location of both fatal pit bull attacks occurred at the intersection of Highway 7 and Sexton Road. News footage shows the same area for both fatal dog maulings. Hodges' and his pit bulls lived very close by. Readers can see that the first fatal dog attack was mistaken by the Benton County Sheriff's Office and locals, initially, as a brutal murder and a "body dumping." But it was a canine homicide by Hodges' six pit bulls that he allowed to run loose in the community at night.
---
09/25/14: Ex-Wife Recounts Events
The South Reporter spoke with the victim's ex-wife, Patricia Glass. She said that David Glass Sr. visited her Friday night for a few hours. A friend picked him up at about 12:30 am. Glass was likely dropped off at Sexton Road and Highway 7, she said. Eric Hodges, the owner of the pit bulls, lives in the first house on one side of the intersection. Glass Sr. lived in the second house on the other side. Glass Sr. was found lying in a ditch opposite to Hodges' home just before dawn Saturday.
[Patricia Glass] said David Glass Sr. was severely bitten by the dogs. He apparently had protected his face with his hands, but had lost an ear, she said. Additionally, his arms were bitten multiple times and the main arteries in both arms were lacerated. He was also bitten multiple times on the legs and all over his body, she said. Patricia Glass, The South Reporter, September 25, 2014
Patricia said her ex-husband was friends with everyone along the road and the dogs likely knew him as well. Both she and Benton County Sheriff Arnie McMullen said it was common in the county for residents to walk from one house to another on the road at night. Patricia had been married to Glass Sr. for 19-years and the couple had three children together, Germaine, 19, Marietta, 22, and David Glass Jr., 24. "He was extremely loved and will be truly missed," she said.
09/22/14: Manslaughter Charges
The DJournal.com reports new information. David Glass Sr. was attacked by three pit bulls at about 1 am Saturday morning, according to the Benton County Sheriff's Office. He was found four hours later. Glass Sr. was able to give Sheriff Arnie McMullen an account of what happened. The attack occurred at Sexton Road and Highway 7 in Lamar. The owner of the pit bulls, Eric Hodges, was arrested and charged with culpable negligent manslaughter in connection to his death.
Glass Sr. died of his injuries Sunday afternoon after being airlifted to Regional Medical Center at Memphis in critical condition.
Later this afternoon, WMC Action News 5 provided more information. A passing driver discovered Glass Sr. in a ditch by his house covered in bite injuries. The victim had been lying there for up to four hours. Glass Sr. told investigators he was walking to a friend's grave before the attack. Authorities seized three loose pit bulls then went to the dog owner's home and seized three more pit bulls that were tied up. The dogs are undergoing tests to see which ones attacked Glass Sr.
The victim's family members still have many unanswered questions, but are currently still in shock, trying to come to grips with his mauling death. His son, David Glass Jr., drove up from Starkville to be with his father after being airlifted to a Memphis hospital. Family members thought he would survive. His daughter, Marietta Glass said, "It hasn't really set in that my dad's gone and I'll never, never get a chance to talk to him again." His shaken family is now preparing for his funeral.
Benton County currently has no leash law; the sheriff hopes to pass a new ordinance. The county should consider banning pit bulls all together, given their strategic location for dogfighting activities (a rural county 50-miles from Memphis) and the senseless horrific death of Glass Sr. that leaves behind three grieving children. Several Mississippi counties have already placed restrictions on pit bulls including, Bolivar County, Carroll County, Hinds County, Leflore County and Rankin County.
View Related video
09/21/14: Man Dies After Pit Bull Attack
Benton County, MS - In a developing story, WREG reports that a man who was attacked by a pack of dogs yesterday has died. David Glass1 was severely mauled by a pack of pit bulls in Benton County, Mississippi Saturday morning. The attack occurred off Highway 7. Glass was airlifted to Regional Medical Center in critical condition after the attack. Glass died Sunday afternoon. Benton County borders the Tennessee state line. No other news reports have so far been located online.
Major Dogfighting Bust in 2013

On Easter Sunday last year, law enforcement from multiple jurisdictions broke up a national dogfighting event in Benton County. The raid ended in gunfire, multiple arrests and the seizure of 26 dogs. A fight match was in progress when officers arrived to a crowd of about 200 spectators. Officers arrested over 50 people and called the bust one of the five largest dogfighting operations in the country. The location of the bust was about 6-miles northeast of Ashland off Highway 72.
The Benton County Sheriff's Office now must contend with a pack of pit bulls that killed a man.
View the DogsBite.org Google Map:
Mississippi Fatal Pit Bull Maulings
.
1
The first name of the victim was initially reported as Daniel.
Related articles:
04/10/14: 2014 Dog Bite Fatality: Pit Bulls Owned by Family Members Kill 3-Year Old...
03/03/11: 2011 Dog Bite Fatality: Pontotoc County Man Killed by Three Pit Bulls
06/26/10: 2010 Dog Bite Fatality: Terry Child, 5-years old, Killed by Neighbor's Pit Bull