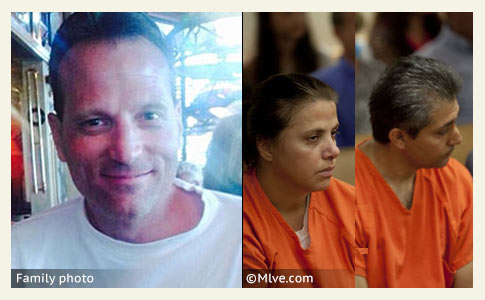 The owners of two cane corsos that killed a jogger are sentenced to prison time.
Couple Sentenced
UPDATE 07/14/15: Today a Lapeer County judge sentenced the owners of two cane corsos that mauled a jogger to death last year. Sebastiano Quagliata, 46, and his wife, Valbona Lucaj, 45, were sentenced to 57 months to 15 years in prison, which is just shy of 5-years behind bars. The couple's cane corsos had attacked two victims before fatally attacking Craig Systma, 46, on July 23, 2014 as he jogged down a rural road. The two may face deportation upon release from jail.
The couple was originally charged with second-degree murder and harboring a dangerous animal causing death. In April, both defendants pleaded no-contest to the lesser charge of harboring a dangerous animal causing death, a 15-year felony. At that time, Lapeer County Prosecutor Tim Turkelson predicted a sentence of 19 to 38 months. The sentence that Judge Nick Holowka handed down today was much higher. Both defendants have already served nearly a year in jail.
"This court cannot imagine a death more miserable or gruesome than suffered by the victim Mr. Sytsma." - Lapeer County Chief Circuit Judge Nick Holowka
Before sentencing, both defendants apologized to the court and Craig's parents, Richard and Jacqui Sytsma, gave emotional victims' impact statements. "This has been a tragedy for all of us," Jacqui said, struggling through tears. "But we have to be accountable for what happened ... this was the third time the dogs had been involved in something like this. And the third time the dogs took a life," she said. Her husband Richard told the court, "This could have been prevented."
Currently, Craig's parents are trying to advance legislation that will prevent a similar tragedy from ever happening to someone else. They hope to see the legislation re-introduced this summer.
04/24/15: Plea Deal Reached, Trial Averted
Both defendants charged with second-degree murder in the horrific dog mauling death of Craig Sytsma last July have accepted a plea agreement. On Friday, Sebastiano Quagliata and Valbona Lucaj pleaded no contest to harboring a dangerous animal causing death, a charge that carries up to 15-years in prison. A second-degree murder conviction by a jury carried a life in prison possibility. Lapeer County Prosecutor Tim Turkelson predicts a sentence of 19 to 38 months.
The husband and wife were charged with second-degree murder after their two cane corsos brutally killed 46-year old Craig Sytsma who was jogging on a road near their Metamora home on July 23, 2014. The dogs had a history of previous attacks and escaping their pen. Turkelson said that after an evidentiary hearing last week, some evidence could not be used. "[The rulings] made it more complicated," he said. "It made it, quite frankly, a less strong second-degree murder case."
"I think that we had a solid second-degree murder case. Once, however, the judge made some of the evidentiary rulings, that the court made, it made it more complicated. It made it, quite frankly, a less strong second-degree murder case. That's why we felt that the appropriate resolution was a plea to count two. That would ensure that they would take responsibility for what they did to Craig and also ensure they went to prison. We felt that was the most appropriate resolution under the circumstances. We discussed this with the victim's family. Ultimately they were in agreement with our decision. That's why we went forward today with that resolution." - Lapeer County Prosecutor Tim Turkelson
On Friday, the immigration status of the two was still murky. Mlive.com first reported that the two admitted they were illegal immigrants then removed this assertion from their headline.1 Reports that the couple was facing "imminent" deportation at the time of the attack arose about a week after Sytsma's death. Turkelson said that after sentencing, he would submit all information to U.S. Immigration and Customs Enforcement. Federal action could result, he said, including deportation.
Defense attorney Jason Malkiewicz has repeatedly stated that his clients are not illegal immigrants. In Friday's report from the Detroit Free Press, Malkiewicz said the two are "lawfully present in the U.S., they are just not citizens." Glenn Saltsman, the attorney representing the family of the victim, was quick to clarify however, "Because they don't have immigration status, they can be deported when their sentences are completed. That's a serious consequence."
The sentencing is scheduled for June 8. Sytsma's family is expected to speak at the hearing.
09/13/14: Couple Bound Over for Trial
At the end of the preliminary examination on Friday, Lapeer County District Judge Laura Barnard ordered the couple bound over to face trial in a circuit county court. Sebastiano Quagliata and Valbona Lucaj will stand trial for second-degree murder and harboring a dangerous animal causing death after their two cane corsos viciously attacked and killed a jogger on July 23. The couple will be arraigned on September 22. The bond for each defendant remains at $500,000.
Prosecutors showed through witness testimony and evidence that the couple knew the dogs were dangerous and could attack or kill. They also showed that the owners knew the dogs had a habit of escaping their pen. On Friday, Lapeer County Sheriff's Detective Sgt. Jason Parks testified that Quagliata told him after the death of Craig Sytsma that his dogs had escaped their pen numerous times. Judge Barnard clearly believed the two had knowledge their dogs were dangerous animals.
"This is a very difficult situation for everyone for involved. Each of the parties did create a high risk of death by their behavior or lack of behavior." - Lapeer County District Judge Laura Barnard
Animal Control Testimony
The defense called Lapeer County Animal Control Chief Carla Frantz to testify about her knowledge of the two previous attacks in 2012 and 2013. The defense asked why the dogs were not taken away then? Frantz testified that she did the investigation in 2012 and another officer investigated the 2013 biting incident. "It was a year-and-a-half between bites," Frantz said. "There were no other complaints." She added that at that time, the owners were "very cooperative."
DogsBite.org interjects here by adding: Of course the owners were cooperative, they wanted to get their papered, breeding cane corsos back. Were Quagliata and Lucaj cooperative with the victims too? Since both victims filed civil lawsuits against them, we presume they were not. Recall that Quagliata also pleaded with the second victim, "don't call the cops" and offered him a financial bribe. Neither of the pair showed up for a court hearing involving the 2013 bite victim either.
The Detroit Free Press has additional information about testimony given by Frantz. She testified that "her department had no record-keeping method to keep track of dogs that repeatedly bite people," according to the Free Press. Despite two separate biting incidents, apparently because they were 1.5 years apart, Frantz saw no reason to pursue a dangerous dog designation. Then Frantz whips herself into a contradiction that defense will surely use during the actual trial.
When she heard about the fatal mauling on July 23, she testified, "I knew of the address. I was not really surprised because of the breed of the dogs." - Lapeer County Animal Control Chief Carla Frantz
DogsBite.org understands that wires get crossed, particularly when an agency, operating like a third world country, had "no record-keeping method" to track repeat biters. We wish we could see the transcript of this hearing to better evaluate the context of Frantz's testimony. Given these limitations, it appears Frantz had no concern after the second bite or lacked knowledge of it.2 But after learning of the fatal attack, Frantz quickly connected these dogs to it due to their breed.
Animal Control Breakdown
While animal control officers often have their hands tied due to poor local, county or state laws, there is no question that many fatal and serious dog attacks are the result of negligence on the part of animal control (difficult to prove in court, however, see: piercing governmental immunity). It is important to point out that early on in this case, the animal control agency in the neighboring county of Oakland said they would have asked for a review by prosecutors after the second bite.
Lapeer County Prosecutor Tim Turkelson says his office was never notified of vicious dogs biting pedestrians and roaming free in Metamora Township and would have taken action before two of those dogs killed a jogger last week.

"Unfortunately, there were red flags all over the place," Turkelson said in a phone interview this morning. Had his office been notified by Lapeer County Animal Control of repeated attacks, he said, he would have taken action to have the dogs destroyed.
--- snip ---

At that point [after the second bite] animal control officers could have taken the matter to the prosecutor, arguing a pattern of dangerous behavior. "They never notified us," Turkelson said. - Lapeer County Prosecutor Tim Turkelson, July 29, Detroit Free Press
09/04/14: Police Reports Released
Lapeer, MI - On July 23, Craig Sytsma was brutally killed by two cane corsos with a history of aggression while jogging on a rural Metamora Township road. The dogs' owners, Sebastiano Quagliata and Valbona Lucaj, were subsequently charged with second-degree murder and possessing an animal causing death. A preliminary examination has been unfolding to determine if there is enough evidence for the couple to stand trial. Testimony continues on September 12.
The examination began with testimony from the couple's veterinarian on August 15. Shelley Wallace examined two adult cane corsos owned by the pair three months before Sytsma's death. She testified that she found both dogs to be "aggressive" and "dangerous" and warned their owners that they needed to seek help from an animal behaviorist. It took three people to pin each dog, both muzzled, against a wall for her to perform a 15-second exam due to their aggression.
After two separate examinations of dogs Toni and Princess, Wallace talked with owner Valbona Lucaj about the dogs' aggression.

I told the owner I felt the dogs were very aggressive and may be dangerous," she said during a preliminary examination in Lapeer County District Court for Lucaj, a native of Albania, and her husband Sebastiano Quagliata, a native of Italy. - Shelley Wallace, veterinarian, Mlive.com, August 15, 2014
The two adult cane corsos that Wallace examined that day were Toni and Princess. It was Toni and Julia, however, that attacked and killed Craig Sytsma. The couple owned three adult cane corsos, a 4-month old and seven cane corso young puppies. The three adults were euthanized and the eight remaining dogs were shipped to a rescue in Austin, Texas. According to prosecutors, each papered cane corso was sterilized before being shipped to this out-of-state jurisdiction.3
If readers recall, at the time of Sytsma's death, Quagliata and Lucaj were attempting to sell the young puppies on Hoobly.com. Along with advertising the puppies for sale, the couple included the International Cane Corso Federation (ICCF) papers of the sire and dam: Toni (born April 26, 2013) and Julia (born December 31, 2010). According to testimony by Wallace, at the ripe age of 1-year old, she ranked Toni a whopping 9.5 on a scale of 10 in his aggression; she ranked Princess 9.
View a photograph of the defendants' three adult cane corsos (DogsBite.org added the names).
At the time of the April 2014 veterinary examination, one or more of these dogs had already attacked two people on the same rural Metamora Township road. April Smith, 25 of Oxford, was attacked in May 2012 and resident Jim Salego, 73, was attacked in November 2013. Both filed civil lawsuits. Lucaj did not reveal to Wallace during the 2014 examination either of these prior biting incidents. Wallace noted in the files of both dogs, "DWB," which stands for "Dogs Will Bite."
Testimony by Neighbors & Victims
When neighbors Edward Elmer and his girlfriend, Helen Barwig, rushed to help Sytsma that day, the victim already knew that he was dying. Elmer testified, "At first I did not know what I was seeing. Then I realized it was the jogger with two dogs hanging from him." Elmer had waved to Sytsma only moments before when he saw him jogging as he mowed his lawn. He yelled to Barwig and ran and got a gun, firing once into the air and three times at the dogs. One shot hit.
Elmer's girlfriend, Helen Barwig, a trained EMT technician and first responder, ran to Sytsma to try to save him, applying a tourniquet to his shoulder and using paper towels to stop the bleeding. He was "pouring" blood, she said, and begging her to save him.

"Then he reached and grabbed my arm, and then he went limp," she testified.

Sytsma's family members wept quietly in the front row of the courtroom as she testified. - Detroit Free Press, Aug. 29, 2014
Both victims previously attacked by the cane corsos owned by the couple also testified. One of the dogs, presumably Julia, attacked April Smith on May 14, 2012 as she walked with her sister and her sister's dogs down Thomas Road. The dog began following them as they passed by the owner's home. The loose dog then attacked Smith, biting her three times. "It latched on and broke away all three times," she said. Smith sued the owners and was awarded a $20,000 judgment.
Dog Owner Offered Victim a Bribe
Jim Salego who was attacked on November 21, 2013 while walking along Thomas Road also testified. Salego told a packed courtroom that three of the large dogs came "flying down the hill," as fast as they could run. "They began to circle me," he said, "I had my stick going back and forth trying to get them off me." After he was bitten in the leg, Quagliata came out of the house and called his dogs off. "He said, 'Don't call the cops; I'll pay you money,'" Salego recalled.
Salego ignored the bribe and instead whipped out his phone and dialed 911 and told him, "'Yes, I am calling police. I have blood running down my leg.'" Both Quagliata and Lucaj are currently under investigation by U.S. federal officials after Lucaj paid a $3,000 bribe to an immigration officer in 1997 to grant her asylum, according to federal court filings. At the time of Sytsma's death, the couple had been facing "imminent deportation." The couple's defense attorneys deny this.
Quagliata and Lucaj have separate defense attorneys in connection to the death of Sytsma. Lucaj and their three children were in Boston at the time of the fatal mauling. Lucaj still knew about the veterinarian's warning three months before his death and the previous bite victims in 2012 and 2013. Neither of the pair showed up for a court hearing involving the 2013 bite case either. For these reasons, and likely others, prosecutors chose to charge both with second-degree murder.
After the mauling death of Diane Whipple in 2001, prosecutors also charged a husband and wife pair, Robert Noel and Marjorie Knoller, even though Noel was not present when the dogs fatally attacked. A grand jury indicted Knoller for second-degree murder and indicted them both for involuntary manslaughter and felony charges of keeping a mischievous dog. A jury found the couple guilty on all charges in 2002. Knoller is currently serving her sentence in a state prison.
Testimony Resumes in September
Examination testimony resumes on September 12. Thus far, a significant amount of evidence has been presented that shows the dogs' owners had full knowledge of their dogs' viciousness. Does the evidence also succeed to show the couple had a wanton disregard for human life? Police records indicate that Quagliata also had full knowledge that his powerful dogs repeatedly dug out of their chain-link kennel. On the evening of Sytsma's death, Quagliata told sheriff's investigators:
"Quatliata stated that the dogs dig under the kennel and escape(ed)," the report stated. "Quatliata stated that this occurred numerous times prior (would not give a number when asked) and that was how they were escaping from the kennel." - Mlive.com, August 15, 2014
Lastly, at least one buyer of a puppy from Quagliata and Lucaj has testified so far. After Robert Pitcavage heard about the fatal attack, he contacted police. He purchased a puppy from the couple in July for $900. Just prior to paying, he said he wanted to meet the parents of the puppy. "I was really disturbed," he testified. "Walking up there I noticed the pen and the structure of the chain length fence was torn up." The dogs then attacked the cyclone fence as he stood there.
"It literally grabbed on the fence," he said. "I didn't realize the strength of their jaws." Poor naïve Pitcavage then testified that his dog -- presumably a 3 to 4-month old "puppy" -- is well-tempered and that his family has not had any issues with the dog. Yet, puppies are puppies and usually have no way of being adequately tested for aggression until they reach adulthood, which is at least 12-months old, preferably 18-months of age. Pitcavage is not out of the woods in our opinion!
1
This was not a small error, or perhaps more kindly, a small misunderstanding. A primary angle of the April 24, 2015 Mlive.com article (previous to revisions) was their immigration status. The former title of the article was, "Illegal immigrants reach plea deal in dog-mauling death of jogger in Lapeer County."
2
An ABC 12 news clip shows Frantze answering the question: "Is it safe to say that someone's dog could have bitten someone 6, 7, 8, 9 times and Lapeer County Animal Control would not have knowledge of the previous bites if a different officer handled it?" Frantze states, "Correct." Such arcane practices by animal control agencies are inexcusable. Then to use this poor record keeping as a "defense" after a person is mauled to death, holy wow!
3
Cane Corso Rescue Inc.
Related articles:
08/02/14: 2014 Dog Bite Fatality: Two Cane Corsos Brutally Attack and Kill Jogger in Metamora