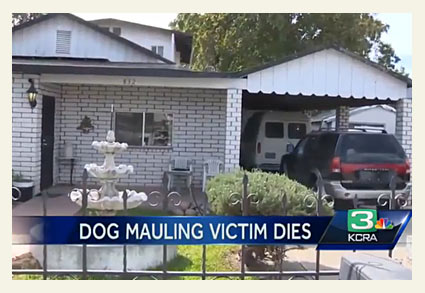 Juan Fernandez, 54, was savagely killed by his neighbor's pack of pit bulls.
Survivor Recounts Attack archived
UPDATE 11/04/14: Maria Fernandez, 77, was initially treated in an intensive care unit for multiple traumatic injuries after four pit bulls belonging to her next-door neighbor viciously attacked her and her son. Maria is now recovering at Evergreen Nursing and Rehabilitation Care. Among other injuries, both of her hands were broken during the attack and her right leg was broken below the knee. Her son, Juan Fernandez, 54, suffered so many critical injuries that he did not survive.
Maria told The Modesto Bee the dogs had come onto her property two or three times in the past after digging a hole between the yards. Each time, the animals were returned to the neighboring property and the neighbors patched up the fence. The dogs often barked at them, Maria said. She was afraid of the animals. She said that both she and her son were inside on October 14 when Juan saw the pit bulls in their yard again. He went outside and she soon heard him shouting.
The dogs were attacking him. She grabbed a broom and rushed outside. The pack of pit bulls then turned their attention on her, knocking her to the ground. "I put my arms over my face, and they were biting my arms," Maria said. She was able to get to her feet with her son's help. The dogs then resumed their vicious attack on Juan, which ended in his death the next day. Maria was able to get back into her home and collapse on the couch, one leg bleeding from a serious wound.
"I try not to think about it. Sometimes it gets into my mind, and I try to get it out of my mind." - Maria Fernandez said of the attack
Two family members said the owners of the pit bulls moved away after the attack.1 Her sister, Guadalupe Vela of Mercedes, Texas, took a bus 1,900 miles from south Texas to Modesto upon learning of the attack, where another sister joined her. The two have been raising funds to pay for Juan Fernandez's funeral and burial. So far family members have raised about $1,000 by placing donation cans at businesses and flea markets. They still need to raise about $2,600 more.
11/01/14: Bold Local Editorial: Bring Charges archived
The Modesto Bee published a powerful editorial about this horrific fatal dog attack on Friday (Pit bulls can be deadly; hold owners accountable). On October 14, Juan Fernandez, 54-years old, and his mother, Maria Fernandez, 77-years old, were savagely mauled in their own yard by a pack of pit bulls owned by their neighbor. Juan did not survive his traumatic injuries, it is a miracle that his mother did. The Modesto Bee editors believe the deadly attack warrants criminal charges.
"Four pit bulls equal danger," said attorney Kenneth M. Phillips, the leading California attorney in dog-bite cases. "When you have a dangerous condition, you have to take steps to correct it."
The editorial questions the bizarre lack of laws to prosecute owners of uncontrolled recognized dangerous dog breeds. "A rolling car, an exploding gas can, a random gunshot all would likely result in charges. Why not death by dogs?" states the editorial. It adds, "Where is the justice if a death is insufficient for charging the owner of four pit bulls -- a breed known for its violent attacks on humans and other animals?" These are excellent questions that lawmakers need to answer.
The editorial also questions the sanity of "pit bull glorifying" TV shows. "Some people, unable to own a gun, get a pit bull. You can watch them on the TV show 'Pit Bulls and Parolees' on Animal Planet," states the editorial. Renowned dog bite attorney Kenneth Phillips, who is featured in the editorial, adds, "You've got this whole bunch of people not allowed to carry weapons so they arm themselves with pit bulls and somehow this has turned into a TV series to glorify them."
The editorial asks that lawmakers "step up and fix" antiquated county and state laws that fail to hold a dog owner responsible, in this case after killing one person and critically injuring another. Some suggestions include: alarming their fences, "just as gates in fences around swimming pools are alarmed" or requiring owners of aggressive breeds to double fence their property or, at the very least, require people who own these kinds of dogs to carry significant liability coverage.
Finally, the editorial sees through the nonsense of pit bull devotees, who never offer solutions beyond, "loving away the ferocity of these aggressive breeds." The carnage is piling up and has been for over 30-years. Excuses for lawmakers are running thin. Many states can't even criminally prosecute the most egregious attacks involving loose aggressive breeds killing an innocent person who is on the their own property, as this case and the death of Klonda Richey in Ohio shows.
10/21/14: Mauling Survivor is Improving
On Monday, The Modesto Bee reported the first update on the medical condition of 77-year old Maria Fernandez. She was placed into a medically induced coma after four pit bulls belonging to her neighbor critically injured her and mauled her son to death last week. Maria has been transferred out of the intensive care unit and is expected to survive, according to Stanislaus County Sheriff Adam Christianson. She remains hospitalized, but is now listed in stable condition.
An autopsy conducted Monday on her son, 54-year old Juan Fernandez, determined that he died from massive blood loss when he was attacked by four pit bulls on October 14 at his Glenn Avenue home. He suffered multiple traumatic injuries and died the next day. Due to the extent of his injuries, the pathologist could not determine how many bites had been inflicted, according to Detective Josh Sandoval. Arriving Stanislaus County deputies shot and killed all four pit bulls.
The investigation continues with conflicting media reports. Sandoval states in The Modesto Bee article, "Evidence at the scene shows that both victims were present in the backyard; however, there were no eyewitnesses to how the attack began." Deputies found Juan Fernandez unconscious and unresponsive in the backyard of his home. While searching his home, they discovered his mother inside with "multiple traumatic bite wounds," also attacked by the dogs.2
Sheriff "Braces" Public for Inexplicable
Since last week, Sheriff Christianson has been "bracing" media members and the public with the inexplicable reality that criminal charges are unlikely. It appears in Stanislaus County one can own four pit bulls that escape their fenced property, maul a man to death in his own backyard, then in a vicious "home-invasion" attack, nearly maul to his mother to death too. We pray that Maria, now out of a medically induced coma, can provide sheriffs officials with crucial background details.
"We certainly want to hold someone criminally accountable for this tragedy. Unfortunately, the harsh reality is that in order to charge a criminal act, there has to be a provable act of negligence. If we're unable to prove that the dog owner was negligent in some form or fashion, there's no way we'll be able to present a prosecutable case to the district attorney." - Stanislaus County Sheriff Adam Christianson
The sheriff's answer suffices after a 1984 fatal pack attack, but fails miserably 30-years later and 315 dead Americans later, all killed by pit bulls. Attorney Kenneth Phillips stated last week, "There is definitely a criminal angle. You have four pit bulls, pit bulls are known to be dangerous, dogs in a pack are known to be dangerous and it's illegal for them to be out. This would be like owning four loaded guns, and if you have four loaded guns, you don't leave them out, you lock them up."3
10/15/14: Dog Mauling Victim Identified
The 54-year old victim has been identified.4 Juan Fernandez of Modesto died of multiple traumatic injuries inflicted by the dogs, authorities said Wednesday. His mother, 77-year old Maria Fernandez, remains in critical condition in a medically induced coma. The four pit bulls belonged to the victims' neighbors and got into the victims' yard by digging a hole under a shared fence, according to Stanislaus County Sheriff Adam Christianson. The owners could face charges.
In order to pursue criminal charges, Christianson said authorities would have to show that the owners of the pit bulls were negligent. "There is still a lot of work to do," he said. "We have to be able to finish the investigation to determine what happened that led up to this tragedy," Christianson said. Investigators will be looking to see whether the dogs had a history of vicious behavior or any contact with animal control prior to the attack concerning bites or vicious behavior.
Similar Circumstances, Dog Owners Charged
In 2011, San Diego County authorities criminally charged a mother and daughter after their two pit bulls crawled through a hole in the fence and brutally mauled their neighbor, 75-year old Emako Mendoza. The victim suffered catastrophic injuries requiring multiple surgeries and two amputations, and arm and a leg. Alba Cornelio and her daughter, Carla Cornelio, were charged with serious bodily injury from a mischievous animal, a felony, along with multiple misdemeanors.
Six months later, on Christmas Eve, Emako died. A few weeks before her death, she underwent a third amputation, her remaining leg, due infection within the bone. Prosecutors increased charges to involuntary manslaughter, death from a mischievous animal and multiple misdemeanors. In February 2013, a jury found both women guilty on all charges. Carla Cornelio, 21, was sentenced to 4-years in prison. Her mother Alba Cornelio died of medical issues prior to being sentenced.
10/15/14: Man Dies After Pit Bull Attack
Modesto, CA - In a developing story, a 54-year old man horrifically mauled by pit bulls Tuesday night has died from his injuries, according to sheriff's officials. The man's 77-year old mother, who was also violently attacked by the dogs, remains in critical condition at Doctors Medical Center in Modesto. At this time sheriff's investigators are still trying to learn who owns the four pit bulls that were involved in the mauling, according to Stanislaus County Sheriff Adam Christianson.


On Tuesday at about 5:45 pm, deputies responded to a home on the 800 block of Glenn Avenue. The location is very close to Bret Harte Elementary School. Deputies arrived to three pit bulls mauling a man in the backyard; the fourth pit bull was circling the vicious attack. They shot and killed two of the pit bulls immediately then later shot the other two as well. Deputies found the injured female victim inside the house; she had also been attacked by the same pit bulls.
Sheriff Adam Christianson told CBS San Francisco, "We've seen bites involving pit bulls before. But never four dogs on a single human being to the point that the victim in this case was unconscious and unresponsive." Christianson said the dogs were from the neighborhood, but the identities of the owner(s) is still undetermined. Neighbors said they had seen the dogs loose in the area before. The investigation is ongoing. The names of the victims have not been released.
View the DogsBite.org Google Map:
California Fatal Pit Bull Maulings
.
1
Moved or fled the country? The latter would not be the first time after a serious or fatal dog attack. Yet another reason to arrest the dog's owner as soon as possible after an attack of these circumstances.
2
Sheriff Christianson said last week, "She was attacked inside the residence, so we're trying to piece together all the facts and circumstances..." Also, there were witnesses when the pit bulls brutally mauled her son.
3
A fatal pack attack involving four at large pit bulls -- or other recognized dangerous dog breed -- should be sufficient in proving negligence.
4
The deceased victim's age is being reported as 54 and 59.
Related articles:
11/03/14: 2013 Dog Bite Fatality: Antelope Valley Woman Mauled to Death by Pit Bulls
11/22/13: 2013 Dog Bite Fatality: Stockton Woman Killed by a 'Big, Nasty Pit Bull'
09/25/13: 2013 Dog Bite Fatality: 2-Year Old Boy Killed by Relative's Pit Bulls in Colton
06/20/13: 2013 Dog Bite Fatality: Union City Boy, 6, Killed by Uncle's Pet Pit Bull
01/18/12: 2011 Dog Bite Fatality: Victim of Catastrophic Pit Bull Injury Dies on Christmas Eve