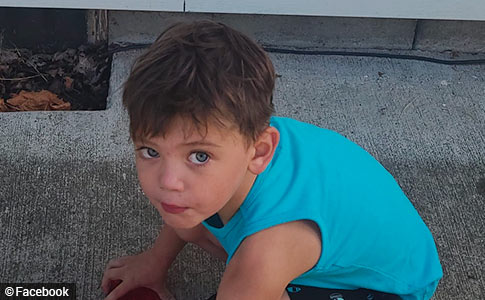 Colton Kline, 4, was killed by a family dog in northeast Spokane, Washington.
Dog Owner Jailed
UPDATE 11/18/23: The owner of the pit bull that killed Colton Kline on Halloween is in jail after violating a court order. Dustin Block, 48-years old, appeared in a Spokane Superior Court Friday. In May of 2021, Block was arrested for possessing child pornography and voyeurism. According to court documents, Block's girlfriend at that time, discovered hundreds of pornographic photographs and videos on Block's computer. Police investigators determined that 14 photographs depicted minors.
When the dog attacked, Colton was with his grandmother inside Block's home -- the two are dating. She told police that Colton would stay at the home every other week. But Block was under a no-contact order for minors. If Block had followed that order, Colton would never have been in his home. Block was released without bond in 2021 and is awaiting trial. "Had he not been there that night, he wouldn't have been attacked by that dog, and presumably would still be alive," the prosecutor said.
While Spokane police officers were at the scene of the fatal attack, they observed Block behaving  extremely intoxicated. They observed him slurring words; and he was unable to stand. Block admitted to the officers that he was drinking wine when his pit bull violently attacked Colton. Prosecutors argued that the court should impose a $50,000 bond. But the judge set the bond higher at $100,000. Block is set to go on trial for the possession of child pornography and voyeurism next month.
KHQ reports the timeline differently. According to their review of court documents (that are not viewable to the public), the thumb drive of images depicting minors was found in Block's home in 2021. The allegations of what took place in the photographs occurred in 2015 with a victim who was 15-years old at the time. Block was first given the no-contact order this summer, not in 2021. It remains unclear if Colton's grandmother, who was dating Block, was aware of the no-contact order.
The Elephant in the Room
No information about the pit bull, or how or when Block acquired it was mentioned in the KREM report. The child's father posted in a Facebook comment that the pit bull had only been in the home for two months. Currently, our nonprofit has an outstanding Freedom of Information Request into Spokane Regional Animal Protection Service (SCRAPS), who took custody of the dog's carcass after the attack, in the hopes of learning which adoption or rescue agency, if any, Block acquired this dog from.
The history of Block is horrible -- the possession of child pornography. But a message, allegedly sent from the boy's grandmother to people on social media, indicate that even after she stabbed the dog, it repeatedly attacked the boy. "One lethal bite so strong I had to slit that dog's throat with a kitchen knife for him to release my sweet baby angel," she wrote. "I could not talk to 911 and fight the dog off because even after being stabbed, his throat cut, he came back to kill my baby 3 times," she wrote.
Colton was in the home of Block, who was violating a no-contact order with minors and was intoxicated at the time -- perfect! Colton was in the home of Block, who recently obtained a pit bull, a dog breed that has killed nearly 270 children since the 1980s -- perfect! Of course, Block wouldn't want a dachshund or beagle or 300 other non-pit bull breeds. Now, Colton is dead, the dog is dead, relatives are traumatized, and Block is heading into his criminal trial set for December -- perfect!
---
11/01/23: Family Pit bull Kills Child
Spokane, WA - A child is dead after being attacked by a family dog. Spokane police officers responded to a residence in the 900 block of East Walton Avenue at approximately 8:00 pm Tuesday. Upon arrival, officers discovered a child suffering life-threatening injuries by the family's dog. Officers "immediately began rendering aid," states a media release issued by Public Safety Communication Manager Julie Humphreys. The dog was severely injured by family members who intervened to save the child.
Child killed in fatal dog attack

On 10-31-23, just after 8PM, SPD responded to the report of an animal attack at a residence in the 900 block of E Walton Ave. Officers arrived and discovered a small child had been attacked by the family's dog. Officers immediately began rendering aid, and care was subsequently transferred to SFD and AMR. Despite the efforts of first responders, the child succumbed to their injuries.

Family members' valiant attempts to protect the child resulted in the dog being severely injured and beyond help, ultimately dictating that officers euthanize the animal on scene.

At this time, there does not appear to be any criminality involved in the incident, rather it appears this was a tragic accident. This incident occurred in a residence, and was not related to trick-or-treating activity.

Information of the victim will be released by the medical examiner's office at a later date. SCRAPS took custody of the dog's body. - Julie Humphreys, Public Safety Communication Manager
Officers euthanized the dog at the scene. Spokane Regional Animal Protection Service (SCRAPS) took custody of the deceased dog. The medical examiner's office will release the victim's identity at a future time. Roger Hammers, who lives next-door, told KHQ that a grandmother, grandfather and a 4-year old boy live in the home with a pit bull-mix. Roger is a nurse at a nursing home and was asked by the grandfather for help. Hammers witnessed the aftermath of the attack and the child's injuries.
"It was incredibly difficult to watch that little guy fight for his life ... There was a considerable amount of blood loss." - Roger Hammers
This boy's death marks the second fatal pit bull mauling in Washington state this year. Last month, in Kennewick, 65-year old Billene Cameron died after being attacked by two pit bulls that first attacked her pug "Diego." A neighbor witnessed the attack and climbed a 6-foot fence to help. He beat one of the pit bulls with his cane, allowing Cameron to escape inside her home. The second pit bull followed her into the home and continued the attack. No charges have been filed in connection to her death.
SCRAPS confirmed to KREM (in the video footage) the dog involved was a pit bull. A GoFundMe that identifies the child as Colton Kline has been created to help the boy's family with funeral costs. 
View the DogsBite.org Google State Map:
Washington Fatal Pit Bull Attacks
.
Related articles:
09/22/23: 2023 Dog Bite Fatality: Woman Dies After Vicious Attack by Two Pit Bulls in  Washington
01/20/21: Victim Shares Account of Vicious Pit Bull Attack at Seahurst Park in Burien, Washington
10/14/20: 2020 Dog Bite Fatality: Pit Bull Attacks Two Adults, Killing One, in Moses Lake, Washington
---
Baseline reporting requirements:
Law enforcement departments across the United States should release consistent "baseline" information to the media and the public after each fatal dog mauling,
including these items
.