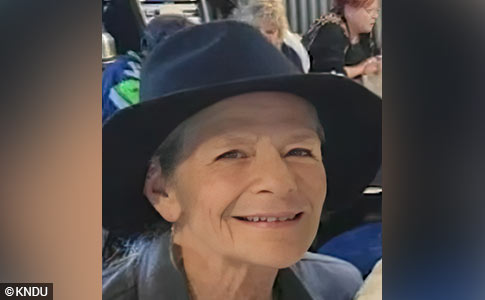 Billene "Billi" Cameron, 65, died after a vicious attack by two pit bulls in Kennewick.
Woman Dies After Mauling
Kennewick, WA - A 65-year old woman is dead after being mauled by two pit bulls that entered her home. The attack occurred on Wednesday, September 20, at about 2:00 pm at her residence in the 6600 hundred block of West Victoria Avenue. The Benton County Sheriff's Office responded to the scene and arrived in time to pull the dogs off her, reports the Tri-City Herald. She died on September 21 due to complications related to surgery at Kadlec Regional Medical Center in Richmond.
Audio dispatch log files from Tri-Cities Police and Fire located on Broadcastify.com state one of the dogs was outside while medical responders were en route. The "aggressive dog is still outside the residence," the dispatcher states. The victim's bleeding was not controlled, apparently. "It was mentioned trying to put on a tourniquet," the dispatcher states. "Significant bites to the legs and bleeding," the dispatcher states seconds later. By that point, a deputy was on the scene.
The victim, Billene "Billi" Cameron, and her husband, Dwayne Woodard, own a popular business. They and their son, Jackson, established Woody's BullPen Bar & Grille, a sports bar on the westside of Kennewick. Sheriff's Detective Sgt. Horacio Gonzalez said the dogs' owner has been identified. The investigation is active, but no arrests have been made. The dogs are being held by Benton County. The victim's daughter, Jordan, announced her mother's death on her Facebook page Thursday.
"It is with a heavy heart that I share the news of my Mom's passing early this morning September 21st. We're raising money for her end of life services. There will be a celebration of life planned. If you can help support in any way, not just monetarily, it would be greatly appreciated!" - Jordan Woodard
Jordan also organized a GoFundMe fundraiser to help pay the costs of her funeral and celebration of life services. "It is with a heavy heart that I bring the news my wonderful, amazing, kind, spunky mother passed away due to complications with a surgery at Kadlec Hospital on the early morning of September 21st." Jordan described her mother as, "Anyone who knows her knows that she was a light in her community and a pillar for those around her." The fund has so far raised over $9,000.
Dog-on-Dog Attack
A cousin of the victim, Vern Lampman Jr., said the attack occurred in her yard -- not inside her residence. As we initially suspected, it appears to have started as a dog-on-dog attack. Lampman states, "She gave her life rescuing her dog from the pit bulls." Under different circumstances, in March, Donald Gibson, 66, died after trying to break up a fight between his two rescue pit bulls in Tulsa, Oklahoma. Gibson had previously owned a popular burger joint, Ralph's Hot & Juicy Burgers.
Dog-on-Dog Attack Confirmed
Nearly a week after Cameron's death, Apple Valley News interviewed her daughter, Woodard, who thanked them afterward for telling the "full story with the correct facts." Woodard confirmed that Cameron ran outside to save her dog "Diego" from the pair of pit bulls. One of the pit bulls followed her inside and started attacking Cameron instead. She was rushed to a hospital, where the damage from the attack became more evident than initially thought. A blood clot ultimately stopped her heart.
Diego survived the incident. The case remains under investigation. The post in the Missing Pets Pasco-Kennewick-Richland Washington Facebook Group about one of the pit bulls involved has since been removed. The author of the post states in comments, "The two dogs involved in the incident are with the Benton County, WA Canine Shelter now. There is an ongoing investigation. Owner has been identified. Unfortunately, the lady that was attacked died from complications following surgery."
The Tri-City Herald reports on another Facebook post by Cameron's cousin. Lampman Jr., stated four days ago that Diego suffered serious injuries and internal organ damage, "The pit bull had the pug in his mouth and was shaking it." Cameron was able to get her dog away from the pit bull "and was severely attacked in the process." A neighbor saw the attack unfold and climbed a 6-foot fence to help. Lampman then shared details of the chilling account, of which police released nothing about.
"As of yesterday, Billi's pug was still alive. He has serious puncture wounds and some internal organ damage. The pit bull had the pug in his mouth and was shaking it. Billi managed to get her dog away from the pit bull and was severely attacked in the process. The neighbor behind her property saw what was happening and climbed over the 6' fence, falling in onto Billi's property. He used his cane to beat the pit bull which allowed Billi to escape into her house. The 2nd pit bull followed her into her house and continued the attack. In the meantime, the neighbor found a shovel and ran into the house. He used it to get the dog away from her. She then managed to get into her bathroom, closed the door, and called 911." - Vern Lampman Jr., September 24, 2023
---
View the DogsBite.org Google State Map:
Washington Fatal Pit Bull Attacks
.
Related articles:
03/24/23: 2023 Dog Bite Fatality: Man, 66, Killed by Rescue Pit Bull After Trying to Break up a Fight
03/11/21: Peer-Reviewed Study Examines Dog-on-Dog Attacks in the UK by Analyzing Media Articles
---
Baseline reporting requirements:
Law enforcement departments across the United States should release consistent "baseline" information to the media and the public after each fatal dog mauling,
including these items
.