Pit Bulls Seen Wearing Service Dog, ESA Vests on Social Media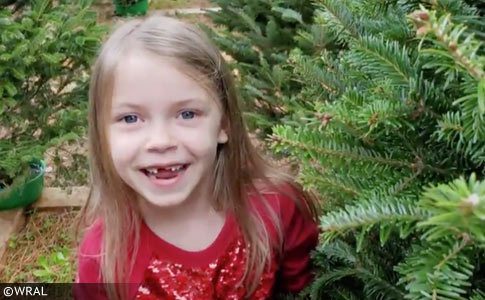 Jayden Henderson died and her mother was injured while caring for a neighbor's pit bulls.
Pit Bull Owners Identified
UPDATE 05/17/21: In a disturbing, but not unsurprising update, the owners of the pit bulls that killed Jayden and severely injured her mother on April 27 are trying to get their dogs back. On Monday, Joseph and Amanda White submitted an application for a permit to the Garner Police Department to declare the dogs dangerous and to allow the dogs to be returned to them. In the application the Whites stated, "This is out of nature for either dog to have hurt a human being."
One person commented on social media, "So you're telling me that they haven't put that dog down for killing a human being...a child at that. What kind of society are we living in?" Another person said, "Anybody who wants to get dogs like that back are truly sick!!! Seriously, mentally ill."
Notably, prior to the multi-victim attack, the Whites previously displayed these dogs on social media wearing fake "Emotional Support Animal" and "Service Dog" vests. Each dog also had its own Instagram page for its fan-base. Neither dog, however, had many fans. Athena, the fight bust dog, was following 109 people, but only 102 people followed back. Blitzen was following 128 and had a whopping 160 follow back -- this is after deliberate promotional efforts by the Whites.
In addition to Heather Trevaskis losing her precious daughter, she also continues to recover from severe bite injuries. "I have numbness and lack of function in some of my right hand and some of my left hand," she told WRAL News. Her longterm prognosis is uncertain. The news that the Whites are seeking to have their dogs returned to them, once again turned her world upside down. "I couldn't live with myself if something else happened to somebody else," Trevaskis said.
Neighbors Petition Council
After WRAL published that Joseph and Amanda White are seeking to have their two pit bulls returned to them, residents in their neighborhood mobilized and spoke at a town council meeting to oppose this. Patrice Johnson, a Vandora Pines HOA board member, spoke on behalf of the Vandora Pines community. "It will cause undue stress (for the children in the neighborhood) to have these dogs brought back to the neighborhood, which is the current request of the owners."
We are asking that you reject this permit request, given the nature of the incident and the fact that we have lost one of our children. - Patrice Johnson
Blake Dicello, a longtime Raleigh police officer also spoke. Dicello lives across the street from the home where the dogs resided on Roan Drive. Dicello intervened during the attack and likely saved Heather Trevaskis' life. "That day will change me forever," he said. "I did not see two dogs defending their property. That's not what I saw. I saw two dogs viciously attacking and mauling two unconscious people," Dicello said. The little girl and her mother were completely incapacitated.
"Those dogs were not defending their property. They were viciously attacking and mauling two defenseless people," Dicello said. "Nobody should ever have to see what I saw," he said. "I stand unequivocally with this community. I've been told several times that if it wasn't for me arriving on scene when I did, the first one to come through the gate, that Heather would not be here…In fifteen years, I have never seen anything like what I saw on that afternoon," Dicello said.
Town Attorney Terri Jones explained that the decision to grant the permit ultimately comes down the town's animal control officer, who is currently seen on the town's website hugging a pit bull. So that should make Garner citizens confident that he will be "unbiased" and put the duty of his job, which is protecting public safety, before his pit bull advocacy? "Ultimately," Jones restated, "the decision on the permit will rest with the Garner police department and the Garner police chief."
The Garner News reports there is now a "For Sale By Owner" sign outside of the owner's home.
---
On May 18, residents of Vandora Pines Community in Garner spoke against these dogs being returned to the neighborhood. This is a powerful hearing and we urge you to watch it.
---
---
04/28/21: Victims Part of WRAL Family
The child has been identified as 7-year old Jayden Henderson. Jayden and her mother were members of the Capitol Broadcasting Company. Her mother, Heather Trevaskis, who remains hospitalized, has been the master control operator for eight years at WRAL-TV, reports the Raleigh-based news outlet. Jayden would often visit her mother during her work breaks. At WRAL, she was known for playing hide-and-seek among the desks in the newsroom during those visits.
Jayden died of the injuries she sustained while being attacked by two pit bulls. Trevaskis suffered multiple bites and severe hand injuries. The pair had been caring for the pit bulls while their owner was out of town. The attack happened in the owner's backyard. Garner police said they have never had complaints about the dogs in the past. Neighbors told WRAL-TV the same thing. Jayden was a first grader at Vandora Springs Elementary. She leaves behind a younger sister.
The Pit Bulls
Late Wednesday afternoon we were able to confirm the two pit bulls on Instagram -- each dog has its own Instagram account.1 The family adopted Athena in December 2019, according to posts, and she appears to be a fight bust dog. Athena is seen wearing an "Emotional Support Animal" vest, and Blitzen, a neutered male, is seen wearing a "Service Dog" vest. Most of the posts have hashtags like: #pitbullsofinstagram, #dontbullymybreed, #servicedog, #furchild, and #pittienation.
One photo showed Athena still in her shelter kennel, characterized by blue, cream and sage green cement wall striping, an "exact match" to the Wake County Animal Center (WCAC), which had a "Pit Bull Adoption Special" in October 2019. WCAC now joins a growing number of taxpayer-funded shelters, in whole or part, since 2014 that have adopted out or transferred a dog to a rescue that killed a person. Our list does not include dogs placed by "fosters" or "rehomings."
Furthermore, the agency that adopted this dog out is now holding it in bite quarantine. Ironic, isn't it? WRAL-TV interviewed Dr. Jennifer Federico, the Wake County Animal Services Director. Federico falsely claimed that 70% of fatal dog attack victims are children. The actual percentage is less than 50%.2 To obfuscate dogs that inflict "human killing aggression" and dogs that inflict "garden-variety dog bites," Federico also stated that all dogs "have teeth" and "they can all bite."
Shelter Dog Inflicted Deaths
2021 - Wake County Animal Center (NC) - Jayden Henderson, 7-years old
2020 - Miami-Dade Animal Services (FL) - Carolyn Varanese, 84-years old
2019 - Humane Society of St. Lucie County (FL) - Christine Liquori, 52-years old
2018 - Pinellas County Animal Services (FL) - Infant Khloe Williams
2018 - The Animal Foundation (NV) - Susan Sweeney, 58-years old
2018 - Logan County Pound (WV) - Robin Conway, 64-years old
2018 - Henderson Animal Shelter (NV) - Bradley Cline, 62-years old
2017 - El Paso Animal Services (TX) - Jacob Brooks, 4-years old
2017 - New York City Animal Care Centers (NY) - Margaret Colvin, 91-years old
2017 - Kent County Animal Shelter (MI) - Infant Susannah Murray
2016 - San Diego Humane Society (CA) - Infant Sebastian Caban
2015 - Jackson-Madison County Pound (TN) - Anthony Riggs, 57-years old
2015 - Asheville Humane Society (NC) - Joshua Strother, 6-years old
2015 - Rochester Animal Services (NY) - Anthony Wind, 26-years old
2014 - Branford Animal Shelter (CT) - Rita Pepe, 93-years old
---
---
04/27/21: Pit Bulls Kill Child
Garner, NC - Garner police issued a statement late Tuesday confirming that a 7-year old girl died from injuries she sustained by her neighbor's two pit bulls. Her mother remains hospitalized in stable condition. Police believe the mother and daughter were caring for a neighbor's two pit bulls while the owner was out of town. The multi-victim attack occurred after 6:00 pm in the dogs' backyard in the 100 block of Roan Drive. Wake County Animal Control seized both dogs.
The seven year old female injured in the dog attack earlier this evening has died as a result of her injuries. Her mother remains hospitalized and in stable condition.

Reports indicate the pair are neighbors who were helping care for the dogs, 2 pit bulls, while the owners were out of town. The incident occurred in the dogs' back yard, and the cause of the attack is not known. "This is a horrible tragedy for all involved. Our thoughts and prayers go out to both families and all those who responded," said Lt. McIver, CID Commander.

We will update this case as more information becomes available.

Garner Police are investigating a dog attack on Roan Dr. Two individuals sustained serious injuries and were transported to Wake Med for treatment. Both dogs were seized by Wake County Animal Control and transported to the Wake County Animal Shelter. There is no threat to the public. This incident is under investigation. - Garner Police Department
This deadly attack occurred as we are preparing 2020 dog bite fatality statistics, specifically, while we analyze household and time factors. "In 2020, 15% (7) of dog bite fatalities involved a babysitter or relative watching a child or the dog being 'watched' by a person other than its owner when the dog fatally attacked. When breed was known (6 of 7), pit bulls accounted for 100% of these deaths." This attack also marks another multi-victim and multi-dog attack involving pit bulls.
Back in March, in a very different scenario, a 3-year old boy was killed and his mother seriously injured after two roaming pit bulls belonging to a neighbor breached their fence-line and attacked them. Those dogs routinely ran loose. No criminal charges were filed after this egregious crime because the state of New Jersey does not have a felony dog attack statute. No charges are likely in this case either; the pair likely knew the neighbor's dogs and were on the dogs' property.
Nearly every year, one or two deaths are added to our "dog sitting" pit bulls archives. We cannot stress how dangerous this endeavor is. Pit bulls are already responsible for 67% of all fatalities since 2005. Yet, they always weigh in more heavily than 67% in the temporary time factors (babysitting, dog sitting, 0-2 months new to the home, and temporarily visiting the dog owner's home). Caring for not just one, but a pair of pit bulls while the owner is away, is a high risk activity.
View the DogsBite.org Google State Map:
North Carolina Fatal Pit Bull Attacks
.
1
Within a few hours of publishing links to the Instagram pages of the fatally attacking pit bulls, these accounts were privatized. We have since added screenshots.
2
The "rate" of children killed by dogs (per 100,000) is higher than of adults, but "rate" is a different number than a percentage of total fatal dog mauling victims.
Related articles:
03/17/21: 2021 Dog Bite Fatality: Boy Killed, Mother Severely Injured in Violent Pit Bull Attack
---
Baseline reporting requirements:
Law enforcement departments across the United States should release consistent "baseline" information to the media and the public after each fatal dog mauling,
including these items
.