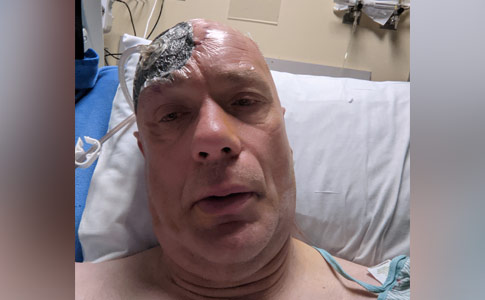 The victim seen at the trauma center with a wound VAC to assist healing (negative pressure wound therapy). Commonly used for large surface area wounds, complex wounds and burn care.
---
Seattle, WA - Recently, an adult male victim sent in his account of a vicious attack by two large pit bulls that occurred on Christmas Day at Seahurst Park in Burien, Washington. What began as a day that most Americans treasure, and in this case, a day when the victim's wife was returning from traveling abroad, turned into a violent life or death struggle for Matthijs and his dog Menno. There were no media reports about this attack that left Matthijs with a traumatic head injury.
---
I am Matthijs van Leeuwen and on Christmas Day 2020 both myself and my dog Menno, a 45 lbs 11 year old Samoyed, were victims of an attack by two large pit bulls at Seahurst Park in Burien WA.

On Christmas Day my wife was returning from her visit to the Netherlands where she was caring for her ailing dad and her initial direct flight got cancelled, so instead of arriving at 11 AM she would be arriving around 6 PM at SeaTac airport. So, our regular daily walk was a bit later than normal. Around 11.15 AM I left my house on top of the bluff to walk down to the beach on our private trail. At 11.31 AM I sent a WhatsApp message to my sister in law, which indicates the attack happened slightly after that. When we arrived at the beach I decided to take the path through Seahurst Park. A path that goes on top of the beach. I remember myself looking at our neighboring house to see if I could see our house from there. All of sudden I heard someone calling and then a pit bull came running towards my dog grabbed him at the top of his neck and pushed him down on the ground when I reacted to begin trying to remove the dog a second pit bull arrived and started pulling at his back end of his body with both dogs trying to pull my dog Menno apart. I remember by dog screaming while being dragged through the mud at the jaws of these two pit bulls. My dog was not on a leash at the time of the attack as we had just approached the park from our private property (we live two properties away from the south side of Seahurst park border). In hindsight I am glad I did not have him on a leash, so he tried unsuccessfully to get away yelping and screaming right from the beginning of the attack. As I saw these both dogs trying to kill my dog I knew Menno was going to die, so I tried everything in my power to get the pit bulls away from my dog. I remember first trying to open the jaws of the pit bull that was holding my dog by his neck. I knew he was close to the jugular, which is deadly. I was screaming and trying to scare these two dogs away, but I do not remember every action I took during this effort. It looks like my memory is blocking some of the most traumatic moments. At one point I had fallen to the ground and got the pit bull that was holding my dog's neck away from Menno and my dog rolled over and stood up. I could not believe my dog survived the attack and I crawled back up. Right at that moment, the pitbull that held my dog at his neck, turned around came back and lunged at my head biting a large chunk out of my forehead. Seeing these teeth coming towards my head felt like I was going to die. The pit bull owner, who I believe had now the dog on a leash expressed a loud gasp. I felt a portion of skin hanging over my right eye and the wound was bleeding profusely. I looked at the male owner and told him that I needed medical help and asked him to call 911. I do not remember if he followed up, but I called 911 myself. I told the operator that both my dog and I were attacked by two pit bulls and that I needed an ambulance. The 911 operator asked where Seahurst Park was and I told them in Burien. In the meantime I had stood up and noticed there were two dog owners present, a male and a female. The female looked Hispanic with blond dyed hair and the male more a mixed race with black hair braided. I got the impression they both were Hispanic as they talked in the Spanish language to each other. I asked them to stay around and in anticipation of the arrival of the medics we walked towards the main parking area. As I wasn't sure if the medics would arrive I called 911 again and they asked me again where Seahurst Park is and switched me over to another call center. At one point the male owner touched my back and said that he would bring me to the hospital, but I told him that I felt that I needed medical attention immediately given the severity of my head wound. While we were waiting a man in his 60s arrived with his dog (with short legs) and the female pit bull owner told him that her dog could attack his dog at any time. The man looked a bit shocked as he didn't seem to comprehend what just had unfolded. I looked over at my dog to see how he was doing and he walked up with me. As I anticipated to be taken to the hospital I called a family friend to come and pick up my dog. Then I saw the medics arriving. The medics immediately comprehended the situation and told me they would get an ambulance to rush me to Harborview. While the medics worked with me my dog sat quietly next to me. When the family friend arrived my dog agreed to go with her and jumped into the back of her car. I grew a little concerned about ensuring to have the names and addresses of the pit bull owners as the police still had not arrived. The female owner wrote down my name and number and let me check the spelling (I told her to remove the a in Matthyas) and told me that they would meet at Harborview, but I had grown too worried about my injuries and medical condition to further pay attention to it. When I was in the back of the ambulance leaving Seahurst Park I noticed a police car arriving. Later while being at the emergency room an officer of the Burien police arrived, told me that he had the pit bull owner's names, which gave me some relief.

This statement made by me is true to the best of my knowledge and belief, accurately sets out the evidence that I would be prepared, if necessary, to give in court as a witness. I make this statement knowing that if it is tendered in evidence, I will be liable to prosecution if I have willfully stated in it anything that I know to be false, or do not believe to be true.

- Matthijs van Leeuwen
---
Matthijs is correct in stating, "It looks like my memory is blocking some of the most traumatic moments." Sometimes these memories are revealed to victims at a later time, and other times, they are never revealed. However, he does remember the moment before one pit bull clamped down, "biting a large chunk" out of his head. "Seeing these teeth coming towards my head felt like I was going to die," he wrote. This was a deliberate bite targeting the head, not a "redirected" bite.
"My dog barely made it, but we both are alive ... If the dog had bitten a half inch lower I would likely not have survived it." - Matthijs van Leeuwen
Harborview Medical Center is a regional Level 1 trauma center in Seattle that serves a 5-state region, including Alaska. In 2016, a study of dog bite injuries treated at Harborview from 2003 to 2013 was published in peer-reviewed literature. The pit bull was the canine breed most associated with dog bite injuries in the trauma registry, documented as responsible in more than 1 of 4 injuries (27%). Among dogs unknown to patients, pit bulls were responsible for 60% of these injuries.1
The attack on Matthijs falls into both categories. His attack also matches categories in a more recent study: "Compared with other dog breeds, pit bull terriers inflicted more complex wounds, were often unprovoked, and went off property to attack ... The probability of a bite resulting in a complex wound was 4.4 times higher for pit bulls compared with the other top-biting breeds ... the odds of an off-property attack by a pit bull was 2.7 times greater than that for all other breeds."2
Matthijs has excellent legal representation and surgeons treating his injuries. He will undergo a third surgery to his head on Friday, January 22. This horrific attack was an exceptionally close call. If that pit bull had been able to inflict one more head or neck bite, or if the dog had bitten just a half inch lower, he likely would not have survived. Our hearts go out to Matthijs, his wife and Menno, who also amazingly survived this violent attack. All three have a long road ahead of them.
1

Ocular Trauma From Dog Bites: Characterization, Associations, and Treatment Patterns at a Regional Level I Trauma Center Over 11 Years, by Prendes MA, Jian-Amadi A, Chang SH and Shaftel SS, Ophthalmic Plast Reconstr Surg, 2016 Jul-Aug;32(4):279-83.
2
Dog-Bite Injuries to the Craniofacial Region: An Epidemiologic and Pattern-of-Injury Review at a Level 1 Trauma Center, by Khan K, Horswell B and Samanta D, J Oral Maxillofac Surg, March 2020.
Related articles:
03/25/20: Victim Shares Video After Violent Facial Pit Bull Mauling
07/31/19: Woman Nearly Killed by a Pit Bull While Volunteering at a Rescue Shelter in 2017...
11/19/18: Mother Shares Story After Rescue 'Lab-Mix' Bites Son in the Face During Visitation...
Also see: Level 1 Trauma Center Studies Characterizing Dog Bite Injuries Across Major U.S. Geographical Regions (2011-2019)