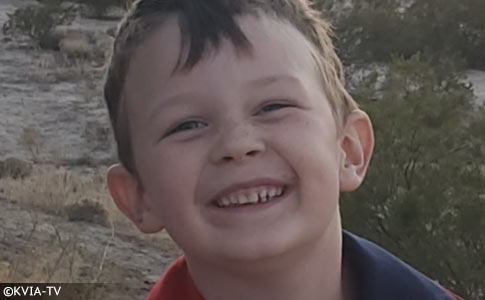 Avery Jackson-Dunphy, 6, was mauled to death by dogs being fostered by his grandparents.
Municipal Shelter Dogs
UPDATE 12/31/21: Weeks after the mauling death of 6-year old Avery Jackson-Dunphy it was revealed that three of the six dogs that were quickly euthanized after his death were foster dogs from the Animal Services Center of the Mesilla Valley (ASCMV), just as we initially suspected. ASCMV operates through a joint powers agreement between the governing bodies of the City of Las Cruces and Doña Ana County and is the only open-admission municipal shelter in the county.
The three dogs were an intact female, identified as a black "mixed-breed (medium) dog" and her two 4-month old puppies. It was noted in an early August ASCMV memo that the mother dog was "becoming a little aggressive" with Kevin Owens, the child's grandfather who began fostering the three dogs in early July. "She will growl at them [the caretakers] if they touch the pups." The mother, and up to five other dogs (four being puppies) fatally attacked Avery three months later.
The memo also stated, "[Kevin] is willing to work with her for a month after to see if her aggressive behavior changes," referring to a month after it became okay to separate the puppies from the mother dog. It is unknown how the mother dog's behavior transpired after August. Information about the other three dogs involved is also unknown. Previously, all six dogs were described as shepherd-type and border collie-mix breeds, of which the mother dog and her offspring are neither.
Animal Services Center of the Mesilla Valley now joins a growing number of taxpayer-funded municipal shelters, in whole or part, since 2014 that have adopted out, fostered out or transferred a dog to a rescue that subsequently killed a child or an adult. Since Avery's death, Doña Ana County State Representative Joanne Ferrary began advocating for stricter fostering guidelines and awareness that would require foster parents to be trained and educated if they want to foster.
Shelter Dog Inflicted Deaths
2021 - ASC of the Mesilla Valley (NM) - Avery Jackson-Dunphy, 6-years old
2021 - Wake County Animal Center (NC) - Jayden Henderson, 7-years old
2020 - Miami-Dade Animal Services (FL) - Carolyn Varanese, 84-years old
2019 - Humane Society of St. Lucie County (FL) - Christine Liquori, 52-years old
2018 - Pinellas County Animal Services (FL) - Infant Khloe Williams
2018 - The Animal Foundation (NV) - Susan Sweeney, 58-years old
2018 - Logan County Pound (WV) - Robin Conway, 64-years old
2018 - Henderson Animal Shelter (NV) - Bradley Cline, 62-years old
2017 - El Paso Animal Services (TX) - Jacob Brooks, 4-years old
2017 - New York City Animal Care Centers (NY) - Margaret Colvin, 91-years old
2017 - Kent County Animal Shelter (MI) - Infant Susannah Murray
2016 - San Diego Humane Society (CA) - Infant Sebastian Caban
2015 - Jackson-Madison County Pound (TN) - Anthony Riggs, 57-years old
2015 - Asheville Humane Society (NC) - Joshua Strother, 6-years old
2015 - Rochester Animal Services (NY) - Anthony Wind, 26-years old
2014 - Branford Animal Shelter (CT) - Rita Pepe, 93-years old
---
---
12/15/21: Parents Feud in Court
This week, new information has been released about the vicious dog mauling death of Avery Jackson-Dunphy. We learned that the boy's mother, Danika Thompson, filed a petition to be appointed as the wrongful death representative of the estate of her son within 48 hours of his death. Notably, Thompson was present on the property when her son was fatally attacked on her father's property (the child's grandfather). KFOX-TV also captured the grandfather's 911 call.
Thompson's legal action was followed by action from the child's father, Patrick Dunphy, indicating that he will name Thompson as a party responsible for the boy's death. According to online dockets at New Mexico Courts, the mother and father have been in custody litigation since 2015. The report from the Las Cruces Sun-News also provided breed information. The six dogs were described as shepherd-type mixes and border collie mixes -- two adults and four puppies.
---
11/26/21: Foster Dogs Kill Boy
Mesilla, NM - On Tuesday, it was reported that a 6-year boy was mauled to death by one or more dogs. Deputies were called to a home in the 500 block of Fort Fillmore Road around 9:45 am after reports that a small child had been attacked by a dog. When they arrived, they found the boy severely injured. The child was airlifted to Children's Hospital in El Paso, where he died. The boy apparently was able to enter into a pen that was housing six dogs -- all six dogs were euthanized.
The attack occurred at the boy's grandparents' home. According to a police report, the boy and his grandfather were playing outside when his grandfather stepped away for about 10 minutes, reports the Las Cruces Sun News. The grandfather told police he was called inside by some men working on his house. Shortly afterward, the boy's mother and grandmother realized the boy had gotten into the dogs' pen. The dogs were all being fostered, according to the police report.
Doña Ana County sheriff's deputies said that two dogs, both described as large, had blood on their heads after the incident. According to the police report, the boy suffered severe wounds from the dogs, including injuries to his neck and chest. How the boy was able to enter into the caged area was not released. The child's name was not released. The breeds of dogs involved in the child's death were not released. The agency that owned the dogs being fostered was not released either.
Thus, it is unknown if the county animal services "public agency" -- Animal Services Center of the Mesilla Valley -- owned these dogs.1
On November 28, KVIA News identified the boy as 6-year old Avery Jackson Dunphy. The celebration of life for Avery was held at Real Life Church in Las Cruces. The Las Cruces Fire Department was present, as well as other emergency personnel. Family members said his death was preventable, and that his "life needs to be celebrated and not to have died in vain." The breeds of dogs involved have not been disclosed by the Doña Ana County Sheriff's Office.
---
1
Given the immediate euthanasia of all six dogs and failure by the sheriff's office to release more baseline information, it seems possible. See ASCMV's "About Us" and "Foster Program" information.
Related articles:
05/30/21: 2021 Dog Bite Fatality: New Mexico Dog Owner Charged with Tampering after Death
01/16/20: 2020 Dog Bite Fatality: Woman Killed by Pack of Dogs on Tribal Land at Taos Pueble
---
Baseline reporting requirements:
Law enforcement departments across the United States should release consistent "baseline" information to the media and the public after each fatal dog mauling,
including these items
.