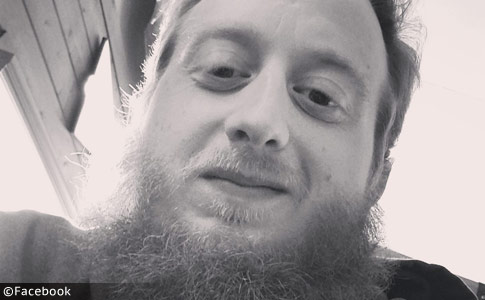 Zachary Willis, 27-years old, was killed in a violent pit bull mauling in Moses Lake, WA.
Died of Multiple Dog Bites
UPDATE 10/14/20: "Grant County Coroner Craig Morrison today ruled the cause of death of Zachary Willis of Moses Lake is multiple dog bites," the Grant County Sheriff's Office (GCSO) said in a statement posted to their Facebook page Wednesday. "The manner of death is accidental. The autopsy was completed Tuesday. No other injuries were discovered, said Coroner Morrison." GCSO added that, "Willis died Thursday after a dog attack inside his home on Airway Drive."
GCSO also replied to commenters on the post. In response to, "What caused the dog to attack," GCSO stated, "The fact is we may never fully know what caused the dog to attack." In response to, "So no stab wounds?" GCSO stated, "No other injuries were discovered, said Coroner Morrison." When asked if the fatally attacking pit bull would be rehomed, GCSO stated, "The dog will be humanely euthanized … because it killed a human and severely injured another."
In response to why the dog received veterinary care instead of being immediately euthanized after the attack, GCSO stated, "The dog was placed on the 10 day hold pending investigation of Willis's death and the coroner's report. The dog was treated for his injuries so he would not suffer. As far as costs, when investigating a death of a human, we accept and budget for costs associated with the investigations." Thus, taxpayers paid these veterinary costs, not the owner of the dog.
KXLY reports that Zachary Willis was killed by his own dog. It was previously reported that the female in the household owned the pit bull. Kyle Foreman with the GCSO told KXLY the female victim was hospitalized until this past weekend. Her latest medical condition is unknown. Foreman also stated that an autopsy by the coroner confirmed Willis did not suffer any stab wounds, only dog bites. No other information was given about the dog, such as if it was a "rescue" pit bull.
---
10/12/20: Conspiracy Theories
No new information has been released by the Grant County Sheriff's Office after a man was killed and a woman was severely injured by a family pit bull on Thursday. It is only known that an autopsy is being scheduled. The coroner's office identified the man as 27-year old Zachary Willis. That has not stopped conspiracy theories from circulating on social media, such as false claims his death was a "murder" or that his death was related to a domestic violence "stabbing" incident.
What is the definition of domestic violence? "Violent or aggressive behavior within the home, typically involving the violent abuse of a spouse or partner." This case does involve "violent or aggressive behavior within the home," but it was carried out by a pit bull (AKA "domestic pit bull violence"). Why do some fatal pit bull maulings ignite conspiracy theories and others do not? Rumor mongering usually emerges after a pit bull advocate has been killed by his or her dog.
That is the case in Willis' death as well. A 2015 post shows him trying to find a home for pit bull that he saved "from a shotgun death" after the dog killed 12-15 chickens. "Yes I saved one I'll save many more," he states. He also believed the false myth, "It's all how you raise 'em." Willis wrote: "A dog is only as his owner raises him treat and raise a good dog he will be a good dog, teach him different and he becomes a bad dog this is why so many people misinterpret this breed."
Annually, domestic pit bull violence accounts for about 15 or so deaths. Over the last 15 years, over half of all fatal pit bull maulings (53%) are attacks inside the home, when the dog kills its owner or other household member, typically the owner's child, parent or grandparent. During this same period, only 17 people between the ages of 20-28, were killed by dogs. This rare age group only accounts for 3% of all dog bite fatalities. Pit bulls inflicted 88% of these deaths (15 of 17).
---
---
10/08/20: Multi-Victim Pit Bull Attack
Moses Lake, WA - A man is dead and a woman is severely injured after being attacked by their own dog. Earlier today, Kyle Foreman of the Grants County Sheriff's Office gave a quick news conference on Facebook Live. The attack occurred at about 11:20 am at a home in the Harvest Manor Mobile Home Park at 4815 Airway Drive Northeast. Sheriff's deputies, Moses Lake Police, firefighters and paramedics responded. The woman was transported to Samaritan Hospital.
Several hours later, Foreman posted an update video. "The details of what caused the dog to get worked up are still under investigation," he said. Detectives still need to interview the female victim. Foreman also stated that the male victim had died of his injuries from the dog attack. The dog, a pit bull or pit bull-mix, was being treated at a veterinary clinic for the injuries the dog sustained in the attack. The male victim actually died at the scene -- he could not be resuscitated.
On Friday, Coroner Craig Morrison identified the victim as 27-year-old Zachary S. Willis of Moses Lake. An autopsy is being scheduled.
The dog lived at the home with the victims, according to Foreman. The violent attack happened inside the couple's home. Footage from KREM shows blood on the outside railing of the home. That occurred when the woman was moved outside the home by emergency responders to be treated, reports KREM. The woman apparently was the owner of the dog. She is also the person who called 911. The name of the male victim is being withheld until next of kin can be notified.
Multi-Victim Attacks
There have been multiple multi-victim attacks inflicted by family pit bulls this year during a fatal attack. Most recently, Karen Wilkerson, 76, was killed by one of her daughter's two pit bulls. The two daughters that came to her aid were seriously injured and transported to a hospital. Two weeks earlier, Carolyn Varanese was killed by a recently adopted pit bull. Her son, Joseph Varanese, who tried to stop the attack, was seriously injured and rushed to a local hospital.
In February, a male family pit bull embarked on a "rampage attack," attacking four family members, killing one. Four ambulances were called the scene. 25-year old Devin White, who owned the dog, died two days later while hospitalized as a result of the injuries he sustained. In that case, police determined the dog was "unprovoked and attacked for an unknown reason." The Grants County Sheriff's Office detectives will likely reach a similar conclusion in this case.
View the DogsBite.org Google State Map:
Washington Fatal Pit Bull Attacks
.
Related articles:
09/15/20: 2020 Dog Bite Fatality: Woman Killed, Two Daughters Injured by Family Pit Bulls...
09/06/20: 2020 Dog Bite Fatality: Adopted Pit Bull-Mix Kills Woman, Severely Injures Owner
---
Baseline reporting requirements:
Law enforcement departments across the United States should release consistent "baseline" information to the media and the public after each fatal dog mauling,
including these items
.